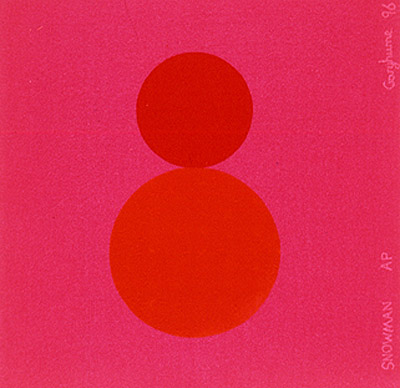 Gary Hume. Snowman. 1996
(Edition for Parkett 48, 1996)
Screenprint on felt, 12 x 12" (30.5 x 30.5 cm)
Publisher: Parkett, Zurich and New York
Printer: Print Workshop, London
Edition: 55
The Museum of Modern Art, New York. Riva Castleman Endowment Fund, Lily Auchincloss Fund, and Gift of Parkett
© 1996 Gary Hume
For the subjects of his high-gloss paintings, Hume chooses everyday objects and people, or images appropriated from magazines and other pop culture sources, and then abstracts them into flat, brightly colored forms. This screenprint refers to a snowman built by the artist and a friend and then colored with food dye and photographed from behind.


o celebrate the acquisition of a full run of the contemporary art journal Parkett, with all the accompanying artworks it has commissioned since its inauguration, MoMA presents Collaborations with Parkett: 1984 to Now. The exhibition contains all the page art projects, prints, photographs, paintings, sculptural objects, videos, sound pieces, and other inventive formats created by Parkett collaborators. Together they provide an overview of developments in contemporary art over the last eighteen years. With their relatively small scale–many works are the size of the journal itself and most others are intimate by today's standards–the entire series fits in one gallery. In fact, Parkett editors characterize these works as constituting "a museum in an apartment." This concept pays homage to Marcel Duchamp, whose career may be seen as a precursor to many of the most significant developments in recent art. Duchamp's "portable museum," consisting of miniature replicas of his works housed in a valise, is displayed in a section of the exhibition devoted to historical precedents of the Parkett project.
Founded in the early 1980s with the idea of fostering an open dialogue between the artistic communities of Europe and America, Parkett is based in Zurich, with an office also in New York, and publishes all its articles in both German and English. Integral to the magazine's goals has been an active collaboration with artists for each issue. As part of this process, Parkett has published, to date, over one hundred works as separate editions and approximately fifty inserts bound or slipped into its many volumes. Critics, curators, art historians, and other commentators join in the conversation contained within its pages. Many write on the collaborating artists; some write opinions under a variety of topic headings that recur issue to issue; others write on additional artists and ideas. The result is more of a curated event-between-covers than a typical art magazine with reviews and news items.
To put the aims and accomplishments of Parkett in a broader context, earlier examples of periodicals that have included editioned artworks within their pages or as supplements, from both the MoMA Library Special Collections and the Print Department, are included in the exhibition. Parkett editions exemplify a particular concern of the Museum's Department of Prints and Illustrated Books: that of the tradition of art mediums available to a relatively wide audience. Additionally, Parkett inserts extend the concept of the page as an alternative exhibition venue. In all, collectors and readers become, in effect, participants in Parkett's dialogue on art and ideas.