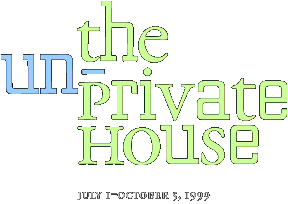 All of architecture is colored by the problem of the house.
--Jean Hèlion

Jean Hèlion's words point out the unique position the private house has played throughout the history of architecture. Despite its relatively small size, at least compared to other architectural programs, the house figures large in the cultural imagination. It has been and continues to be the man-made environment's fundamental building block, its most irreducible component, providing an essential daily need: shelter.

The privacy in the private house, since its inception, has been predicated on a discernible separation of its inhabitants and activities from both the public realm and other houses. The private house has also been from its establishment a building type that enshrines family life to the exclusion of all other activities. Furthermore, as a space so dedicated, it has been for almost four hundred years largely responsible for the creation and development of those rituals and comforts that we now associate with the domestic. Today, however, these conditions are undergoing tremendous change.

The evolving cultural definition of the private house generates significant opportunities for architectural invention. This change is also taking place at a time when architecture is being fueled by enormous new technical and material resources. The private houses discussed here, and the architects who designed them, can thus be seen as not only reconfiguring the domestic landscape but laying the groundwork for the first architectural debates of the twenty-first century.

Terence Riley, Chief Curator
Department of Architecture and Design


The exhibition is made possible by The Lily Auchincloss Fund for Contemporary Architecture, and is the first in a series of five exhibitions to be supported by this program.

The interactive environments within the exhibition were jointly developed by the MIT Media Lab and The Museum of Modern Art and generously supported by Max Palevsky. Generous support for the installation design is provided by Furniture Co.

The accompanying publication is made possible by Elise Jaffe and Jeffrey Brown. The symposium is made possible by Philips Electronics. Additional funding was provided by an anonymous donor, NEC Technologies, the Norman and Rosita Winston Foundation, The Contemporary Arts Council of The Museum of Modern Art, and Nearlife, Inc.