Herbert Distel adopted the role of the museum curator when he invited artists from around the world to contribute miniature works for display in the tiny "galleries" of his Museum of Drawers. The drawers in this found cabinet are filled with five hundred works by a wide range of artists, some well known, like Picasso, others obscure, creating a comprehensive survey of artistic currents in the 1960s and 1970s. According to Distel, "Museums, especially museums of fine art, are places where we become conscious of time. Like a preserving jar, they have the task of conserving and presenting a subject curdled with time--the artwork. But through and behind these works the artists appear, falling out of the screen of time, as it were, and become immortal."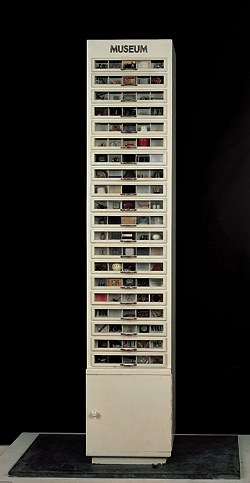 Herbert Distel.
Museum of Drawers. 1970-77.
Chest of drawers containing miniature works by various artists, overall (approx.) 72 x 28 9/16 x 28 9/16" (183 x 42 x 42 cm). Kunsthaus Zürich. Donation of Herbert Distel and The Foundation Julius Bÿr. Photo: ©1999, Kunsthaus Zôrich. All rights reserved.