DaimlerChrysler MCC Smart. 1998.
Courtesy DaimlerChrysler

Select image for enlarged view.
"Reduce to the max" has been the marketing line for this city commuter car developed by Swatch watch company and Mercedes Benz. In 1998 Daimler Benz, now DaimlerChrysler, acquired Swatch taking over full control of production of the car. This two-seat, ultra-lightweight, gas-efficient auto represents a rethinking of the private car and the way it is marketed to the public. They are sold across Europe at one-stop "Smart Centers" where one can purchase, lease, rent, finance, and insure a car all under one roof. The auto is intelligently designed for those living in or near crowded urban environments who need a small vehicle to run errands or commute to an office. The car is intended to be affordable, easily customizable, and stylish–bearing a direct connection to the Swatch watch, which revolutionized the marketing and production of watches in the 1980s. The car takes only four and a half hours to produce compared to the approximately twenty hours for most economy cars. The rust- and dent-resistant body panels are available in a variety of colors, and if the owner tires of the color, it can be easily replaced by a technician in two hours for a reasonable fee.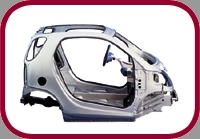 The Smart Car, with its unique multi-colored dashboard and controls, is intended to attract a younger auto buyer or urban sophisticate looking for something unusual. This is further evidenced in features such as front and side airbags and a "softip" gearbox that allows the driver to switch gears manually without the use of a clutch. Passengers actually sit above the mechanical parts and the engine to save space. The Smart is only eight-feet, two-inches long and four-and-a-half-feet tall and wide. Its length is ingeniously only half of the space of a traditional European parking space, potentially creating twice as much parking. It weighs only 1,700 pounds but has a reinforced metal frame visible from the outside that makes the car strong, stable, and relatively safe.