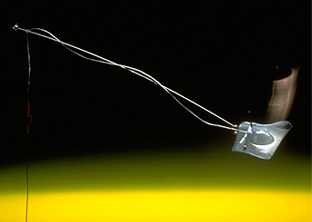 Los Minimalos Tres.
Wall lamp Wall lamp. 1994
Stainless steel, spun steel, and aluminum,
extendable arm
15 1/2 to 29 1/3"
(40 to 75 cm)
Manufactured by Ingo Maurer GmbH
Lent by Ingo Maurer GmbH.
Photo: Tom Vack, courtesy Ingo Maurer

Los Minimalos Tres is part of a three-piece series of lamps which also includes Los Minimalos Uno and Los Minimalos Dos. They all share the same light source, a halogen bulb concealed by a reflector and surrounded by a spun-steel case, yet they differ in support. For example, in Los Minimalos Tres, the ball-and-socket joint enables the lamp to be tilted and swivelled in any direction. The lamp is suitable for attachment to furniture or for use as picture lighting.




© 1998 The Museum of Modern Art, New York