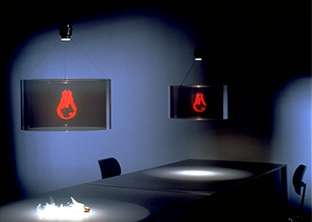 Ingo Maurer.
Wo Bist Du, Edison...?. Ceiling lamp. 1997
Hologram, acrylic glass, and aluminum,
9 2/3 x 20 1/3 x 18 1/12"
(25 x 52 x 46 cm, 300 cm of cable)
Manufactured by Ingo Maurer GmbH
Lent by Ingo Maurer GmbH.
Photo: Tom Vack, courtesy Ingo Maurer

The bulb remains a recurrent theme in Maurer's work. One of his latest lamps is an homage to Thomas Alva Edison, the inventor of the light bulb. The hanging lamp, called Wo bist Du, Edison?... (Where Are You, Edison?) features a hologram of a light bulb. Moreover, the material socket for the immaterial bulb is shaped as a continuous profile of Thomas Edison himself.




© 1998 The Museum of Modern Art, New York