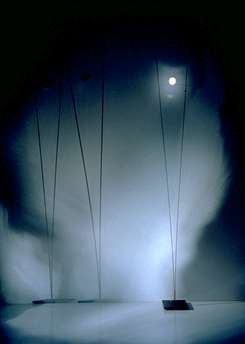 Ingo Maurer and Franz Ringelhan.
Ilios. Floor lamp. 1983
Steel, glass, fluorescent insulation piece,
h. 74 2/3 x 7"
(h. 190 x 18 cm)
Manufactured by Ingo Maurer GmbH
Lent by Ingo Maurer GmbH.
Photo: Tom Vack, courtesy Ingo Maurer

Ilios was designed to provide muted and indirect light in the most economical way possible. A halogen bulb is suspended on a thin, curved wire, set between flexible rods which rise vertically from the base. Despite its simplicity, the effect of the light is powerful from this piece--a prominent sculptural form.




© 1998 The Museum of Modern Art, New York