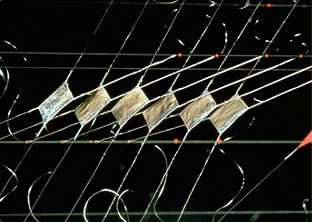 Ingo Maurer
YaYaHo Low voltage system. 1984
Steel, plastic, glass, ceramic, and porcelain,
length of each filament
90 1/3 x 98 1/3"
(230 x 250 cm)
Manufactured by Ingo Maurer GmbH
Lent by Ingo Maurer GmbH.
Detail of installation at Louisiana Museum of Modern Art, Humblebaek, Denmark 1996. Photo: Tom Vack, courtesy Ingo Maurer

YaYaHo is the first low-voltage system consisting of tense wires and of many different luminous sculptural spotlights walking on the tightrope. It is a system of halogen lights which reflect and shine as directed, horizontally and in some cases vertically. The light formation can be put together in numerous ways, creating many different light sources to accomodate various spaces and create different atmospheres.




© 1998 The Museum of Modern Art, New York