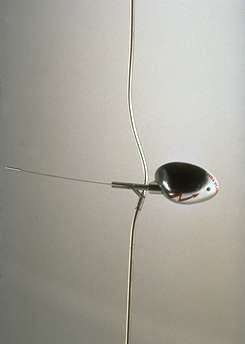 Ingo Maurer.
Hot Achille Floor to ceiling lamp. 1994
Stainless steel, aluminum reflector with protective glass cover, and coaxial cable,
h. 118 1/12 to 137 2/3"
(h. 300 to 350 cm)
Manufactured by Ingo Maurer GmbH
Lent by Ingo Maurer GmbH.
Photo: Tom Vack, courtesy Ingo Maurer

Hot Achille is an homage to the work of Achille Castiglioni. In particular, it is a celebration of his Parentesi lamp of 1971, which ran from floor to ceiling and was kept taut by a counter-weight. Hot Achille consists of a freely rotatable aluminum reflector hung on a length of adjustable cable and powered by a counter-weight and electronic transformer with a continuously variable dimmer. Ingo Maurer not only concentrates on the functional nature of light but also the quality of light within a given space.




© 1998 The Museum of Modern Art, New York