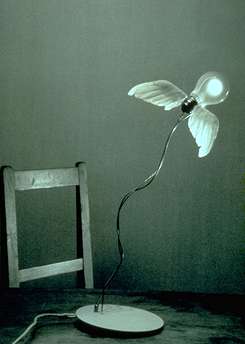 Ingo Maurer.
Lucellino Table and wall lamps. 1992
Plastic, brass, and hand-crafted goose feathers,
11 2/3 x 11 2/3" (30 x 30 cm)
Manufactured by Ingo Maurer GmbH
Lent by Ingo Maurer GmbH.
Photo: Naomi Baumgartl, courtesy Ingo Maurer

One of Maurer's most renowned fixtures, this work is a simple opaline light bulb or a bulb endowed with angel's wings. The name Lucellino is a fusion of the two Italian words luce (light) and uccellino (little bird).




© 1998 The Museum of Modern Art, New York