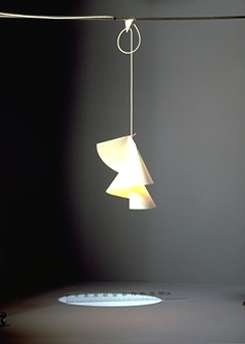 Ingo Maurer.
Willydilly Ceiling lamp. 1983
Stiffened card and plastic canopy,
h. 19 1/2 x 13 2/3"
(h. 50 x 35 cm)
Manufactured by Ingo Maurer GmbH.
Lent by Ingo Maurer GmbH.
Photo: Tom Vack, courtesy Ingo Maurer

Maurer's desire to create a more pleasant light source within a café prompted him to make a hanging lamp by simply fixing a stiff card to a naked bulb with a clothes peg. The humidity in the café was so intense that the paper curled round in a spiral. This inspired Maurer to develop Willydilly--an adjustable suspension lamp which is put together by the owner.




© 1998 The Museum of Modern Art, New York