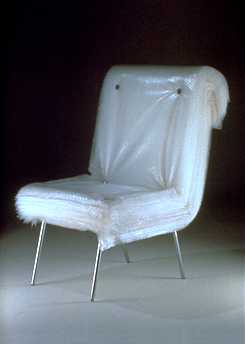 Fernando and Humberto Campana.
Bubble-Wrap Chair. 1995
Chromed iron and bubble wrap sheets,
43 1/4 x 23 1/2 x 27 1/3"
(110 x 60 x 70 cm)
Manufactured by Campana Objetos,
São Paulo
Photo: Andrés Otero, courtesy Fernando and Humberto Campana

Campana's design process seldom begins with an intellectual concept, instead it is sparked by a subjective process of observation. Many of the works selected for this exhibition are variations on the modern chair, all achieved without preliminary studies and drawings. For example, in this work, Fernando and Humberto Campana have layered plastic bubble-wrap onto the steel frame in the guise of upholstery.




© 1998 The Museum of Modern Art, New York