Willie Cole's assemblage sculptures are composed of found domestic objects that he imbues with spiritual, and often mythical power, through allusion and metaphor. Since the mid-1980s he has been preoccupied with the steam iron as a domestic, symbolic, and artistic object. Cole first assembled used irons into iconic figurative forms reminiscent of African art. In exploring ways to infuse these modest, unpretentious figures with the potency of their progenitors, Cole discovered the scorch.








On view from June 9 through October 13, New Concepts in Printmaking 2: Willie Cole was organized by Wendy Weitman, Associate Curator, Department of Prints and Illustrated Books.

This exhibition is made possible by generous grants from The Cowles Charitable Trust, Penny and David McCall, and The Contemporary Arts Council and The Junior Associates of The Museum of Modern Art. Video hosting provided by Simply TV.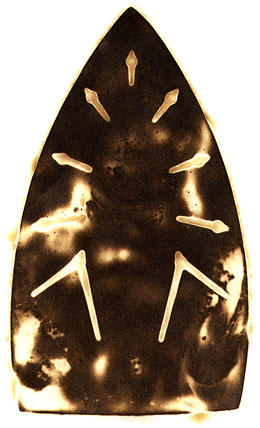 Ghost Scorch. 1998. Iron scorch on paper, 11 7/8 x 9" (30.1 x 22.9 cm). Original project for MoMA magazine.