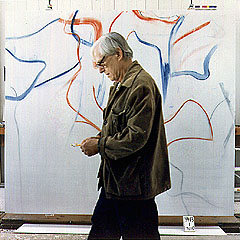 Willem de Kooning in front of an early version of an untitled 1984 work in the artist's own collection. Photograph ©Tom Ferrara, courtesy Willem de Kooning Office.




Robert Storr

"I get freer...I have this sort of feeling that I am all there now. It's not even thinking in terms of one's limitations, because they come naturally. I think whatever you have you can do wonders with it, if you accept it." —Willem de Kooning, "What Abstract Art Means to Me" (1951)

"It seems like a lot of artists, when they get older, they get simpler." —Willem de Kooning, "Summer Monologue" (1959)


One would not have predicted for Willem de Kooning a great old age. Among the leading figures of a hard-living generation, he seemed by talent and by temperament to belong to a romantic tradition of artists whose work burned the physical and psychic fuel of their being with devastating speed and completeness. In fact, few of de Kooning's closest friends and colleagues survived the crucible of the 1940s and 1950s intact, if they survived it at all. In 1948 Arshile Gorky, de Kooning's studio mentor, was a suicide at forty-eight. In 1956 Jackson Pollock, at the end of his creative and emotional tether by the age of forty-four, killed himself in a drunken roadside collision. In 1962 Franz Kline succumbed to a heart attack at fifty-two. Three years later David Smith died in a car crash at fifty-nine, and in 1970 Mark Rothko, caught in an ever-deepening alcoholic depression, slit his wrists.

Of the other principal members of de Kooning's Abstract Expressionist cohort, only Philip Guston saw the 1980s, having spent his ultimate energies during the previous decade in one of the most remarkable artistic turnarounds of the last quarter century. For most of the 1970s, while engaged in this dramatic shift from an art of ethereal abstraction to one of darkly comic figuration, Guston was treated as an apostate by his contemporaries. Informed by years of struggle against conservative taste and impoverished circumstances, and reinforced by an avant-garde ethos that fused the codes of traditional Bohemia with those of postwar existentialist philosophy, Abstract Expressionism as an ideology made small allowance for stylistic change. Thus Guston's advocates of the 1950s became his detractors twenty years later.

De Kooning experienced much the same thing. In contrast to Guston's trajectory, however, de Kooning went from violent tumult to a baroque painterly hedonism, and from there, in his last great works, to a radiant, sensuous calm. Celebrated for his ferocious Women of the 1950s by many who failed to see the ambivalent wit in their grotesque smiles, he was already being written off in the 1960s when his bright pink "cuties" started to replace the matriarchal monsters that had spawned them. Only a few critics, Thomas Hess chief among them, welcomed the lush eroticism of the artist's increasingly pastoral paintings. "So it is appropriate," he wrote, "that de Kooning's pictures of the 1960s are drained of the anguish and look of despair which so profoundly marked his earlier work. In the new women, the mood is Joy." Despite this assessment, observers accustomed to judging the authenticity and aesthetic worth of pictures by the suffering that had been the mythic lot of their authors tended to view the mayonnaise-rich nudes and landscapes of de Kooning's 1960s work as proof of his slackening aesthetic will. From that point on, arguments about just when it was that his art had "fallen off" became a staple of bar talk and symposia.

Although his canvases swarmed with pleasurable images, de Kooning's anguish was, in fact, unabated. If anything, he flirted with self-destruction more recklessly than before, and by the end of the 1970s had reached a point of near total spiritual and physical exhaustion. Drinking had a lot to do with it, as it had with the fate of so many of his contemporaries. And then there were the first signs of his advancing years, a tendency to forgetfulness and a gradual detachment from the world around him. Much has been made in the popular press of these symptoms, feeding speculation that de Kooning's work after 1980 was a pale reflection of the signal achievements of his early and mid-career, if not the doodlings of a helpless old man.

The reality is quite different, as Willem de Kooning: The Late Paintings, The 1980s—the first exhibition devoted exclusively to the work of his last active decade—attests. Contrary, in fact, to some of what has been written about this heretofore little known or understood body of work and the circumstances in which it was created, the story of de Kooning in the 1980s is that of a nearly miraculous recovery of focus and ambition. Thus, in 1980, after several years of episodic and confused studio activity, de Kooning, newly sober and in improving health, was back at work with an astonishing determination to resolve longstanding issues in his work. He sought not only a renewal of his art but fundamental changes in its procedure and poetics as well. In the late paintings, we are, therefore, confronted with that rarest of phenomena, a radical shift in course on the part of an artist who had much to lose from failure. This was especially true for de Kooning, to the extent that failure would have confirmed the opinion of those who had been impatiently awaiting definitive proof of his decline and thus the grounds for writing him off for good, along with the improvisational approach he presented. But de Kooning had never been afraid of failure, having always believed that serious art was doomed to fall short of its potential. "Success" was judged by the nature of an artist's ambition and his or her capacity to sustain that ambition against all odds. "Failure," he once said, "ought to take your whole life, active life." In the last chapter of his, de Kooning upped the ante yet again, recasting the familiar components of his work in a wholly new, transforming light.

One tangible measure of the extraordinary intensity of this final creative burst is the sheer number of canvases that resulted from it. Famously reluctant to let go of a picture until he had entirely or in part repainted it dozens if not hundreds of times—for example, Woman I (in the collection of The Museum of Modern Art) occupied him for two whole years, from 1950 to 1952—de Kooning in the 1980s produced more than three hundred canvases. Some paintings from the early 1980s he reworked as in the past; now, though, the layers upon layers of pigment that went into the gradual definition of the image were scraped away so that only bare traces remained under the final coats of paint, while the pictures' overall surface remained generally thin and smooth. By 1985 the pace of de Kooning's activity accelerated and he devoted less and less time to revising his compositions, preferring instead to move quickly from one painting to the next, mindful, as he once said to his wife Elaine, that one should "paint as if every stroke was your last."

Even so, as films of the artist at work show, he would labor lovingly over certain passages, rephrasing a curve here or a form there, or abruptly canceling out large, complex areas with suave whites variously tinted yellow or pink, thereby suddenly pulling the jumble of ribbonlike strokes with which he started into a clearly legible distribution of bounded shapes, flowing lines, and luminous open spaces. He was confident in the knowledge that all the freedom he needed, and all the creative restraint, was available to him in the regularly proportioned canvases—spun around on a mobile easel—the basic array of colors at his elbow, and the immense reserve of painterly nuance that flowed from his shoulder to the end of his agile fingers.

Watching these films is an uncanny experience, and perhaps the best way to enter into the finished paintings is to read the tracks of the brush across them as if one were actually observing their stage-by-stage interlacing and spread. These virtuosic moves would have been the envy of anyone then painting. Absent his Abstract Expressionist coevals, de Kooning's actual contemporaries of the 1980s were exponents of the various tendencies of the moment, from Neo-Expressionists like the heavy-gauge Georg Baselitz and the bombastic Julian Schnabel to such subtler stylists as Brice Marden and de Kooning's cousin in painterly skepticism, Gerhard Richter. The 1980s are far enough behind us now that their historical contour has already begun to alter dramatically—as have attitudes toward the pro-painting/anti-painting debates that dominated the critical discourse of the decade. Although little seen or valued at the time it was made, henceforth, by virtue of its freshness, de Kooning's work will find its place in the foreground rather than the background of any accurate picture of the period. In contrast to the dull refrain that "painting is dead," the work's vitality will stand as the unanswerable rejoinder to theoreticians who have devoted their efforts to reasoning why, in principle, art of this kind and quality could not exist.

As the 1980s progressed, the mild signs of the artist's aging that were first noticeable in the late 1970s became more pronounced. At issue was his short-term memory; it was not unusual for him to forget names or dates. Such losses are commonplace in people in their late seventies, as de Kooning then was, but, as is also frequently the case with those who are specially gifted in a particular art form, they had no significant effect upon his technical mastery. Moreover, his thorough command of his craft and his ever sharp intuition continued to give rise to pictorial invention. That combination of classical studio training and improvisational daring had long been the source of his art. As early as the 1960s, Thomas Hess had spoken of the artist's gestural habits as a kind of discursive imaginative process. "As Focillon has written," Hess recalled, "there is a brain in the hand which, while drawing, will criticize, invent, erase—think new thoughts."

There was an unequivocal intention behind all of this, however. In part it was a turning away from the model of Pablo Picasso, which since the 1930s had overshadowed the work of de Kooning's generation—and de Kooning's own work perhaps most of all—to that of Henri Matisse, in particular the late Matisse of colored silhouettes scattered over white paper fields. Of equal importance and greater unexpectedness, though, was de Kooning's last-minute reconciliation with Mondrian, whose advocacy of strictly nonobjective art had driven him out of Holland in 1927, and whom he once described as "that great, merciless artist...who had nothing left-over." Ironically, it was this severe Dutchman who, by example, showed his earthier countryman how to make the most of his diminishing days and shrinking world. Paring away all but the essential attributes of his eclectic formal vocabulary, de Kooning hung his images on a spare armature and painted them in a simple palette directly derived from Mondrian's gridded and primary-colored canvases. Thus, the flaring tendrils that de Kooning had inherited as a young man from northern Symbolism and Art Nouveau; the swollen surrealist biomorphs whose delineation he had perfected under the guidance of Gorky; and his own Women, now reduced to slipping curves and evanescent blushes: these became a loosely knotted webbing of luminous abstractions, which would occasionally tighten, harden, or become brilliantly congested only to give way again to easeful expanses of white marbled with blue, red, yellow, green, violet, orange, and black.

Despite the life-threatening abuse to which he subjected his body, by the 1960s de Kooning had already begun to look forward to his old age with a clarity firmly grounded in his sense of art history and his part in it. Musing on Titian and Michelangelo, he said, "I can't figure it out, how those old guys kept at it, kept painting the way they did. Titian was 90, with arthritis so bad they had to tie on his paintbrushes. But he kept on painting Virgins in that luminous light, like he'd just heard about them. Those guys had everything in place, the Virgin, God and the technique, but they kept it up like they were still looking for something. It's very mysterious." Speaking more metaphorically, he amplified on these thoughts with reference to modern masters closer to his own era. "There is a time when you just take a walk...you walk in your own landscape....It has an innocence that is kind of a grand feeling....Somehow I have the feeling that old man Monet might have felt like that, just simple in front of things, or old man Cézanne too....I really understand them now."

De Kooning belongs in their company, as he does in that of other great painters who late in life have attempted and achieved a fully considered artistic closure. From 1980 on, de Kooning was, as he had anticipated, walking in his own landscape, and the paintings he made emanate from a mature innocence and are possessed of an unselfconscious grandeur—and grace. When, in his final pictures, the light flickers or a trace wavers, we regard such uncertainties or hesitations with amazement rather than dismay, for they are the most reliable signals we are ever likely to receive of a superior aesthetic intelligence exploring the furthest limits of consciousness itself. There is virtually nothing to compare these paintings to, and no disinterested standard of judgment. Unprecedented in their time, they are the pure evidence of existence and a hard-won affirmation, which only the most extraordinary of artists could have offered us, and only the most extraordinary artist did.


Robert Storr, Curator, Department of Painting and Sculpture, coordinated Willem de Kooning: The Late Paintings, The 1980s for The Museum of Modern Art.

This article is reprinted from the Winter/Spring 1997 issue of MoMA Magazine, published by the Museum for its members.