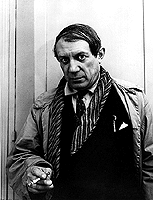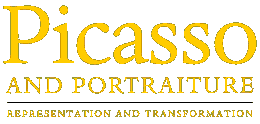 Rogi-André (Rosa Klein). Picasso. 1935. Gelatin-silver print, 15 1/8 x 11 3/8".
The Museum of Modern Art, New York. Gift of Frank Crowninshield.




April 28­September 17, 1996

This first comprehensive survey of the portrait work of Pablo Picasso featured more than 130 paintings and 100 drawings and prints. The exhibition was organized by William Rubin, Director Emeritus, Department of Painting and Sculpture, The Museum of Modern Art, in collaboration with the Réunion des Musées Nationaux, Paris.

Picasso's intimate portrayals of his family, lovers, and friends redefined the meaning of representation to an extent unequaled by any other painter in the twentieth century. The artist painted his sitters repeatedly and in widely divergent styles, and the contrasting views reflected in these multiple portraits were underscored in the exhibition by the grouping of works according to subject. Many of the works were on view for the first time in America. Photographs, often by such major artists as Man Ray, and brief biographical notes on the sitters accompanied the portraits.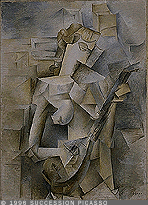 Pablo Picasso. Girl with a Mandolin [Fanny Tellier]. 1910.
Oil on canvas, 39 1/2 x 29" (100.3 x 73.6 cm).
The Museum of Modern Art, New York. Nelson A. Rockefeller Bequest.
Photograph ©1996 The Museum of Modern Art, New York.







Publication
Picasso and Portraiture: Representation and Transformation. Edited by William Rubin, with essays by Anne Baldassari, Pierre Daix, Michael C. FitzGerald, Brigitte Léal, Marilyn McCully, Robert Rosenblum, William Rubin, Hélène Seckel, and Kirk Varnedoe. 496 pages, 216 color illustrations, 541 black-and-white illustrations.

Official Picasso Web Site
More images from "Picasso and Portraiture," as well as information about Picasso-related events, are available on the official Picasso Web site at www.clubinternet.com/picasso (Site no longer available).

The exhibition was sponsored in part by Philip Morris Companies Inc. An indemnity was granted by the Federal Council on the Arts and the Humanities. The accompanying publication was made possible by generous grants from the William S. Paley Foundation, Inc., and the Blanchette Hooker Rockefeller Fund, with additional support from Agnes Gund and Daniel Shapiro, and Mrs. Donald B. Straus.







©1997 The Museum of Modern Art, New York