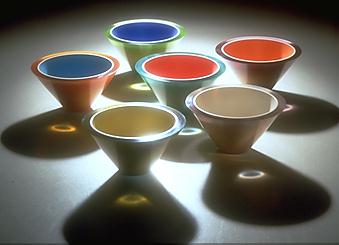 8. Vincent de Rijk, born 1962
"Kom BV" Vases, 1996 (1986)
Synthetic resin, ceramics
Manufactured by Goods, Amsterdam
Lent by Goods
5 x diam. 10" (12.5 x diam. 25 cm)
Photo by Kostas Pasvantis, courtesy Goods

In these vases, an inner ceramic bowl is embraced by an outer bowl made of resin. The composition of the two materials is enhanced by the assorted coupling of colors. The shape and the size of the vases are determined by the possibilities of the adopted technique. These vases were developed in collaboration with Bart Guldemond.