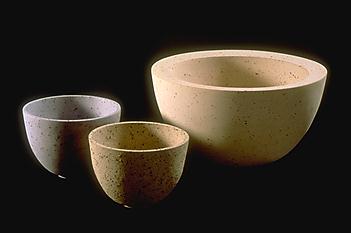 7. Annelies de Leede, of Oak, born 1958
Recycled Ceramic Bowls, 1993 (1993)
White poured clay and potsherds
Manufactured by Oak, Rotterdam
Lent by Oak
4 3/4 x diam. 6" (11 x diam. 15 cm)
Photo by Pieter Vandermeer, courtesy Oak

During a working period at the European Ceramic's Study Center in Den Bosch, Annelies de Leede carried out research into the possibility of recycling ceramics. In a series of tests, she has established that through the manipulation of variables such as fragment size and quantity, glazed ceramic waste can be processed in a clay mass and reused. Bigger fragments can also be utilized, with beautiful visual effects. The bowls are a demonstration of these recycling possibilities.