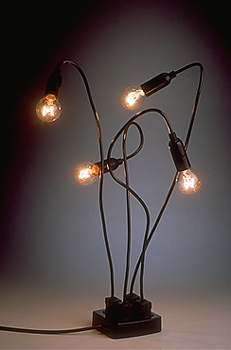 27. Henk Stallinga, born 1962
"Watt" Lamp, 1993 (1993)
Electric wire, standard bulbs
Manufactured by Stallinga bv, Amsterdam
Lent by Henk Stallinga, Amsterdam
21 1/2 x 1 1/2" (55 x 4 cm)
Photo by Hans van der Mars, courtesy DMD

This lamp is almost a repetition of the shape of the flower vase by the same designer. Just like tulips, the standard bulbs are placed on top of the electrical wire stems, and these are arranged in the base.