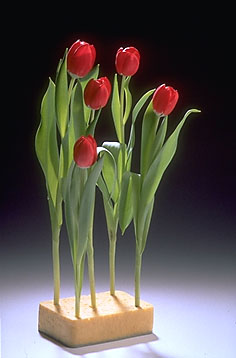 26. Henk Stallinga, born 1962
"Vase", 1993 (1993)
Viscose, polyurethane
Manufactured by Stallinga bv, Amsterdam
Lent by Henk Stallinga, Amsterdam
2 x 6 x 4 1/4" (5 x 15 x 11 cm)
Photo by Hans van der Mars, courtesy DMD

The bottom of an ordinary household sponge has been made waterproof, and the sponge has been turned into a flower vase. The weight of the water in the sponge keeps the vase upright. The vase even allows tulips to grow in it.