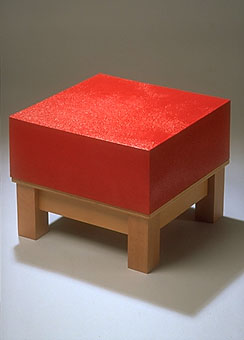 12. Richard Hutten, born 1967
"Poef" Stool, prototype, 1994
Beech, soft foam coated with soft polyurethane
Droog Design collection, manufactured by DMD, Voorburg
Lent by Droog Design, Amsterdam
15 3/4 x 19 3/4 x 19 3/4" (40 x 50 x 50 cm)
Photo by Hans van der Mars, courtesy Droog Design

Made using the same technique as the "Crossing Italy" couch, this small stool looks like a solid table but is in reality soft. The foam of the cushions is coated with a glossy polyurethane layer that recalls some of the furniture experiments of the sixties and seventies. The finish enhances the simple cubic shape of the foam cushion.