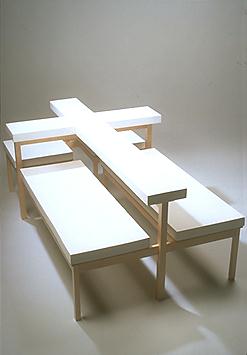 11. Richard Hutten, born 1967
"Crossing Italy I" Couch, prototype, 1994
Maple, soft foam coated with soft polyurethane
Droog Design collection, manufactured by Richard Hutten
Lent by Stedelijk Museum, Amsterdam
29 1/2 x 80 x 47 1/2" (75 x 200 x 120 cm)
Photo by Hans van der Mars, courtesy DMD

The prototype was produced in the occasion of an invitation by "Abitare il Tempo," a furniture fair based in Verona, Italy. The theme proposed to many designers was "A Journey to Italy." Hutten, raised Catholic, chose to play upon the cross form.