Mutant Materials in Contemporary Design





Ceramics

Ceramics are considered by many to be the materials of the future. Ceramic car engines will waste little energy and require no lubricants, superconducting ceramics will transmit energy without wasting it, and ceramic fibers will insulate human bodies from temperature changes and protect them from bullets. The advanced ceramics that will make all this possible are very different from those used in our teacups; their composition includes quantities of metallic powders, such as alumina, titania, sand, and feldspar, and the rare earth powders yttria and zirconia.

In their manufacturing processes, ceramics are similar to metals, from which they have borrowed many techniques, and to glass, with which they are often coupled in the production of hybrid glass-ceramics. One shared trait is the birth of all three materials from the "fire which changes everything," as alchemists of past centuries put it. Slip casting, the most traditional technology for producing ceramics, is still used for many domestic objects, such as the condom holder in the exhibition. Sintering, the transformation of powders into solids at extremely high temperatures, is a process adapted from metal production. To create more complex shapes, such as turbine rotors, wax molds are employed. Ceramic injection-molding uses a support polymer that is melted away by the temperature of the furnace.

Examples of objects manufactured by all of these techiques are included in the exhibition, rendering a portrait of a material that has shed its conventional image to reveal a contemporary, mutant personality.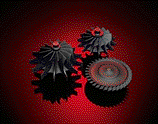 Kyocera Industrial Ceramics Corporation, CERATIP Cutting Tool Division
Cutting Tools. 1992 (1992)
Aluminum-oxide and titanium-carbide-coated ceramic, and cermet (ceramic-metal composite)
Manufactured by Kyocera Industrial Ceramics Corporation, United States
Lent by Kyocera International, Inc., San Diego
(photo courtesy Kyocera International, Inc.)

Kyocera Corporation, Fine Ceramics Division
Automotive Engine Components. 1992 (1992)
Silicon-nitride ceramic
Manufactured by Kyocera Corporation, Japan
Gas Turbine Components. (1992)
Silicon-nitride ceramic
Prototype by Kyocera Corporation, Japan
Lent by Kyocera International, Inc., San Diego
(photos courtesy Kyocera International, Inc.)
The use of a ceramic compound of silicon and nitrogen in turbo-supercharger rotors reduces both mass and inertia, diminishing "turbo lag" in automotive engines. Ceramic engine parts are able to function at much higher temperatures than those of other materials and typically require no lubricant.

Werner Scholpp. German, b. 1946
"DiaStar Ceramica" Wrist Watch. 1989 (1986)
Zircon-Y ceramic case, bracelet, and crown, and other materials
Manufactured by RADO Watch Co., Ltd., Switzerland
Lent by RADO Watch Co., Ltd., Switzerland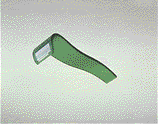 Studio X
Ross Lovegrove. British, b. 1958
"Advanced Wet Shave" Razor. (1993)
Zircon-Y ceramic blade and injection-molded acrylic handle
Prototype by M. L. Laboratories, Great Britain
Lent by Ross Lovegrove, London
(photo courtesy Ross Lovegrove)

Harry Allen. American, b. 1964
Lighting Fixtures. 1994 (1994)
Ceramic foam
Manufactured by Harry Allen and Associates, United States
Lent by Harry Allen, New York
Ceramics are known for their structural density, but they can also be used to produce a flexible, spongelike material known as ceramic foam. These heat-resistant foams are normally used in the construction of kiln equipment, ferrous- and nonferrous-metal filtration systems, and automotive-emissions control devices. For this lighting fixture, one of a series, the designer chose a ceramic foam not only for its practicality but also for its expressive possibilities. Known as Selee, it is produced by impregnating open-cell polyurethane foam with aluminum oxide; the impregnated compound is then fired in a precision furnace, burning away the polyurethane and leaving a finished substance with the appearance of deep-sea coral.

Selee Corporation
Selee Ceramic Foam. 1976 (1973)
Alumina reticulated/open-cell ceramic
Manufactured by Selee Corporation, United States
Lent by Selee Corporation, Hendersonville, N.C.

3M Unitek
"Transcend Series 6000" Dental Brackets. 1987 (1986)
TPA (translucent polycrystalline-alumina) ceramic
Manufactured by 3M Unitek/3M Dental Products Division, United States
Lent by 3M Unitek, Monrovia, Calif.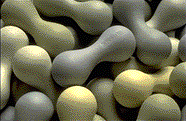 Max Burton. British, b. 1946
"Steam Rocks" Cooking System. (1992)
Microwave-absorbing sintered ceramics
(95% silica and 5% submicron silicon-carbide) in a glass-ceramic container
Prototype
Lent by Royal College of Art, London
(photo courtesy Royal College of Art)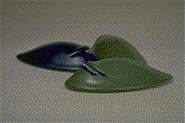 Lisa Krohn. American, b. 1963
Aaron Lown. American, b. 1968
"Safe" Condom Keeper. (1992)
Porcelain
Prototype
Lent by Aaron Lown, New York
(photo courtesy Aaron Lown)

Introduction
Glass
Plastics
Wood
Fibers and Composites
Metals
Rubber and Foam
Other Materials

Events and Publication
Acknowledgments
About the Exhibition
Mutant Materials Homepage
©1995 The Museum of Modern Art, New York