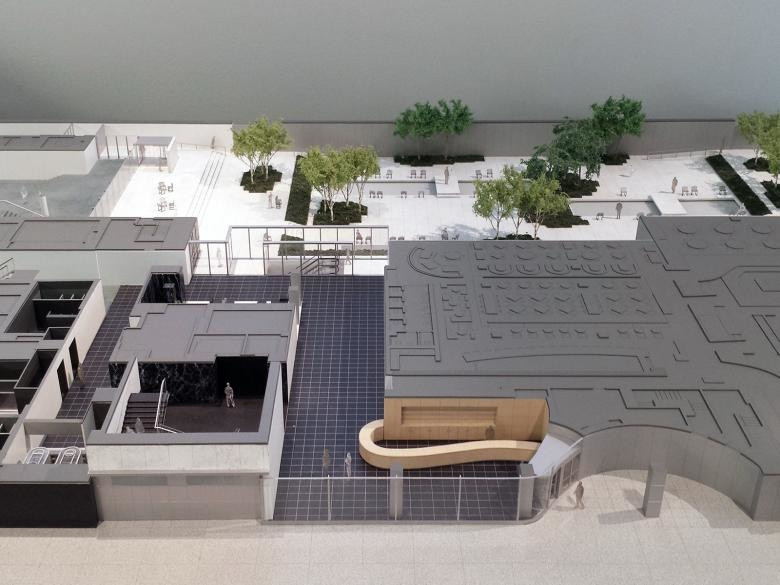 Museum of Modern Art Expansion and Renovation Model. 2017
339
Before I describe additional works in the gallery, I would like to describe some architectural models related to MoMA's building project that are currently on display in different locations. It is not necessary to visit these models but it is important to consider their presence.
The first is a model of the Museum's expansion and renovation located on the second floor of MoMA. The grey plastic model made by Kennedy Fabrications and is placed in an open area bordered by multiple pathways; it is a noisy, busy area. The model shares the majority of a large white wall measuring approximately 23 feet (7m) and it is displayed on a platform that is about 3 feet (1m) from the floor. The model's three viewable sides, which show the footprint of the existing museum as well as multiple views of the new addition and renovation, are surrounded by low stanchions.
Miniature grey resin figurines, less than an inch (or 2.5 cm) tall, are scattered throughout the display. They pose. They interact with open floor plans. They face blank walls, looking lost in thought. Some figurines stand close together, as if engaged in conversation.
Above the model are 2 digital animations. The color animation, projected on the wall directly above the model, shows a rendering of the Museum's new layout. Rotating images and a narrative text highlight different spaces inside the building, such as lounge areas, galleries, a performance area, a room for the "Projects" series and a larger gift shop. The animation projected on the wall to the right of the model shows the building project as it progresses from beginning to completion—block-like shapes interact with reconfigured floor plans. A wall text to the far right of the display reads in part as follows:
In 2019 MoMA will complete an extensive building and renovation project that expands and enhances our galleries and public spaces.
Designed by Diller Scofidio + Renfro in collaboration with Gensler, the project will increase galleries by a third and allow significantly more of our collection to be displayed. New and flexible spaces, including a studio for performance, will enable us to show our collection in different ways, better present contemporary art, and enhance our programming. Reconfigured lobbies and entrances, as well as new lounges and places to pause and relax, will provide a welcoming and comfortable experience for all.