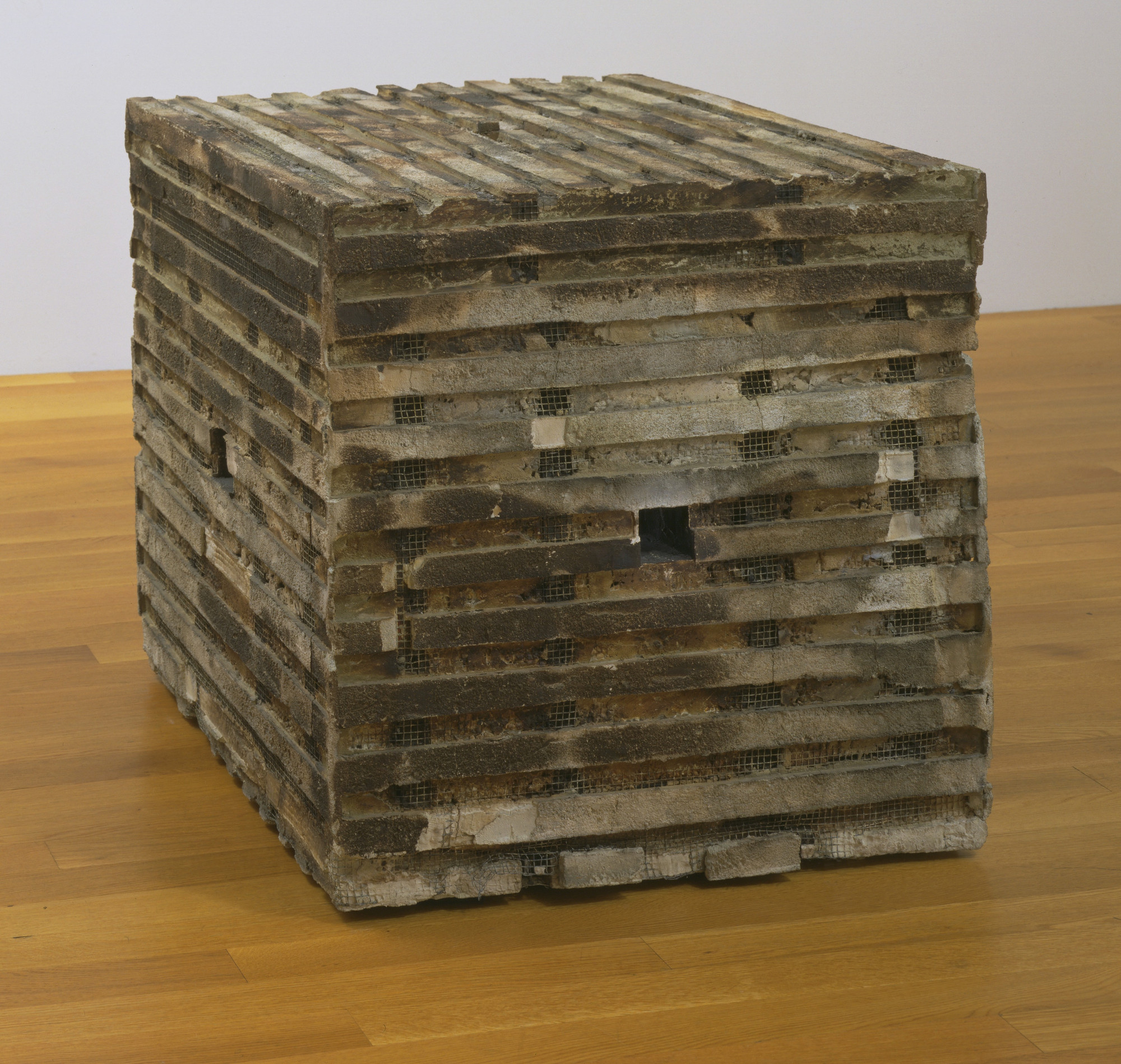 Jackie Winsor. Burnt Piece. 1977-78
28400
JACKIE WINSOR: My name is Jackie Winsor, and the piece we're talking about is called Burnt Piece. I had watched the Trade towers go up in the early 1970s, I lived in the area. And I was very worried about them falling over.
And as a matter of fact, I was so worried that I had dreams of buildings falling in slow motion, buildings burning. So, I woke up one morning from a dream of making a piece that had fire in it.
The structure was made initially out of wood. The concrete was poured like a cast. I wanted the concrete to be strong enough to maintain itself through the intensity of the moment, of the fire, right?
All you could see is concrete, wood, on all sides, with an aperture in the center. And we set it on four bricks, and we made a fire underneath it. And so, it worked, you might say, the way a chimney works. And it would poof out smoke or fire much like somebody who would smoke a cigarette and blow circles. So, the piece in its completion, of course, has the markings of what it went through, both in my making it and that five-hour fire that it went through.
AGNES GUND: I really love the Jackie Winsor I bought, but when I bought it I had no idea that it was so heavy and couldn't be put in my house because I think it's one of the most beautiful pieces and I know she got in a lot of trouble. They had to call the firemen. They had a big kerfuffle about it, but I think it really has been one thing that I've loved.
I don't know why this is so appealing to me. But I think it's just the subtlety of the way it's painted with the charred wood and the cracked wood, and the way it looks with, those different aspects that came by happenstance.