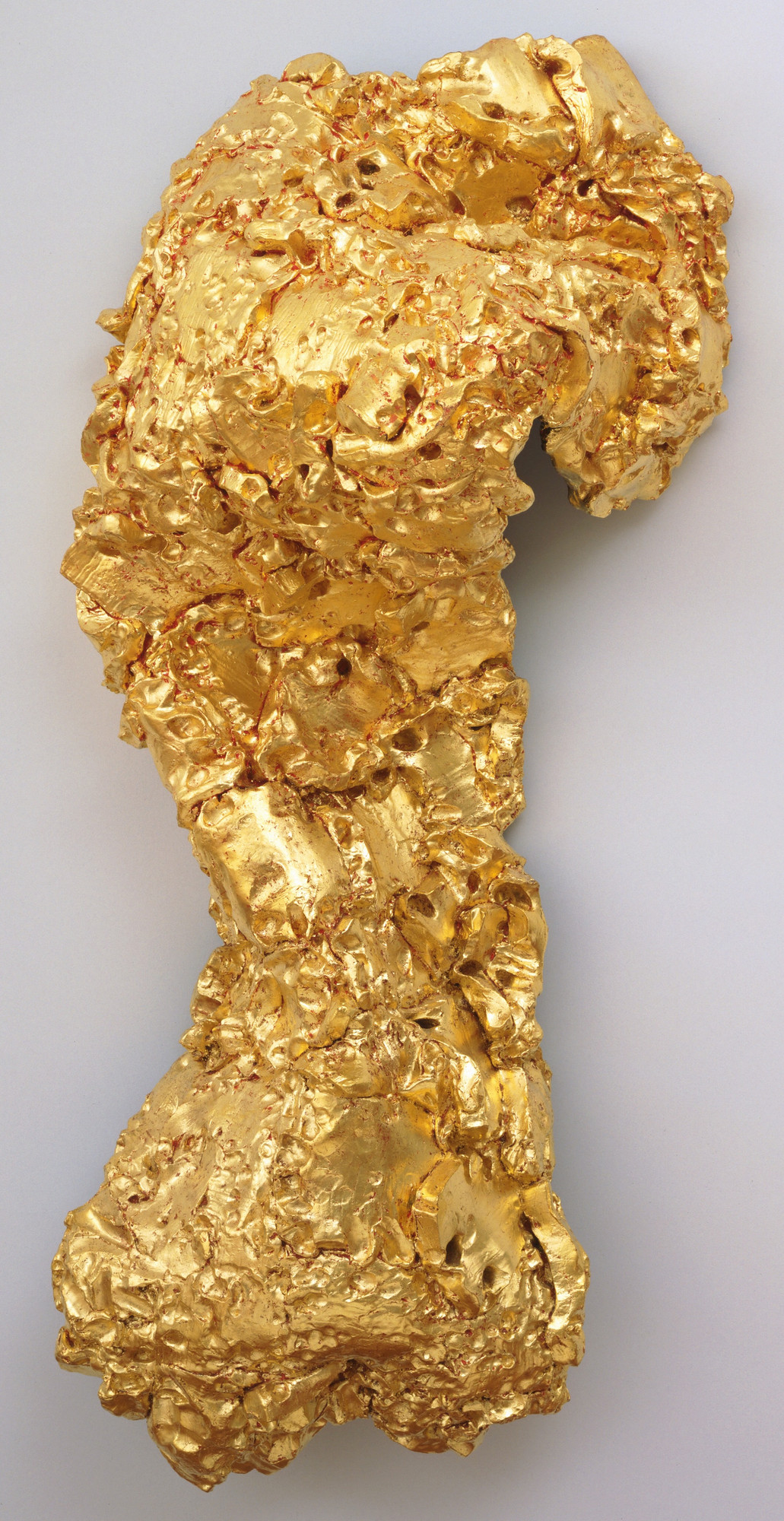 Lynda Benglis. Ghost Dance/Pedmarks. 1998
28000
LYNDA BENGLIS: My name is Lynda Benglis. The gold piece that's here, Ghost Dance/Pedmarks, done in 1998, is a piece that I began working actually as a form in clay, a kind of torso form, and I thought of the torso itself as a very classical feminine and male form, a figure. The figure often even came off the ground or off the wall.
I pounded it with clay and allowed my fingers to imprint the message, leaving my own "pedmark" so to speak. The fact that it was pieced together and through pressure, pounding or hitting the surface of the wall of the torso, they kind of melted in together. So, I decided to gold leaf it, because that gold leaf brought out the texture in a beautiful way.
I've always thought of the works as being frozen moments in time. and it's kind of a monument to the process of making art
AGNES GUND: When you think there's sort of nothing new under the sun, she seems to have found something that was new to do and not the same as everybody else's. It's more of a crusty sort of shell like thing or thing you would find on a beach. I like the texture, but I also like the fact that it comes out from the wall with no problems.
And I also like the fact that she really gets things that have a way to look at them. She never really misses on that score with anything she does.
LYNDA BENGLIS: And I'm so happy that it was a gift of Agnes Gund, who seems to me to be the mother of contemporary art as I know it. Not only is she a striking presence, so early in her own career as a collector she became known and wasn't shy about it; I mean, was very decided in what she liked and stood up for it. So, we all recognize her abilities to understand what art is about.