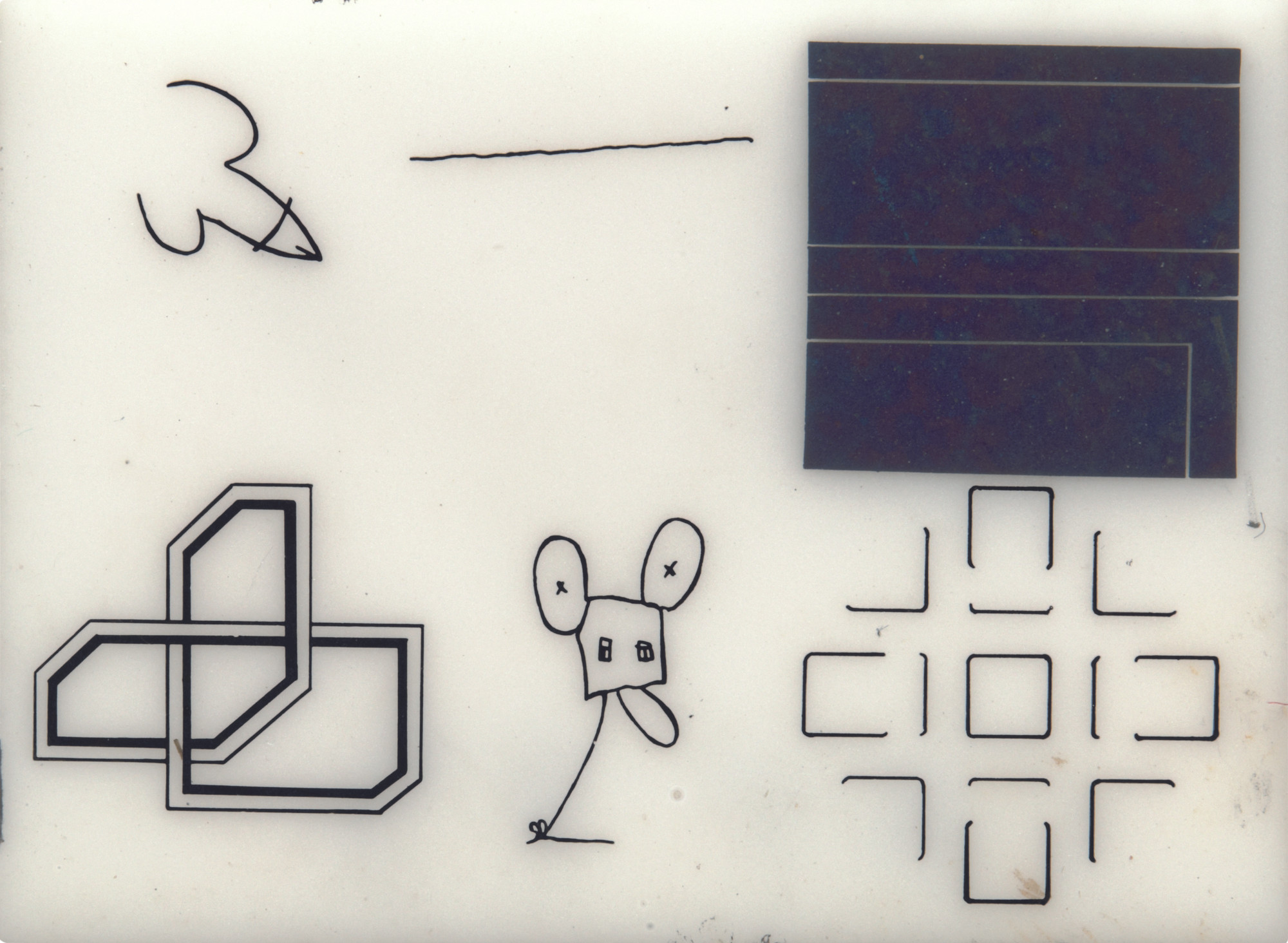 John Chamberlain, Forrest Myers, David Novros, Claes Oldenburg, Robert Rauschenberg and Andy Warhol. The Moon Museum. 1969
819
Leah Dickerman: The Moon Museum was the brainchild of Forrest Myers, who was a sculptor and a member of EAT, the group that Rauschenberg had founded with Billy Klüver and Fred Waldhauer at Bell Labs, and Bob Whitman too. Forrest Myers was excited about the plan to land a man on the moon in 1969. And he said his idea was to get six great artists together and to make a tiny little museum that would be on the moon.
He reached out to Fred Waldhauer, who seized on the new ceramic technologies that were used for telephone circuits. Waldhauer helped make a ceramic chip the size of a postage stamp that was inscribed with six prints. Andy Warhol made stylized initials that look a bit like a rocket ship or perhaps a penis. Rauschenberg made just a simple straight line. David Novros made a black square. Forrest Myers made a computer drawing of a linked symbol called 'interconnection.' Claes Oldenburg made a Mickey-Mouse-like figure. And John Chamberlain made a circuit-like diagram.
According to the story that Fred Waldhauer told, one of the engineers secretly attached a copy of The Moon Museum to the leg of a lunar lander, disguising it with the gold foil wrapping that was used for insulation. And the work was sent to the moon. Of course, we don't know if this is true. But that ambition to send a work that was the embodiment of American cultural achievement to the moon suggests something of the ambition of these artists at the beginning of the space age.