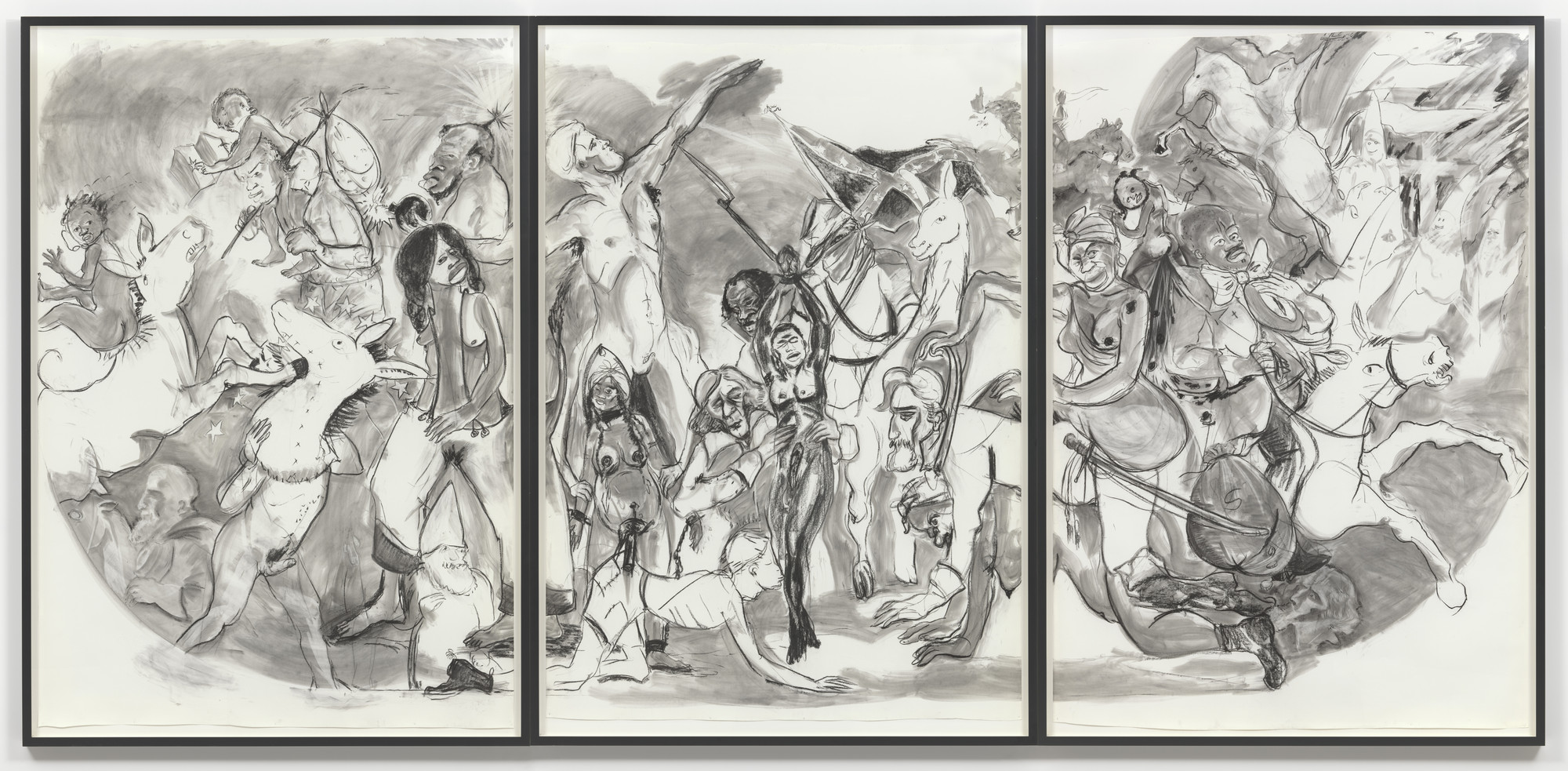 Kara Walker. 40 Acres of Mules. 2015
677
Kara Walker: My name is Kara Walker, and this work is 40 Acres of Mules. The title of the work is a play on "40 acres and a mule," the thwarted promise purportedly given to emancipated slaves.
This drawing was started shortly after I had taken a trip to my parents' home in Lithonia, Georgia. I went down to Stone Mountain. It's a multi-use amusement park with a Confederate theme and checked out the monument to the Confederacy, and the three figures who are carved into the granite -- Jefferson Davis, Robert E. Lee and Stonewall Jackson. And I went down there shortly after the racist murders that happened in Charleston, South Carolina.
40 Acres of Mules began as a parody on Stone Mountain. When I started out, I really thought this was going to be a direct commentary on those three figures who are barely perceptible beneath the melee in the foreground. But instead, it turned into this free-for-all of stereotypical figures, some recognizable, some products of my own free-wheeling imagination.
One of Stone Mountain's complicated legacies is the legacy of the Ku Klux Klan using Stone Mountain as the grounds for its rebirth in the early part of the 20th century. when I moved to Stone Mountain as a teenager the Klan was still holding rallies. It's still a site of a lot of contentiousness and the neighborhood around Stone Mountain has shifted in the last 30 years to primarily African American. So it's very odd.
The central figure is very small, but I think probably very significant with the large phallus and being held up by another variation on Jefferson Davis, with a hand near a gash in his side. And he's tied up in the Christ-like mode. This is like the central themes around the protection and protectionism of the American South or the white male American mind, that somehow this colored male figure represented a substantial threat socially, psychologically, sexually, and had to be, or was, in fact, destroyed. The black body itself could never satisfactorily die enough for the white ruling class to breathe easy. That body is representative of all bodies that are oppressed or subjected to this kind of psychosexual torture.