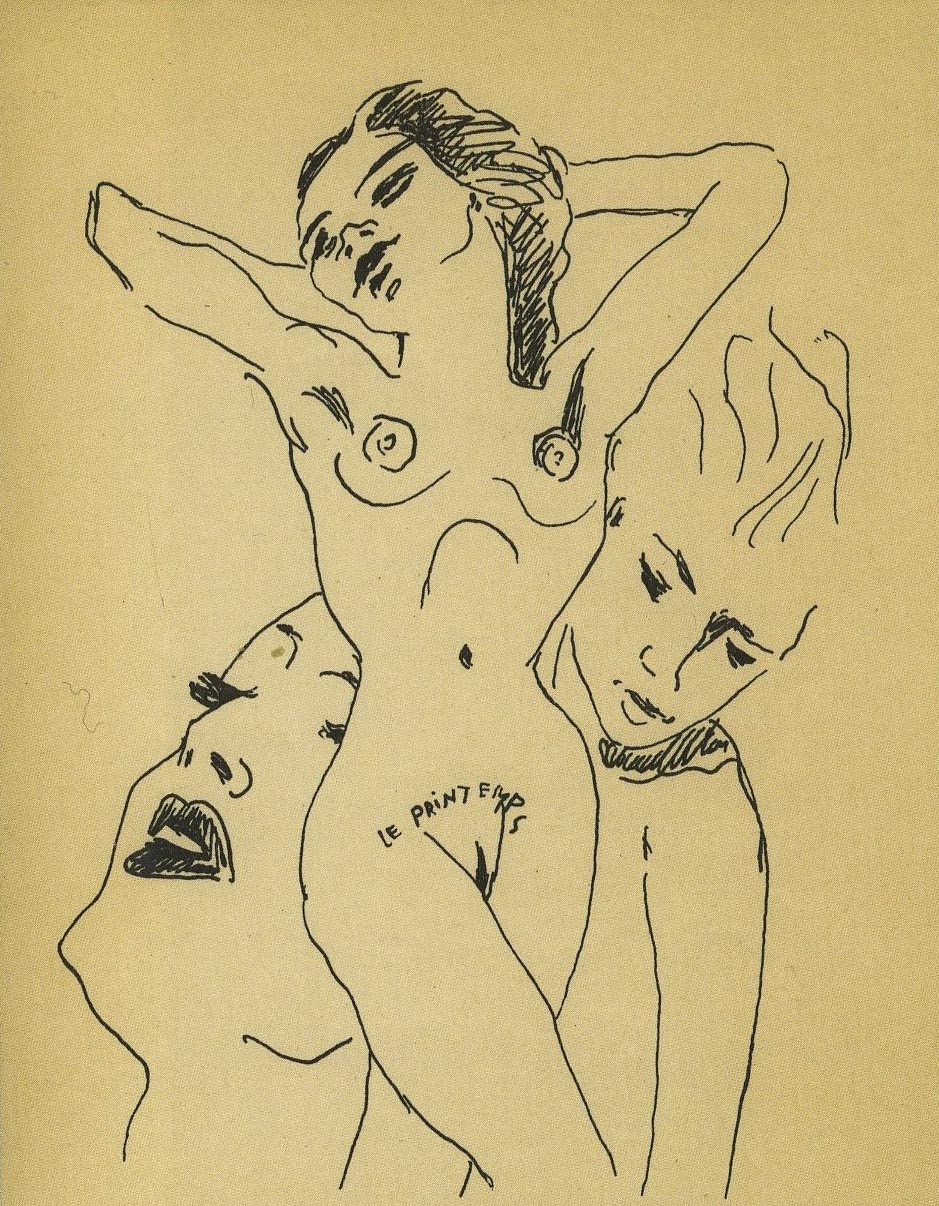 Francis Picabia and Pierre André Benoit. 591. 1952
664
Picabia became deeply reengaged with publishing poetry and book illustration in the last years of his life. And, as you can see looking at the case as a whole, many of these small books have eccentric formats. The one titled, For and Against, Pour et Contre, includes fold-out pages. On the left, you can see a drawing by Pierre Andre Benoit, who's better known as "PAB," of a figure sitting at a desk, presumably Picabia. PAB met Picabia in 1948, and they became close friends and collaborators.
And then on the right, on the fold-out page, is a drawing by Picabia of these two funny, floating creatures, one of which appears to be some sort of a cross between a butterfly and an angel, maybe, with polka-dot wings.
At least half of the text in For and Against was composed of snippets or quotes drawn from Nietzsche's The Gay Science, and this was a source that Picabia turned to with increasing frequency in his last years for use both in publications like this and in his private correspondence, for instance, as in some of the illustrated letters that you can see elsewhere in the room.
PAB went on to publish a number of artisanal illustrated books featuring Picabia's drawings and writings in the years leading up to Picabia's death.
The important thing about these small books is that they continue, in a wonderfully inventive and different way, the important interplay between the verbal and the visual, between text and image, that is a vital through-line in Picabia's art right up until the end.
Picabia was also a poet and a writer. Pause for a moment to listen to some of his writings read by Curatorial Assistant Akili Tommasino.