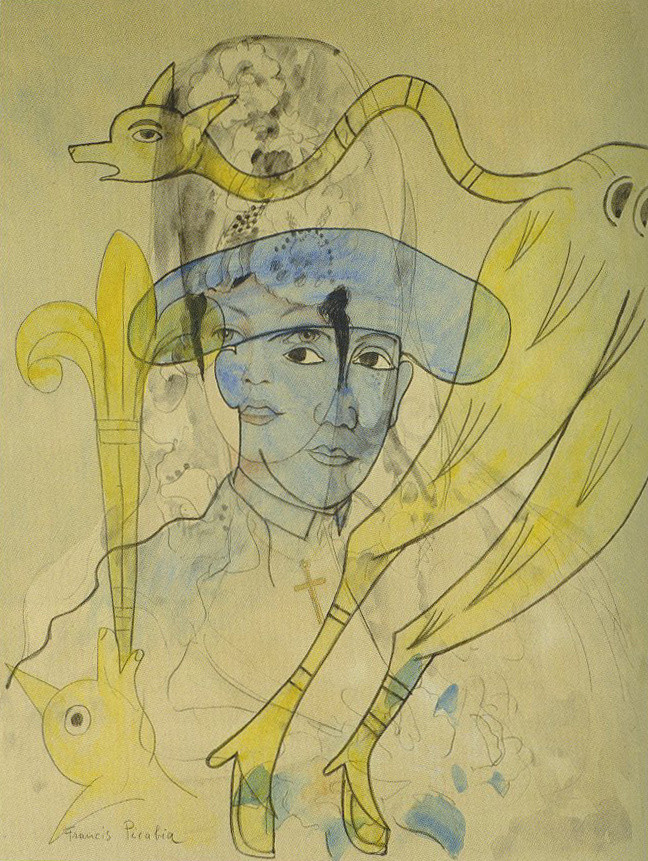 Francis Picabia. La Bête jaune (The Yellow Beast). 1927/28
659
This work, called The Yellow Beast, is one of a series of Picabia's works known as "transparencies."
In the late 1920's, Picabia developed this very distinctive technique of superimposing translucent layers of imagery. These layers appear to oscillate and shift back and forth. And if you look carefully at it, you can see how he has overlaid at least four distinctly different images.
So, stare hard at the center, and a very naturalistically rendered Spanish lady in an elaborate mantilla comes into focus. And then overlaid on her is this blue-capped, blue-faced toreador who is identifiable by this distinctive bullfighter-style cap. And it's particularly interesting to look at the way that the eyes of the Spanish woman and the toreador sort of play off each other and how very different they are in style.
If you look on the left and on the right, you can see these two, pale yellow fragments of these strange beasties, which are believed to have been inspired by medieval Catalan frescos.
Picabia is someone who was remarkably adept at working with watercolor and at exploiting its inherent transparency. And in a work like this, watercolor is something that allows him to both collapse time, you might say, in the sense of layering newer images on top of older ones but layering imagery from different time periods, like Catalan medieval painting over contemporary images of Spanish subjects.
And up until this point, this was a technique that was much more commonly associated with things like avant-garde film and photography. And here you see him take that in a completely new direction that is virtually unprecedented.