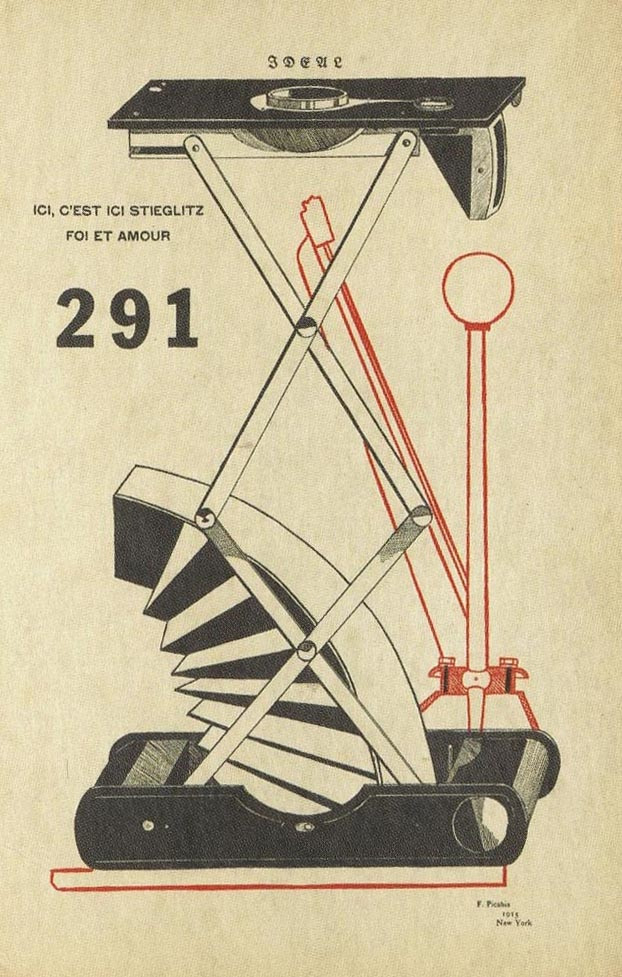 Francis Picabia. 291, nos. 5–6 (deluxe edition). 1915
653
These two collaged works on paper are from a series of five object portraits Picabia made for the art and literary journal 291. You can see the final published versions nearby in this gallery.
The maquette on the left is Picabia's portrait of his friend, the photographer and gallerist Alfred Stieglitz.
What we're looking at is a camera, fittingly, since his subject is Stieglitz, a photographer, but the camera as you can see is upended, and it's also been attached to, in red, what are believed to be a car's gear and brake lever. So, in other words, this is an imagined, rather dysfunctional machine.
One of the most important things for me about works like these is the way that they overtly announce the entry into Picabia's works of machines as subjects, and of machines as a model for a new kind of mechanical, impersonal, precise style.
On the one hand, Picabia is emulating the look of a type of drawing that has been made by a machine or by an engineer. It's very precise, it looks like he used a ruler. The wonderful thing about looking at these maquettes is that as you examine them closely, you can see all sorts of slight irregularities in the line and in the inking that betray evidence of Picabia's hand. You can see around the edges of the letters that Picabia glued pieces of paper to add the textual elements, and some of these have discolored slightly with age, or the corners lift up slightly.
When you walk over to look at the final published version in 291, everything is perfect, everything is machine-made. And so, the maquettes which were made for reproduction in that journal played an important role in establishing the link between Picabia the painter of machines and Picabia the artist who paints like a machine, in the public eye.