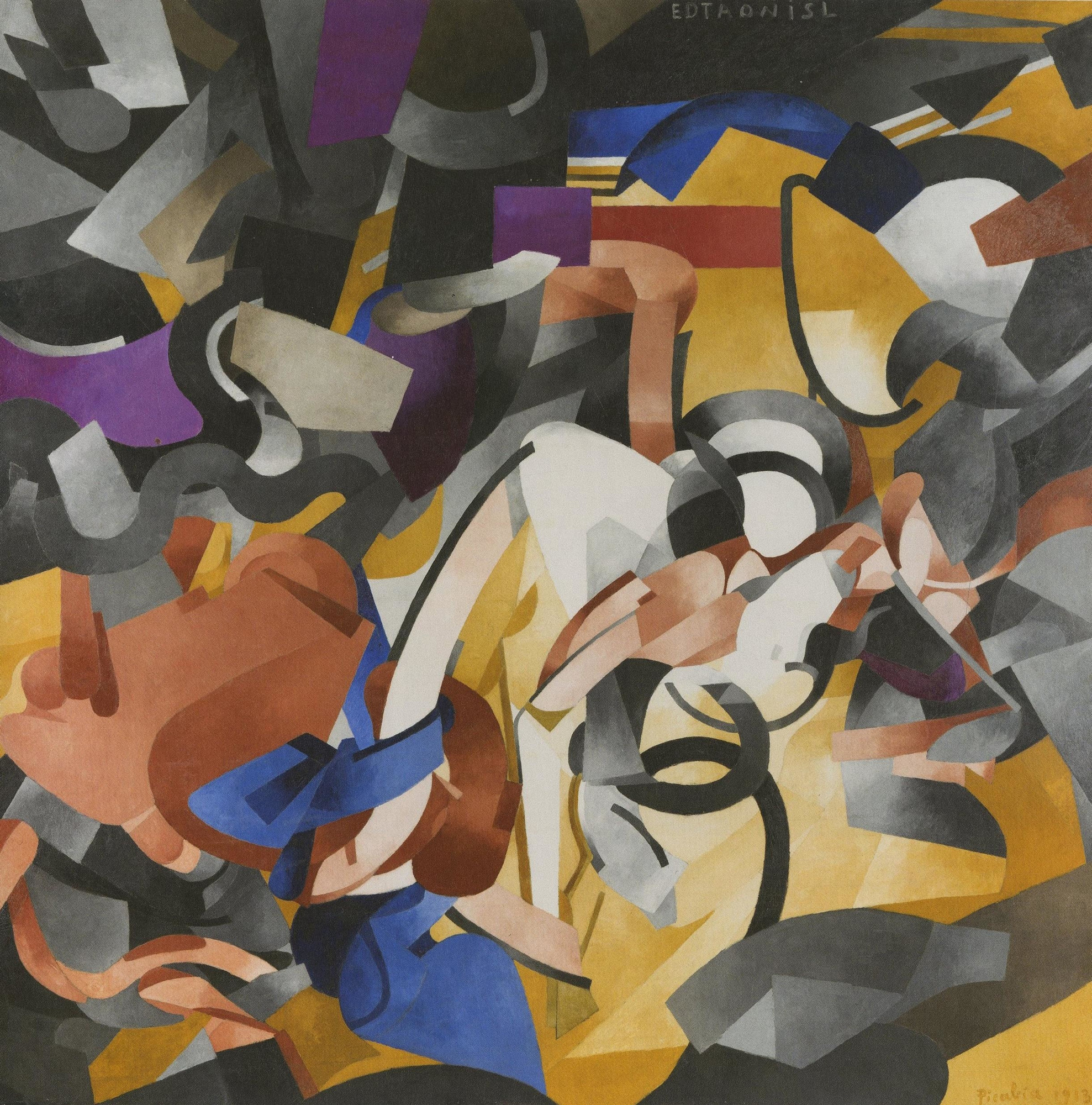 Francis Picabia. Edtaonisl (ecclésiastique) (Edtaonisl [Ecclesiastic]). 1913
652
We're looking at these two huge, nonsensically titled works Edtaonisl and Udnie that Picabia painted as a pendant pair of abstractions shortly after he returned to France after visiting New York City. Picabia associated these large paintings with his memories of watching a somewhat scandalous dancer named Stacia Napierkowska rehearse onboard the ship deck of the ocean liner that brought him back and forth between France and the United States in 1913.
There are all these ribbons of paint that are tangling together, that circle both in on themselves and then out again to encompass us in the pulse of this painting. And I think in both of these, as you stand in front of them, one of the effects of the scale is that the pictures really allow you to lose yourself physically in them.
Unlike in earlier years, where the titles he would inscribe on his paintings had a meaning, here his word is as abstract, as opaque, as hard to interpret or decipher as the forms of the picture themselves. So, of course this has led many generations of viewers to try to decode what on earth did Picabia mean by Edtaonisl?
The French word for star is etoile, and the French word for dance is danse. So, you can see really that Picabia has come up with this word by simply alternating the letters of etoile and danse, and leaving off the final E.
Udnie among many other things, is an anagram of the name of a theorist, named Jean d'Udine, who wrote in the early years of the 20th century about the connections between music and dance through rhythm. And so I think again, this idea of music added to dance are underlying motifs in these pictures.
In the next gallery, you can hear English translations of Picabia's writings, read by Curatorial Assistant Akili Thommasino. Please take a moment to listen.