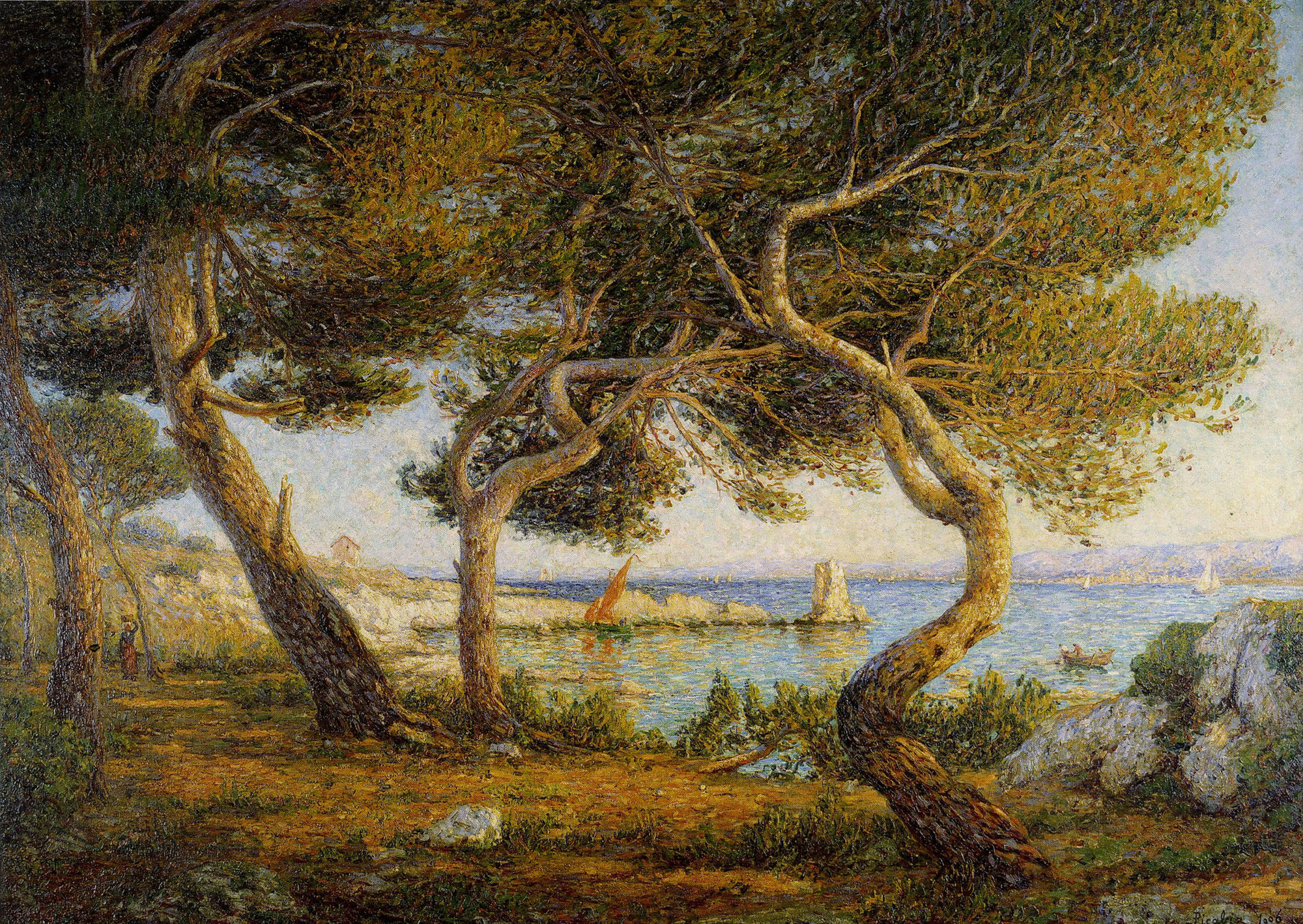 Francis Picabia. Les Pins, effet de soleil à Saint Honorat (Cannes) (Pine Trees, Effect of Sunlight at Saint Honorat [Cannes]). 1906
651
The work that we're looking at here —Pine Trees, Effect of Sunlight— was one of Picabia's most celebrated early paintings.
One of the great surprises of Picabia's career is that his first great success came as a sort of Johnny-come-lately, after-the-fact, Impressionist painter of landscapes.
I think as you look at it, you can see that Picabia's taken this picture postcard-perfect view of the south of France as his subject. But right away, I believe you know something strange is up. Look carefully at these three really strange trees in the foreground. They're so theatrical, they're so figurative. And then the more you look, too, you can see that Picabia's not using a traditional impressionist palette. There are all sorts of garish colors that look like they came straight out of the tube.
One of the reasons he makes such a big picture is to make sure that nobody missed it, to signal the seriousness of his intent, to make a big splash. The other interesting thing that the size of the work tells us is that he couldn't possible have painted this outdoors. Unlike the original impressionist painters who worked outdoors in a very spontaneous way, Picabia created his landscapes in the studio.
Picabia very often relied on photographs, on postcards, on mechanically reproduced representations of the landscapes that he painted, and the fact that he relied on photographic imagery and sourced material would be a through line throughout this very diverse career -- his practice as an appropriation artist, so to speak, begins right here.