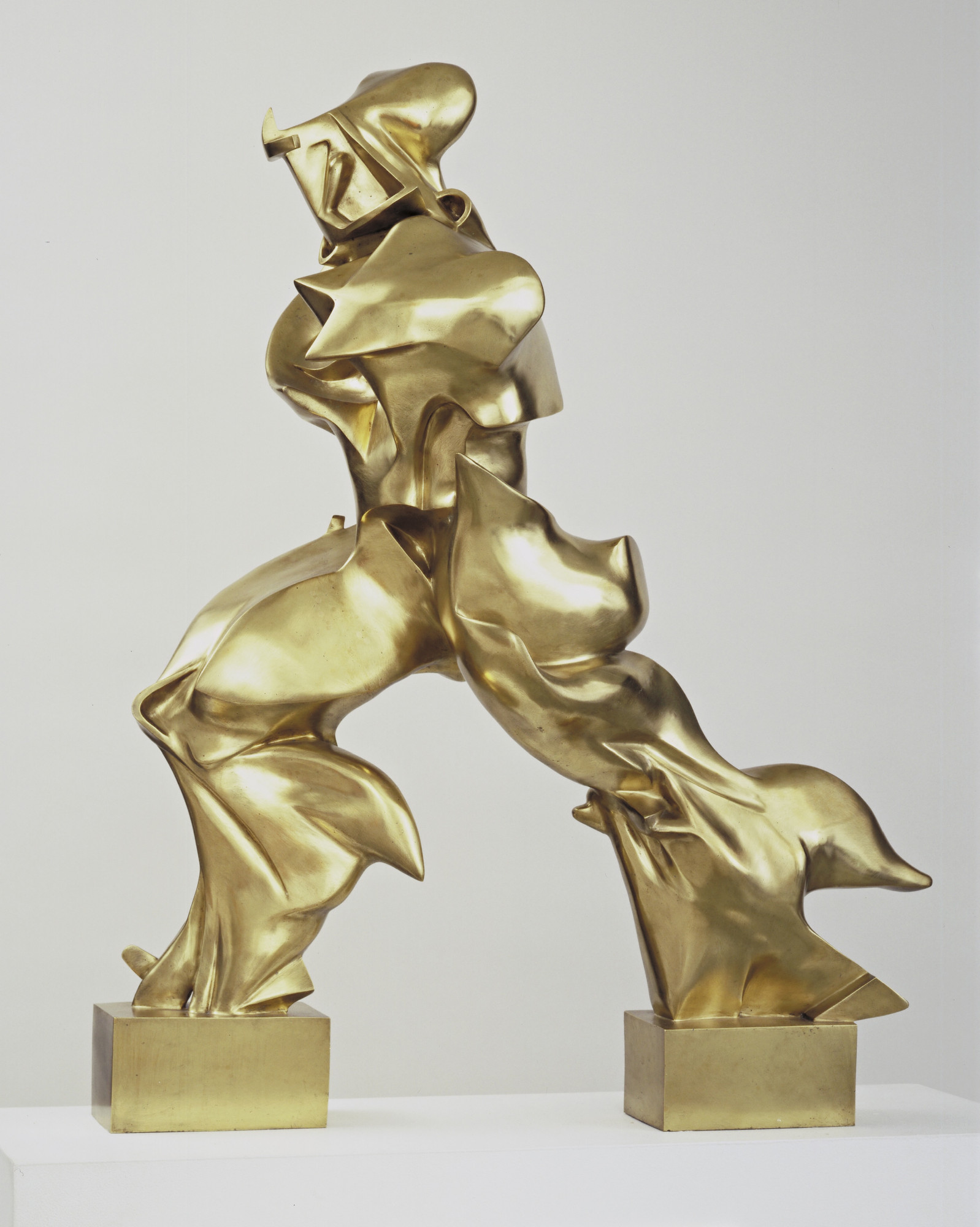 Umberto Boccioni. Unique Forms of Continuity in Space. 1913 (cast 1931 or 1934)
57
Narrator 1: 5–7. Unique Forms of Continuity in Space, made in 1913 by Italian artist Umberto Boccioni. 1882–1916. Bronze. Forty–four inches in height, thirty–five inches by sixteen inches in width. 111 x 89 x 40 cm.
Narrator 2: This is a bronze sculpture of a stylized figure in motion. The bronze is polished and shining: a deep gold color that reflects the light. The sculpture itself is smaller than adult life–size – nearer the size of a five–year–old child. It is displayed on a white pedestal about three feet high with a surface two by three–and–a–half feet. It is freestanding and you can walk all the way around it.
The stance of the figure gives the impression of moving forward with immense speed and power. In fact, the sculpture is as much an abstract expression of speed as it is a recognizable human figure. It has no arms, and a featureless head. It appears to be wearing a helmet over both head and face. This projects forward in the form of a cross, so that the head juts out like the prow of a ship. The pointed top of the cross sticks up like a rhinoceros tusk at the end of the visor.
Most striking are the figure's two powerful legs. It strides forwards onto its right leg. Its left leg stretches out about two feet behind. Each leg is mounted on a rectangular block of bronze about the size of a common brick. Ripples of bronze sweep backwards from the legs as if the figure is moving so fast that it can only be seen in a blur. These curving, streamlined flags of metal resemble folds of cloth: like when you're battling against a strong wind, and your dress or loose trousers are blown backwards. Here, the body itself appears to have been transformed by its own speed.
Imagine touching this sculpture and you would notice a surprising mixture of contrasting surfaces. The flat planes of gleaming bronze on the torso and thighs would be cool and smooth to the touch. But there are also numerous sharp edges. The tusked head. The folds of metal streaming back from the calves of the legs. The smooth planes themselves, on shoulder and chest, end in sharp edges.
The hefty thighs and big chest suggest powerful muscles. But the figure is as much like a machine as a man. A sort of superhuman, perhaps.
Narrator 1: To hear the Collection Tour audio on this work, press 5–0–5.