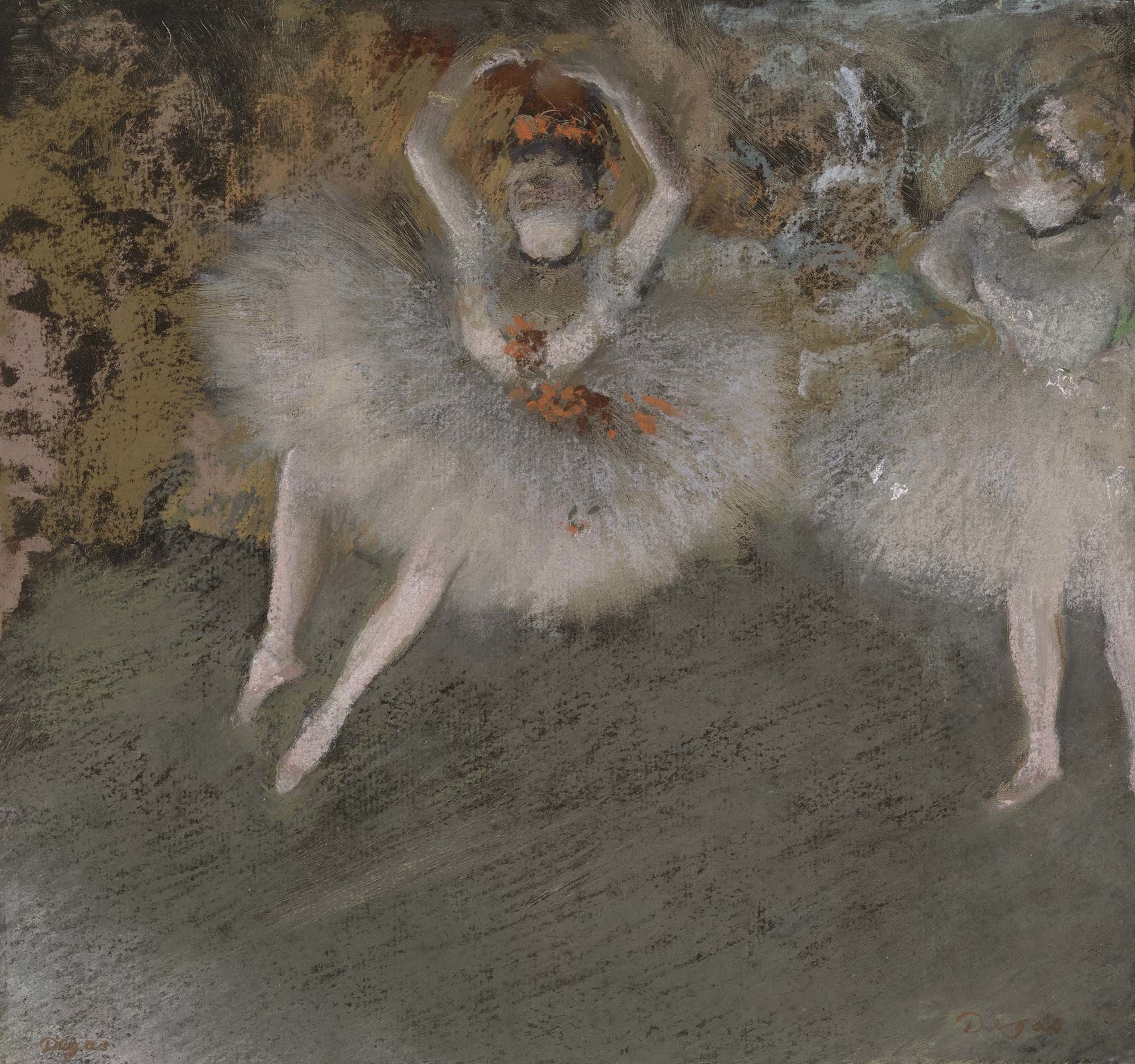 Hilaire-Germain-Edgar Degas. Pas battu. 1879
6005
Jodi Hauptman: Degas loved to go to the ballet and he had a special pass that allowed him to visit with the dancers and see what it was like backstage. In this case we're looking at one of the performances he might have seen.
He's focusing on a particular movement of the dancer, which is called the pas battu.
Narrator: She leaps into the air, moving her legs quickly together and apart, and lands again.
Jodi Hauptman: One of the challenges for Degas in this work is to express that feeling of lift and of motion. And that's really a tricky thing for an artist, who's working in ... a medium that is still, that has no sound. And he's trying to express something that has movement.
Narrator: We don't get to see the dancer jumping up or landing. Instead, Degas captures the moment when she's suspended in the air. How does he do it?
Narrator: He used pastel over the monotype to make the dancer brighter than everything around her.
Jodi Hauptman: By making her legs very bright against the dark floor, it makes it seem like the legs are above, so really lifting above Also the position of the hands. They rise above her head, and so you get this real sense of lift.
Narrator: Degas shows you what it felt like to be at the performance -- sitting in the dark audience and watching the bright ballerinas leap across the stage.
Jodi Hauptman: And if you think about a stage, sometimes it has lights right up front. And those lights are called footlights. And in this case we really get the sense of those lights as they light up her feet – which, of course, are the most important parts perhaps of the dancer, who's got to do all of these things on her toes – but also the way the light illuminates the bottom of her tutu, so it almost looks like it's glowing.