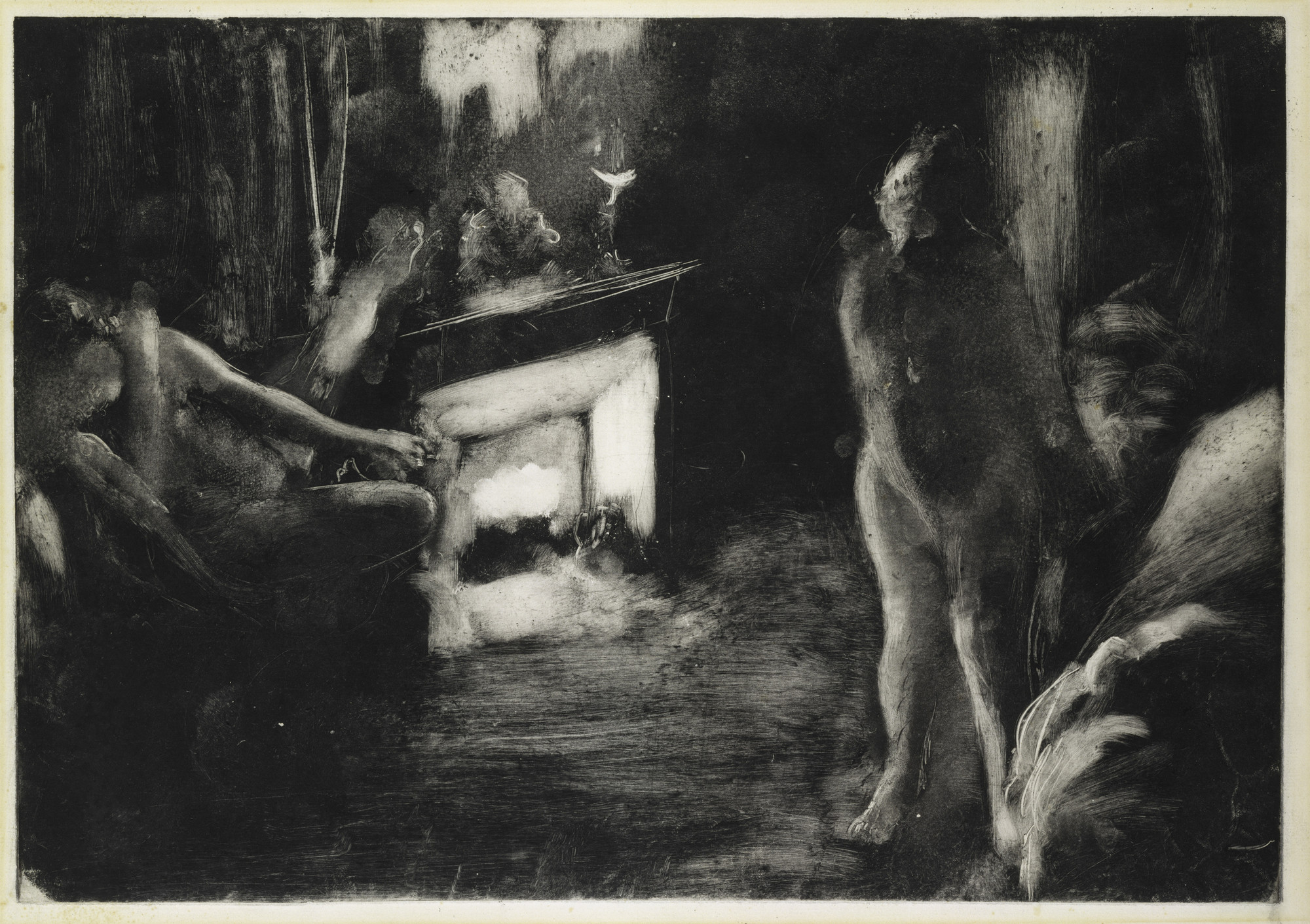 Hilaire-Germain-Edgar Degas. The Fireside (Le Foyer [La Cheminée]). 1880–85
610
Narrator: The Fireside is one of Degas's largest monotypes. The rich, dark tone of the ink, with flickers of light from the fire, conjures an atmosphere of intense privacy and intimacy.
laura Neufeld: The Fireside is a quintessential representation of Degas's use of the dark-field technique, where ink was applied over the entire surface of a printing plate and the image was created by selectively removing the ink with a variety of tools. And these tools that he used leave very distinctive marks in the ink.
Narrator: Degas used rags to wipe away the glowing fire and the fireplace, and a stiff brush to create the floor.
Laura Neufeld: You see the scratchiness of those brushstrokes in the ink.
Narrator: He used a sponge to create the stippled marks visible in the figure on the left. And the edge of the mantlepiece is a cluster of lines that Degas sketched into the ink using the pointed back end of a paintbrush. Across the entire work are Degas's own fingerprints.
Laura Neufeld: The imprecision of the drawing adds to the great atmospheric quality. It's not just one perfect line, which we knew Degas was capable of. He was an immaculate draftsman. But in the dark-field monotypes particularly, Degas lets go of line. And he's looking at how to create the mass of a figure only with shadows and light Degas is not simply drawing in the ink but really sculpting the ink on the surface of the plate with his fingers and his hands, and really modeling the bodies.
And I think seeing the hand of the artist, his fingerprints, across the women's bodies really lets you see his physical process that makes these prints so captivating and interesting in their creation and in their image.