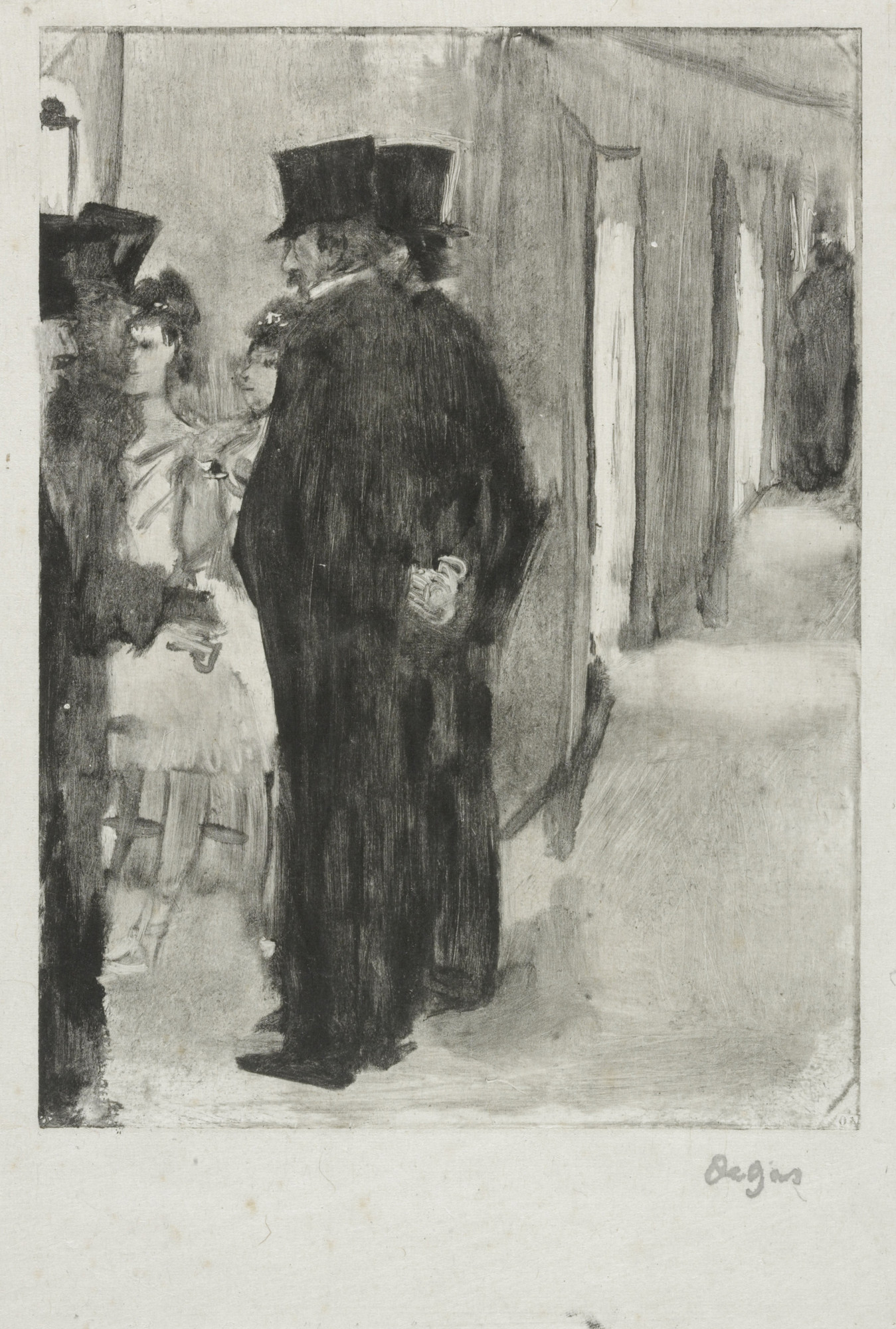 Hilaire-Germain-Edgar Degas. Pauline and Virginie Conversing with Admirers (Pauline et Virginie Cardinal bavardant avec des admirateurs). 1876–77
608
Narrator: Degas created this series of monotypes as proposed illustrations for the stories of his good friend Ludovic Halevy. Grouped together under the title La Famille Cardinal, or The Cardinal Family, the stories follow two young ballerinas. Degas doesn't show specific moments from the narrative; instead, this is a jumping-off point to explore the backstage, the movement and the atmosphere of the world behind the curtain.
Degas's monotypes are often categorized as "light-field", an additive method, or it's opposite, "dark-field, a subtractive method." Conservator Karl Buchberg.
Karl Buchberg: This work is created using the additive or light-field technique. And for this, he diluted the printer's ink which he then applied most likely with a brush onto the plate.
Narrator: He painted the men with dark, heavy brushstrokes; the women with lighter, more diluted ink.
After starting with the light-field technique, he switched to dark-field.
Karl Buchberg: He has used the subtractive technique -- that is, by removing ink -- to create the light coming through the large doorways, the light pools under the doorways, and the hands of the gentlemen, created using the back of a paintbrush by scraping away in a funny little design, which you can read as their hands clasped together.
Almost no works are completely dark-field or completely light-field. 00:28:14 So when one sees him working backwards and forwards with subtractive and additive, ... he is really trying to work out on the plate ... what kind of effect he wants to get when it's finally pulled ... And we see that experimentation happening, really, before our eyes.
Narrator: If you look closely at the corners of this print, you'll notice small triangles. To hear more about this from conservators Laura Neufeld and Karl Buchberg, press six-zero-eight-zero on your keypad, and then the search button. [ALT for WAND: press the green PLAY button.]