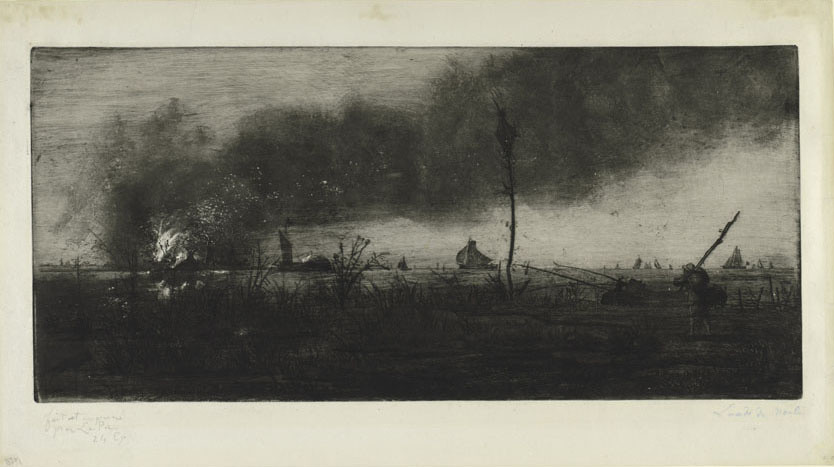 Ludovic Napoléon Lepic. L'Incendie du moulin (The Mill Fire) from the series Vue des bords de l'Escaut (Views from the Banks of the Scheldt). 1870–76
602
Narrator: The printmaker Ludovic Lepic made these works in the mid-1870s. Lepic was a friend and collaborator of Degas'. Curator Jodi Hauptman.
Jodi Hauptman: He is the one who opens the door for Degas to monotype.
Narrator: These works show the wide-ranging possibilities of manipulating ink on an etched plate. To make the etching, Lepic incised or cut lines directly into the plate. He defined a horizon, a few mills and boats, a slender tree, and a man.
After ink was laid down on the surface, and pushed into the incised lines, Lepic then wiped away the extra ink so only the image formed by these lines would print.
Jodi Hauptman: But every time he prints from the plate, he wipes the ink differently ... So you'll see a rainstorm. And then you'll see sunlight. And you'll see a fire. Every time, he's hand-making that effect on top of the actual etched plate
Narrator: The ink was manipulated on the etching plate to create changes in the season, time of day, action, and landscape. This technique is closely related to the monotype process which Lepic also explored and likely taught Degas.
Jodi Hauptman: We're only seeing 6 of them here, but he actually does 85 different ones ... That idea about variation instead of multiplication is something that I think, Degas comes to understand deeply ... he takes what Lepic does and then pushes it to really radical ends.
Narrator: The two artists actually collaborated together on Degas's very first monotype – The Ballet Master, the first work you saw in the exhibition.