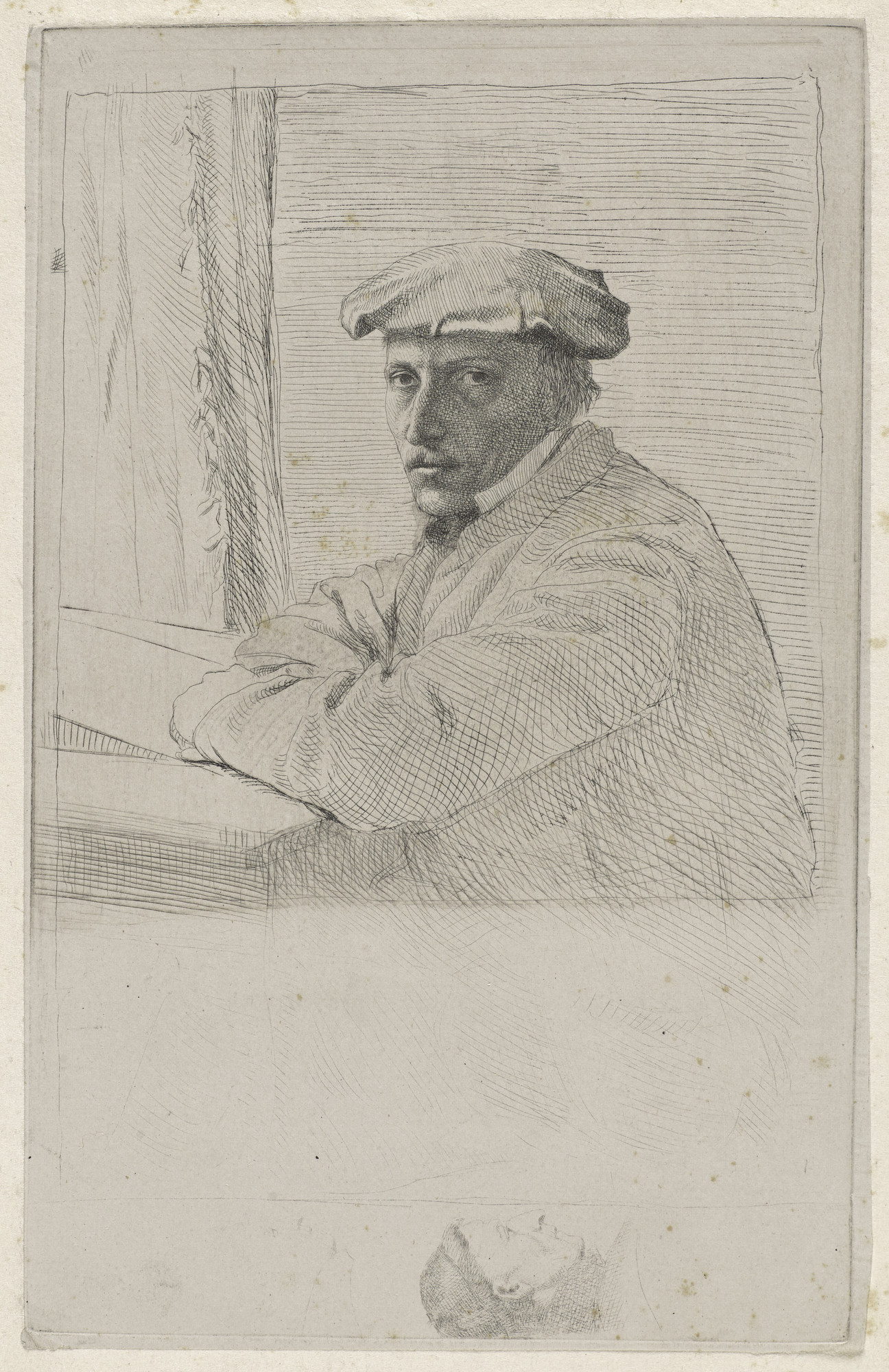 Hilaire-Germain-Edgar Degas. The Engraver Joseph Tourny (Le Graveur Joseph Tourny). 1858
601
Narrator: Long before Degas learned how to make a monotype, he was experimenting with its strategies.
Jodi Hauptman: These three works are some of the earliest in the exhibition. And the subject is an artist named Joseph Tourny, who was a ... mentor to Degas.
Narrator: Degas made these images using a type of printmaking called etching. An etching is created by drawing an image onto a specially prepared metal plate; the drawing is then chemically incised. In subject and approach, Degas alludes to the work of the 17th century Dutch painter and printmaker Rembrandt – especially in the variations among the three prints, achieved by manipulating ink on the surface of the plate.
Conservator Laura Neufeld and Jodi Hauptman describe the progression of the prints, beginning with the lightest and moving to the darkest.
Laura Neufeld: Overall you can see from one to the other how much ... the ink quality changes the mood of this print. The first image, owned by Princeton ... is a very clean traditional inking.
Jodi Hauptman: If you move ... to the one next to it, which is from the Museum in Karlsruhe, you can see that it's much more moody and dark.
Narrator: Degas has transformed the curtain in the background into a heavy column of black ink.
Laura Neufeld: Going even further, in the Metropolitan's impression of the same print, Degas has inked the plate to create now two curtains in the back of the space ... This is Degas essentially painting on the plate with ink.
Narrator: The manipulation of ink across the surface of the plate seen in these etchings, becomes the essence of Degas's monotype technique.
Jodi Hauptman: Degas is showing his interest in using printmaking to make variations and not multiples. Instead of trying to make a print that's the same every time, which is really what printmaking is usually about, he's making images that are different.