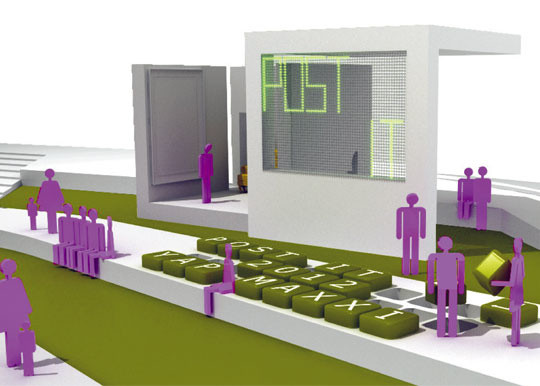 Personal Post
Designed by 6MU6, Personal Post consists of an inhabitable cube with a large LED screen, a gigantic keyboard at the front side of the cube and a number of poufs scattered in the MAXXI's outdoor space.
The cube is a modular metal structure which can be expanded, sliding on high resistance wheels. In this way it can be transformed into an exhibition space, a stage for live events or a lounge where people can meet and relax.
Made of phosphorescent polystyrene, the poufs catch daylight and act as lanterns at night. Besides providing seats for the visitors, they bear a letter on their top and are equipped with microchips: when inserted into the large keyboard, they create 'personal posts' on the LED screen, stimulating a playful interaction on the museum's piazza.
Water jets at the foot of the cube spray a cooling mist for people to enjoy.
Due to the possibility of renting most of the building materials, this installation can be erected limiting the waste to a minimum.