Remembering Brice Marden (1938–2023)
MoMA pays tribute to a towering but down-to-earth artist.
The commanding painter Brice Marden died last month at the age of 84. He was making art until his final days, in a six-decade career that was centered in New York and included early stints as a guard at the Jewish Museum and as a studio assistant to Robert Rauschenberg. In 2006, MoMA held a major retrospective of Marden's paintings, drawings, and prints. Its curator, Gary Garrels, asked Marden at the time what specific experience abstract painting made possible. Marden replied, "When you look at it, you have nothing to go on but yourself. You're there and it's there, and that's what you have to go on. And I think the possibilities are of a much more intense, deeper relationship with art." Several of those at MoMA who had the pleasure and privilege of working with Marden or his art reflect here on what it has meant to them, even as the artist invited everyone to have a personal connection to his work.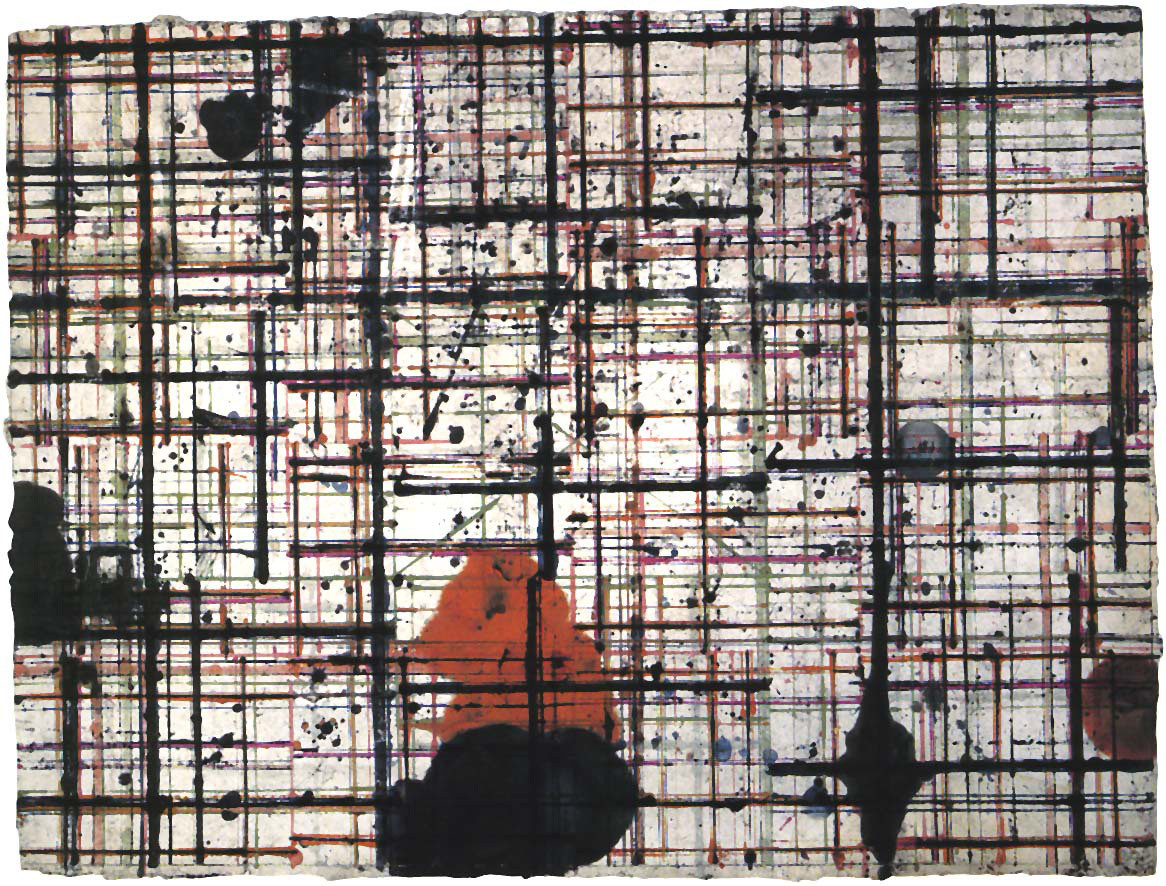 Brice Marden. 4 and 3 Drawing. 1979–81. Ink on paper
Brice Marden was a painter, but my favorite work by him is a drawing [above]. It's reproduced on the back dust jacket of the catalogue for his Museum of Modern Art retrospective in 2006. In the simplest terms, it's a grid, but it's a mess—none of the lines connect all the way across the sheet, and it's covered with spills and splotches, almost like it was sitting under another work of art in process, with the ink soaking through (which is probably an accurate reflection of how it was made.) I would have come across that sheet of paper and recycled it; Brice Marden transformed it into a magnificent composition of ravishing beauty.
I think about this drawing all the time, almost 20 years after I first saw it. The Brice Marden retrospective brought me to MoMA—I was hired to work as a research assistant on the project in 2005—but it also brought me into the amazing world of works on paper. The exhibition filled MoMA's sixth-floor galleries with Brice's exceptional paintings, presenting five decades of lush surfaces, luminous color, and the artist's brave reinvention of his working methods and style mid-career; but his drawings held their own on the Museum's third floor. They traced the same career, but in a way that felt deeply personal. "It's very direct, it's very close," he said about drawing, "There is less between the artist and the art." And when you look at a Marden drawing, you're also invited to get very close. You can see his hand at work, you can watch him stop and start. He thought so intentionally about the type of paper he used, the type of ink, the way his lines perfectly sweep to the edge of the sheet and effortlessly sail away.
Brice Marden was really nice to me. I was a somewhat clueless young woman just starting a new job at a major New York institution, and he was the epitome of cool—in addition to being a celebrity for having made some of the most impactful art of the 20th century. Working with him was an incredible experience, but I don't think I realized until now just how influential his work has been on my own career. I've worked with very different kinds of artists and art since 2006, but Marden's drawings really taught me how to see. They still allow us to connect directly with him, even now, when he's gone.
—Esther Adler, Curator, Department of Drawings and Prints

Brice Marden. The Propitious Garden of Plane Image, Third Version. 2000–06. Oil on linen, six panels
It was hard not to like Brice Marden. He had an easy smile and a quiet demeanor that masked his intelligence and warmth. He had an uncanny ability to appear suddenly, almost out of nowhere, but seem as if he had always been there. Gracious and unerringly polite, he was the consummate friend. He was also about as cool as anyone could be. It was not just his laid-back manner, or the shabby-chic casual way he wore his clothes, or the places he hung out—Hydra, Nevis, Marrakesh, among others—but the fact that he was so talented yet so modest, that made him seem so special. He could work on a painting or drawing for months if not years, staring at it with a Zen-like concentration, worrying over the smallest detail, before erasing and repainting or redrawing until he felt it was just right.
For all his talent, though, what I loved most about Brice was the way he could transform himself from an art world luminary into a doting father without missing a beat. I remember once being early for an opening at his daughter Mirabelle's gallery on Rivington Street, and there was Brice on a rickety ladder doing the lighting for her and helping her clean up as guests were arriving—and then he quietly slipped away so that he would not become the center of attention. Family meant a great deal to him and he was lucky to have such great children, but above all a partner like Helen, also a gifted artist, who made sure his life was always full of new experiences and adventures that he would never have undertaken on his own.
I was thrilled when Gary Garrels joined The Museum of Modern Art in 2000 as chief curator of Drawings and immediately proposed a major survey of Brice's work, as it was an exhibition that I had wanted to see happen for several years. What resulted in 2006 was a ravishingly beautiful exhibition that revealed the richness and complexity of Brice's practice over the course of his long and remarkable career. At some point just before the opening we found ourselves standing before The Propitious Garden of Plane Image, Third Version [above], a luminescent six-panel painting of interlocking and knotted lines that he had just finished. I turned to ask him a question about the painting, but stopped because I could see how intensely he was looking at it. After a few moments he said, softly, really to himself, "Not bad." There was nothing to add to that other than to nod in agreement, and to recognize how lucky I, and everyone else who knew him, were to be touched by his genius.
—Glenn D. Lowry, The David Rockefeller Director of MoMA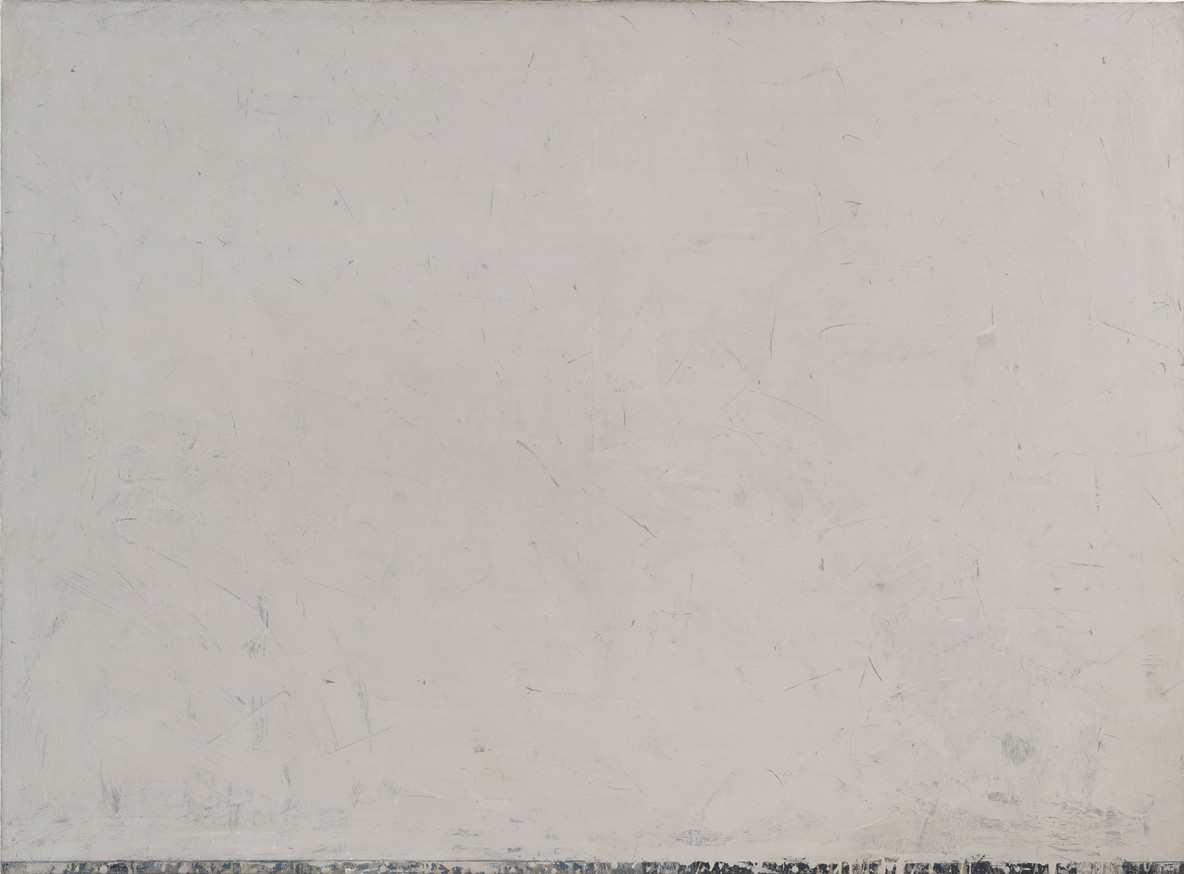 Brice Marden. Return I. 1964–65. Oil on canvas
Brice Marden's paintings were slow to make and are slow to look at. Like most artists, he was not given to descriptions or explanations of the artworks he made. However, he was forthright about their being there to invite a person to spend time with them and to create an experience that would not happen any other way. Committed to abstraction, he was uninterested in narratives that would distract from the subject matter of painting a picture, and of seeing a picture. Even the incomplete bottom margins of many of his compositions, with their quietly visible drips, direct attention back to the complex layers of work above them.
Marden's paintings, drawings, and prints are so very much about real-time experience that they tend to refuse the viewer a means by which to pin down and summarize what they see. Certainly not the colors—gray, green, brown??? Even a red or yellow or blue in a painting by Marden is not quite primary, not a tone you can match to something you know. Even an allusive title—of a friend, or a place—does not take you very far into reading the meaning of a picture. So you simply spend more time with what is there for you to see.
Marden came of age at a moment when the hand and the handmade fell victim to a preference for system and impersonality—a pendulum swing away from the soulfulness of the Abstract Expressionists. Marden thought the latter was fine. His paintings' peculiarity, their ambiguity, make them human—the work of one human striving to communicate with other humans on a level different from any other at their disposal, conjoining poetry and perception.
—Ann Temkin, The Marie-Josée and Henry Kravis Chief Curator of Painting and Sculpture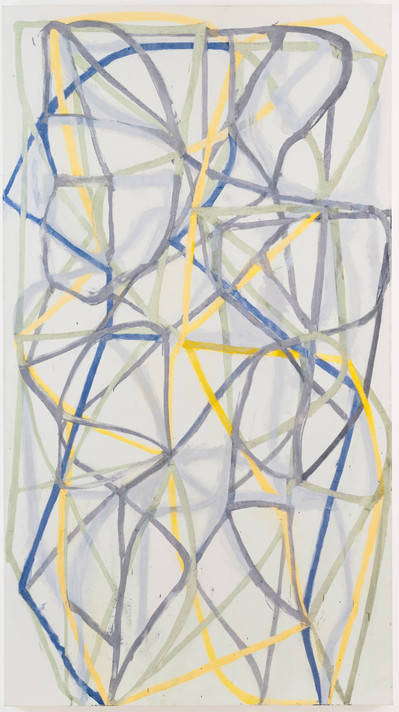 Brice Marden. Couplet IV. 1988–89. Oil on linen
Brice Marden's The Propitious Garden of Plane Image, Third Version is now on view in MoMA's lobby.