You Are Here: A Guide to Architecture Now: New York, New Publics
Use our interactive maps to explore sites featured in MoMA's latest architecture exhibition.
Architecture plays a subtle yet vital role in making city residents feel welcome and fostering a sense of community. The first exhibition in MoMA's new Architecture Now series, New York, New Publics takes a look at 12 public-facing projects across the New York City area. The projects' inventive approaches envision a future in which architecture creates more accessible, sustainable, and equitable cities. They consider the city as an ecosystem.
This exhibition brings together a wide variety of design proposals, ranging from waterfront parks and networks of public pools to cultural spaces and virtual monuments for underrepresented populations. Use the interactive maps below to discover these sites throughout New York.

Kinfolk. The Monuments Project
Multiple locations in New York City, including Columbus Circle
"To this day, Black people are forced to confront monuments of slaveholders in our public spaces," says Glenn Cantave, cofounder (with Idris Brewster and Micah Milner) of Kinfolk. A Brooklyn-based educational technology nonprofit, Kinfolk grew out of a collective of artists and activists that formed in 2017 to challenge the Eurocentric version of history upheld by public monuments in New York City. The group protested for the removal of the Christopher Columbus statue on Columbus Circle. Despite their efforts, the statue not only remained in place but was designated a landmark in 2018.
Frustrated with the slow process of effecting change in physical space, Kinfolk turned to the digital realm. Using immersive technologies like augmented reality, they developed an app that superimposes virtual monuments over specific locations throughout the city. The app makes the untold histories of Black and Brown communities widely accessible, allowing users to bring overlooked figures in front of them and interact with them. For this installation, Kinfolk have further rethought the staging of monuments by using untreated pieces of red maple—a tree once indigenous to New York—as pedestals.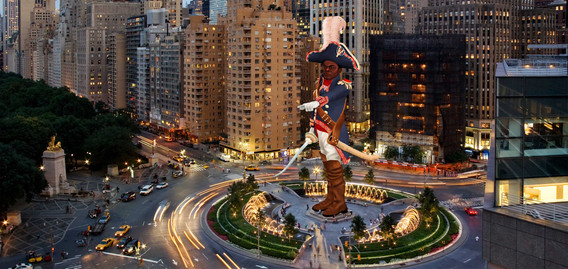 Kinfolk. The Monuments Project. 2022. Proposal for an augmented-reality monument in honor of General Toussaint Louverture on Columbus Circle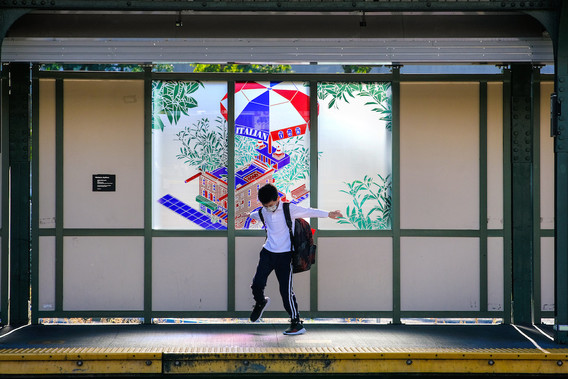 Italian Ice, one of Olalekan Jeyifous's glass panels from the Made with Love series, installed at the 8 Avenue Station in Brooklyn
Olalekan Jeyifous. Made with Love
MTA 8 Avenue Station, Eighth Avenue and 62nd Street, Sunset Park, Brooklyn
Home to more than 60 different nationalities, Sunset Park in southwest Brooklyn is one of the most ethnically diverse neighborhoods of New York City. It is also a well-known food destination. The first Chinatown in Brooklyn was established here in the 1980s, adding dim sum joints and Chinese grocery stores to the Hispanic, Indian, Italian, and northern European markets that already dotted the area.
Taking inspiration from this rich cultural history, Olalekan Jeyifous proposed Made with Love—a public art project for the open-air elevated subway station at the intersection of Eighth Avenue and 62nd Street. Commissioned by the Metropolitan Transportation Authority (MTA), this site-specific work consists of 28 laminated glass panels, whose colorful and abstract compositions fuse Sunset Park's food scene and urban architecture. The panels blend food items and urban elements, such as dumplings, mailboxes, kebabs, fruit stands, tacos, lasagna, building facades, borscht, lampposts, and churros. Jeyifous explains that the scenes "are rendered simply yet boldly, in bright colors that are meant to generate inquiry while being playful, whimsical, and, most of all, accessible."

Adjaye Associates. Public Member Spaces of the 1199SEIU Headquarters
498 Seventh Avenue, Manhattan
How can architecture foster collective memory? The Public Member Spaces inside the headquarters of the 1199SEIU, the largest health-care workers union in the United States, gives us some clues. Across its four stories, several walls showcase enlarged black-and-white photographs from the union's archive. Printed on ceramic tiles, these images document key moments from the union's history of political engagement and its members' participation in civil rights demonstrations over the decades.
A window wall on the ground level visually connects the entry lobby to the city, providing glimpses of the interior to passersby on Seventh Avenue. As architect David Adjaye explains, "I wanted to unfold this incredible story of the SEIU throughout the public space as a kind of permanent gallery." Founded in 1932, the 1199SEIU actively campaigned for better labor conditions and fair wages, and against racial segregation. Today, many of its members are frontline health-care workers who have supported New Yorkers during citywide emergencies, including 9/11 and the COVID-19 pandemic.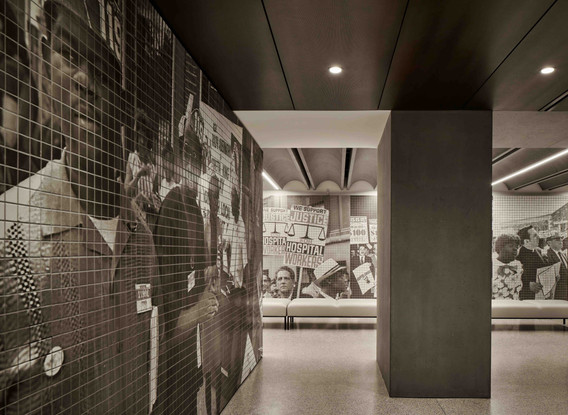 Adjaye Associates. 1199SEIU United Healthcare Workers East. 2018-20. Interior view from one of the upper levels.
CO Adaptive. Timber Adaptive Reuse Theatre. 2017–21. View of the double-height assembly space at the Mercury Store
CO Adaptive. Timber Adaptive Reuse Theater
131 Eighth Street, Gowanus, Brooklyn
Can architecture help us reexamine the relationship between material culture and the natural environment? In this adaptive reuse of a 1902 metal foundry as an incubator for theater artists, architects Ruth Mandl and Bobby Johnston of CO Adaptive have treated the original structure's longleaf pine wood "as a public record." They left the wood prominently exposed, carefully restoring and sometimes repurposing it to create new architectural elements.
Before the advent of structural steel, longleaf pine wood was prized for its exceptional durability. The wooden structure made visible by the architects was likely harvested from public land in Texas, Florida, or Georgia and then transferred to New York by train. For the adaptive reuse, this structure was supplemented with glued and cross-laminated timber elements made from sustainably logged wood to form a series of flexible rehearsal rooms. The resulting spaces are organized around a central double-height gathering area with bleacher seating. Breathing new life into a decommissioned building, the Timber Adaptive Reuse Theater reflects CO Adaptive's larger mission of "searching for solutions to redirect existing architectural materials...as the starting point for something new."

Agency—Agency and Chris Woebken Studio. New Public Hydrant
47 Belmont Avenue, Brownsville, Brooklyn
New York City boasts the largest unfiltered water supply system in the United States. Yet this public utility remains largely inaccessible to many of its residents. Since 2018, architect Tei Carpenter and interaction designer Chris Woebken have been devising a simple yet efficient strategy to democratize access to water and reduce the use of plastic water bottles. Proposing a series of custom-made attachments that can be mounted on public hydrants, their project inventively "hacks" existing infrastructure by making drinking water easily available to city dwellers and their pets, as well as to birds and insects.
These "prosthetic devices" are constructed out of standard plumbing components and currently include bottle-filling stations, drinking fountains, hand-washing facilities, and cooling sprinkler playgrounds, among other features. For this exhibition, Carpenter and Woebken organized a workshop with students at the Youth Design Center in Brownsville, Brooklyn, to brainstorm ideas and later fabricate a new series of playful prototypes.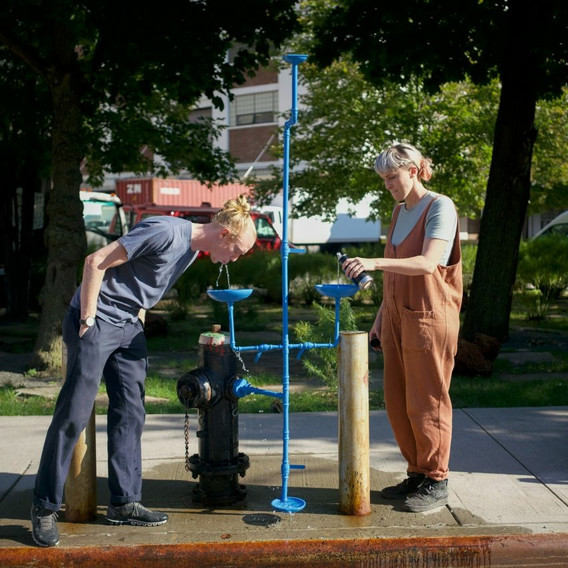 Agency—Agency and Chris Woebken Studio. Early prototype for a multispecies water fountain, 2018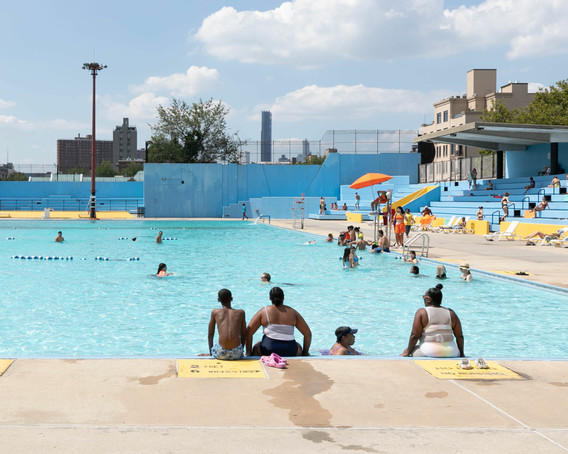 Only If. The People's Pool. 2019–20. An existing shading structure of the Kosciuszko Pool designed by Morris Lapidus
Only If. The People's Pool
Marcy Avenue at DeKalb Avenue, Bedford-Stuyvesant, Brooklyn
New York City is home to a network of 65 public pools. Some of the grandest examples were conceived in the 1930s as leisure spaces for New Yorkers across boroughs. During the 1960s and 1970s, smaller complexes were built to serve local—and often underserved, racially diverse—communities. Today, the vast majority of the city's public pools are outdoor facilities that welcome thousands of people every summer. Because they only operate for 10 weeks each year, Only If developed a series of speculative design interventions that would allow these pools to serve diverse publics across all seasons.
The architects used the Kosciuszko Pool—once nicknamed "The People's Pool" by nearby residents—in Bedford-Stuyvesant, Brooklyn, as a case study. Their proposal features a retractable roof over the existing pool and a new indoor aquatic and recreational center on a vacant adjacent lot, as well as smaller interventions—landscaping, water features, shading devices, and nighttime lighting. The larger ambition of the project, Only If comment, is to "re-imagine this civic asset as an expanded space for recreation, social gathering, education, and health in the 21st century.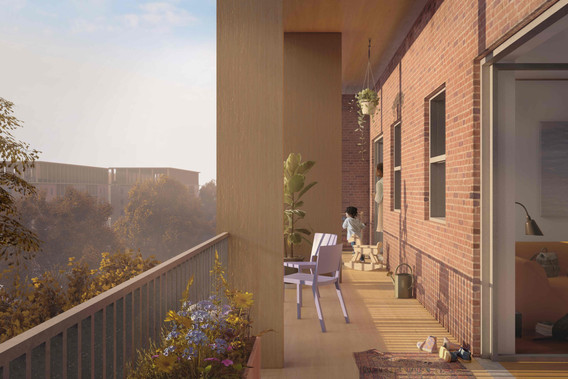 Peterson Rich Office (PRO). Scalable Solutions for NYCHA. 2019–present. Renovation and extension for the NYCHA Cooper Park Houses, Brooklyn, NY
Peterson Rich Office (PRO). Scalable Solutions for NYCHA
Cooper Park Houses, 60 Kingsland Avenue, Williamsburg, Brooklyn
One in 16 New Yorkers live in public housing units owned and managed by the New York City Housing Authority (NYCHA). Many of its complexes are in need of routine maintenance and costly repairs, often after decades of neglect. Challenging previous recommendations to demolish entire campuses and start from scratch, Miriam Peterson and Nathan Rich of PRO have been developing design guidelines to improve housing blocks and their grounds while keeping the communities they house in place. "We start by preserving NYCHA's existing buildings and proposing scalable design solutions," they note.
PRO's design strategies have come out of multiple community workshops they organized with tenants of NYCHA campuses across New York's boroughs. Their proposal for the Cooper Park Houses in Brooklyn maximizes the potential of the lushly green site. Lightweight covered balconies extend living spaces outdoors and help insulate apartments. Fragmented landscaping is unified by a large common garden. And new housing units are introduced to underutilized areas on the perimeter of the campus to diversify the types of units available while also creating a new urban street front.

SO – IL. Amant
315 Maujer Street, Bushwick, Brooklyn
The newly completed spaces for Amant introduce a cultural complex in an industrial area of Bushwick. A nonprofit arts organization, Amant provides free access to exhibitions, hosts public programs, stages performances, and organizes an annual artist residency program. To design its multifunctional campus, architects Florian Idenburg and Jing Liu of SO – IL experimented with the textures of materials typically found in the neighborhood's warehouse architecture, such as concrete, brick, and steel.
Instead of creating a single building, the architects clustered four smaller structures, which serve different functions, across two sites. "Rather than an inward-looking space isolated from its urban context, our collection of distributed volumes weaves itself into the fabric of the city," they explain. "The mini-campus is part of, benefits from, and contributes to the local community." The buildings are complemented by two courtyards, codesigned with Future Green Studio, and are landscaped with various trees and resilient plant species that can often be found in the empty lots and pockets of green space in the surrounding neighborhood.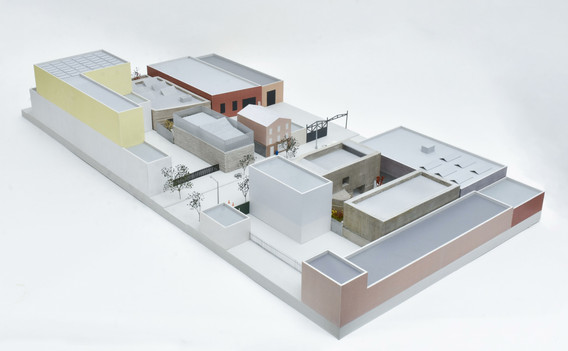 SO – IL. Amant. 2021. Site model. Courtesy SO – IL
New Affiliates and Samuel Stewart-Halevy. TestBeds
Multiple locations in NYC including the Garden by the Bay, 4-80 Beach 43rd Street, Edgemere, Queens
How can the waste produced by the practice of architecture be repurposed to serve local communities? This question is examined in TestBeds, a design research project by New Affiliates and Samuel Stewart-Halevy. Initiated in 2018, TestBeds imagines how architectural mock-ups can be reused in community gardens across New York City. Their idea was prompted by the observation that these life-size prototypes, which allow architects to test material assemblies and make aesthetic choices, are typically discarded after their purpose has been fulfilled.
With the support of the Department of Parks and Recreation, the architects have been exploring how these costly and well-crafted fragments of future buildings can be given a second life. By salvaging them from the developments they were originally commissioned for and relocating them to the grounds of neighborhood gardens throughout the city, the mock-ups can be integrated into new structures that function as greenhouses, tool sheds, and gathering spaces. The first iteration of TestBeds opened in 2022: the Garden by the Bay in Edgemere, Queens, which reuses the mock-up of a residential building on 30 Warren Street in Manhattan.

Mock-up "staging ground" at the facility of a building exterior fabricator, Long Island, New York, January 2019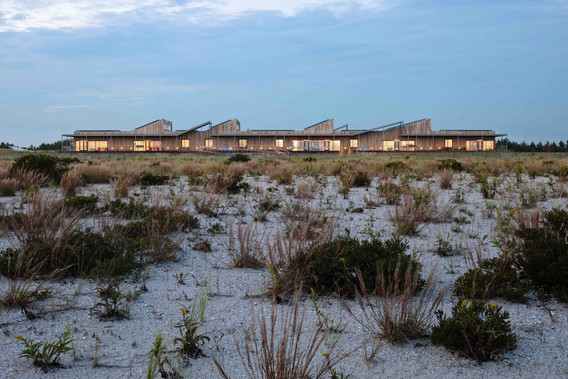 nARCHITECTS. Jones Beach Energy and Research Center. 2018–20
nARCHITECTS. Jones Beach Energy and Nature Center
150 Bay Parkway, Jones Beach, Nassau County, Long Island
Just outside the borders of New York City, Jones Beach has been a day-trip destination for New Yorkers since it became a state park in the late 1920s. Once frequented only by hunters and members of the nearby Shinnecock Indian Nation, the barrier island was transformed in the 1930s into a summer bathing strip. In the decades that followed, multiple buildings were constructed and large parts of the island were covered with asphalt and other hard surfaces.
Built on the reclaimed site of a former concrete parking lot, the Jones Beach Energy and Nature Center combines exhibition spaces and educational facilities under one roof. nARCHITECTS conceived the project as a "public laboratory for learning how feats of human engineering and forces of nature intertwine and overlap." Surrounded by a landscape of native plants, the cedar-clad building rests on the foundations of a former bathhouse built in the 1960s. Thanks to the 260 solar panels that cover its mass timber roof and a system of geothermal wells, the center is a "net-zero" energy-use building capable of producing as much energy as it consumes.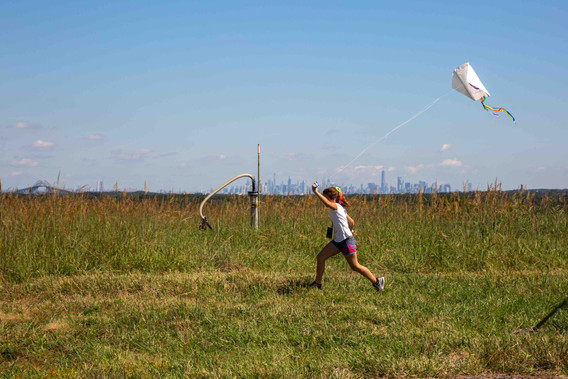 James Corner Field Operations. Freshkills Park. 2001–present
James Corner Field Operations
Freshkills Park, Staten Island
Freshkills Park occupies 2,200 acres, an area almost three times the size of Central Park. Located on the former site of the largest landfill in the world, it will soon be the largest public park to be completed in New York in more than 100 years. What today might appear to be an undisturbed piece of nature is in fact an artificial landscape whose topography has been formed by 150 million tons of solid waste and the building debris from 9/11. As artist Mierle Laderman Ukeles once aptly put it, Freshkills constitutes a true "social sculpture."
In 2001 James Corner Field Operations won a competition to transform this formerly fenced-off area into a place for common enjoyment. The first phase of their master plan focused on nature recovery and facilitated the return of migratory birds. Subsequent interventions, including a playground and parking lots, have gradually connected the vast and inaccessible site to its surrounding neighborhood. The highly anticipated North Park at Freshkills—a gently curved pedestrian promenade and bike lane that leads to a bird-watching tower on a hilltop—is set to open in 2023.

SWA/Balsley and Weiss/Manfredi with ARUP. Hunter's Point South Waterfront Park
Center Boulevard, Long Island City, Queens
Surrounded by water on three sides, the Hunter's Point South Waterfront Park sits on 30 acres of post-industrial, city-owned land in Long Island City, Queens. It is one of few new examples of publicly owned and maintained green space in New York. Part of a larger development that includes residences and a public school, the park has quickly become a vital component of the largest affordable housing project in New York since the 1970s. A variety of recreational features— multiple playgrounds, a bike path, terraces, promenades, and a cantilevered overlook that provides views of the Manhattan skyline—have transformed this formerly abandoned site into a popular locale and outdoors destination.
The result of a collaborative design effort, Hunter's Point South is a pioneering example of resilient waterfront design. Its central green area and 1.5 acres of wetlands create a "soft" edge with the East River that can accommodate and withhold, rather than counter, the influx of floodwaters. As architects Marion Weiss and Michael Manfredi point out, the design team's approach prioritized "durability and self-sufficiency, transforming the waterfront park into a new cultural and ecological paradigm."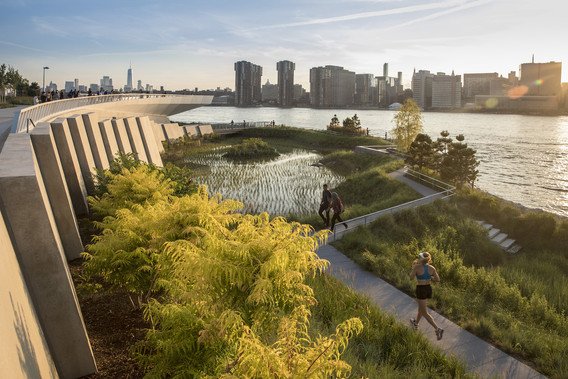 SWA/Balsley and Weiss/Manfredi with ARUP. Hunter's Point South Waterfront Park. 2009–18. Wetland walkway and overlook