Taking a Walk across the Internet
Artists' meditations on time suggest that speed needn't be the only goal in our online experiences.
Everything you are accessing on this webpage—from its images and text to its fonts and styles—has been optimized to travel over a network of virtual connections with one purpose: speed. In fact, part of my job on the digital product team at MoMA is to make sure our website's content arrives as quickly as possible. To do this, I minimize and purge unused code, and rely on servers that host content as close to you as possible.
Our digital obsession with speed, with having anything available immediately, is nothing new. Since its conception in the 1990s, the World Wide Web has been marketed as an "information superhighway." And perhaps this term has actualized itself in our present day more presciently than expected. The mining of the digital cryptocurrency Bitcoin now uses more power than some small countries. (I doubt these power sources are all clean.)1 Traffic jams on the Internet—when millions of visitors try to visit a website at once—bring the flow of data to a screeching halt. These digital pileups often lead to delays and the inability to sign up for services as essential as healthcare.
Our society has long been obsessed with optimization and speed, regardless of the adverse effects. Our tools and devices are all designed for instant gratification. The Internet today is a place where you can consume any content you want at a moment's notice. It has become a banal place where one click follows the next, and you almost always know what to expect—except, perhaps, for the occasional Rickroll.
Instead of racing off to load the next page as quickly as possible, what would happen if we took a moment to breathe? What if we didn't always know where our next click might lead us? What if we were able to decongest this information superhighway? Perhaps we can look to art2 for an answer.
I came across Vito Acconci's Following Piece in MoMA's most recent Artist Choice exhibition, organized by the artist Yto Barrada. In the fall of 1969, Acconci randomly followed strangers in New York, marking down the paths they took; in a way, he gave his agency up to chance encounters and the decisions that the strangers he followed made. The result is a photo collage of all the walks Acconci took throughout the city.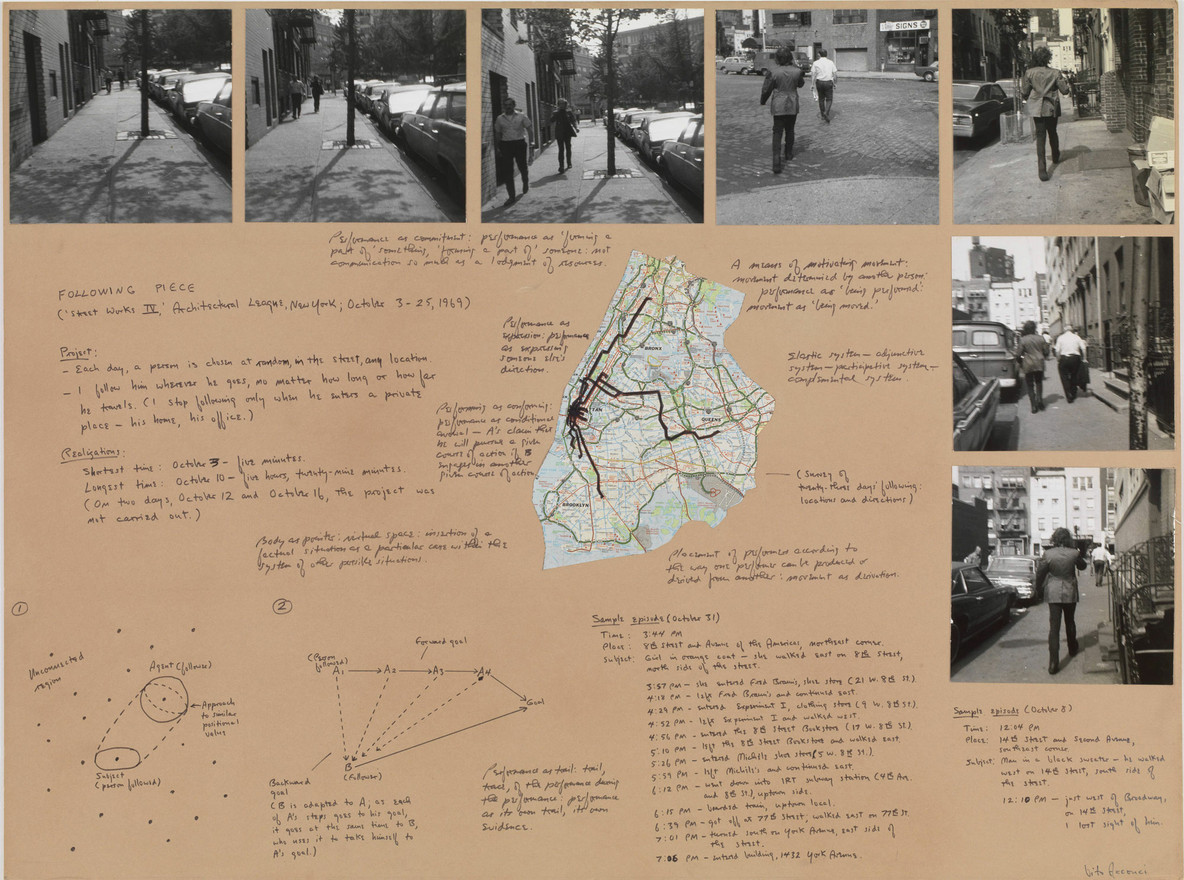 Vito Acconci. Following Piece. 1969
Acconci's wandering reminds me of dérive, a term coined by the French artist Guy Debord, who was a member of the Situationist International movement. Dérive, or drifting3, involved taking an unplanned journey through space—in Debord's case, Paris. Afterward, he cut up a tourist map of the city and pieced together only the sections that he had visited. This act of exploring, where there are no wrong turns, and happening across something unexpected, has always fascinated me. What if dérive could take place not just in the physical but also in the digital realm?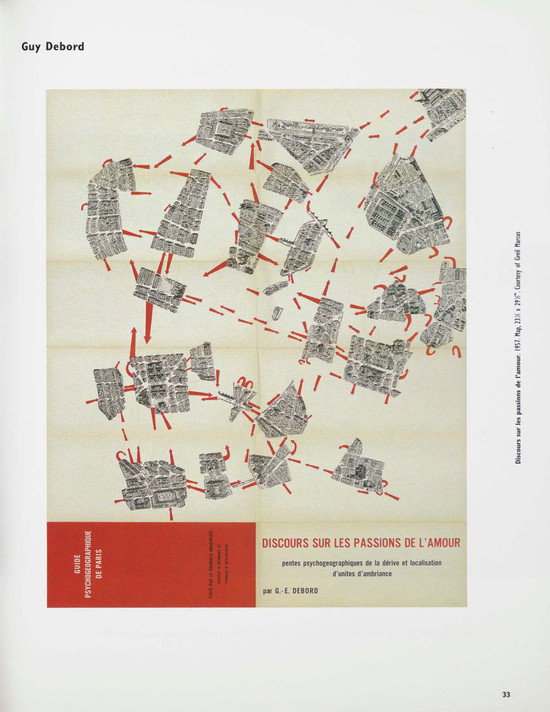 Another work I keep returning to is Felix Gonzalez-Torres's "Untitled" (Perfect Lovers). A sad, poetic piece about the AIDS crisis and how it affects partners, it encompasses two identical battery-powered clocks that are set up in sync. Of course, the clocks will eventually fall out of sync or stop entirely. Seeing the work always makes me pause and meditate on the nature of our relationship with time, and its formal simplicity never ceases to amaze me. Gonzalez-Torres was able to create this thought-provoking work of art using a commonplace object found in nearly every classroom, office, or home: the wall clock. Perhaps the creative misuse of this everyday object is part of the work's power.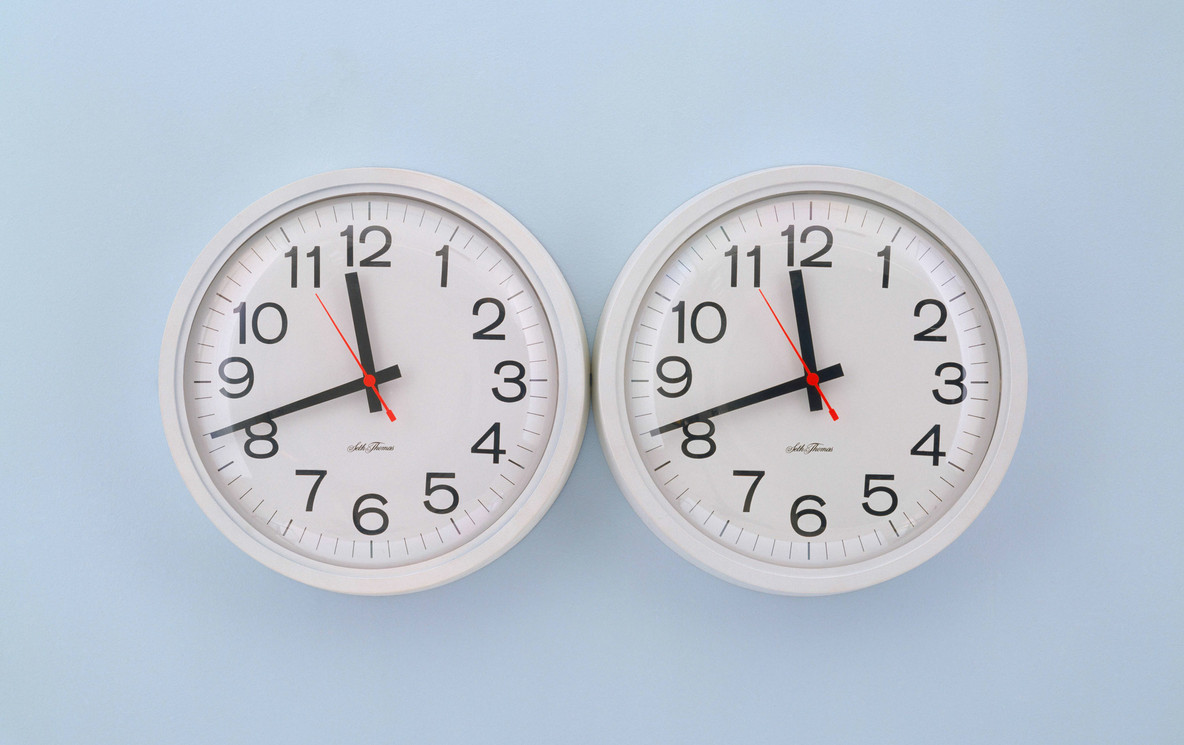 Felix Gonzalez-Torres. "Untitled" (Perfect Lovers). 1991
Art and artists offer a foundation for a new way to think about our relationship with the Internet. I wonder what it would be like to take a walk through a website. What if, instead of rushing from page to page, download after download, we instead treated the Internet as a garden of ideas and visual ephemera, waiting to be explored? Rocks to be flipped over?
Projects such as the Creative Independent's How do you use the Internet mindfully?, an essay collection that explores this topic in further depth; Laurel Schwulst's The Life and Death of an Internet Onion, which is only accessible for a few weeks per year; and O-R-G's ongoing repertoire of mind-bending screensavers, examples of ambient software4 that make use of our computers' idle moments, have managed to advance our understanding of how we might interact with the Internet and our digital devices differently.
What fascinates me most, however, is the gateway to the Internet: your Web browser. It is the tool we use to peer into the vast depths of cyberspace (perhaps aptly listening to Kraftwerk's Autobahn as we do so). When you open a browser to a new tab or window, a page appears. It invites you to dive in with a search query, presuming you are there for a reason. These interface elements are part of the furniture5 that is so ubiquitous in our day-to-day Web browsing that it fades into the background.
But design elements are not there merely for convenience; the tools of our day to day are constantly shaping our perceptions and work. Just consider how many documents are created in the Arial font because it is the default typeface of Google Docs, or how everyone instinctively knows a website's menu as three horizontal lines (also known as a hamburger) because it has been adopted so widely. None of this is coincidence—it was all designed. After all, design is an exercise in form giving, and we often simply accept the reality with which we are presented. But what if we pushed back against these established conventions of design to provoke a type of thinking that art has provoked for centuries? What if we stepped back and paused? Design doesn't always have to be about the optimal approach.
Ettore Sottsass. Study for Tea Pot, project (Perspective). 1973. A creative exploration of what a teapot could be, if not constrained by expectations. It is used for one of our error pages.
Here is an exercise: Imagine that, when you go to your browser, the furniture and interface elements that greet you aren't there to speed you onto your next destination on the Web. Rather, they offer a moment of pause. The usual array of buttons and search bars are nowhere to be seen. Instead, there is a canvas for reflection. No longer is there a blinking cursor awaiting your input—you could encounter a blank screen or a space to jot down ambient thoughts. What if it were filled with a random work of art? Time slows down, and perhaps you momentarily forget about where you were heading and pause, enjoying the sights, before diving back into the ever-flowing river of information. It is like taking a walk. Perhaps, like a dérive, not the most direct route, but far more enjoyable. A breath of air.
We recently launched New Tab with MoMA, a Google Chrome browser extension we've been working on with some friends at Google. New Tab takes this exercise and turns it into reality. It is a space where anyone can view a selection of works from our collection, presented at random without interruption, and pause before moving on with their day. Enjoy the fresh air.