20 Ways of Reading through a Crisis
Thought-provoking articles and books explore design in the time of COVID-19.
MoMA's Department of Architecture and Design has assembled a trove of essential reading on how the current global crisis affects all aspects of our daily lives—from the clothes we wear to the cities we live in to the offices we may never return to—and how we might begin to design our future. Culled from newspapers and journals and bookshelves, and featuring short essays published just yesterday as well as a favorite poetry volume that has taken on new meaning today, we hope this selection will help you discover new ways of thinking through our current moment and the challenges it raises for configuring public and private life.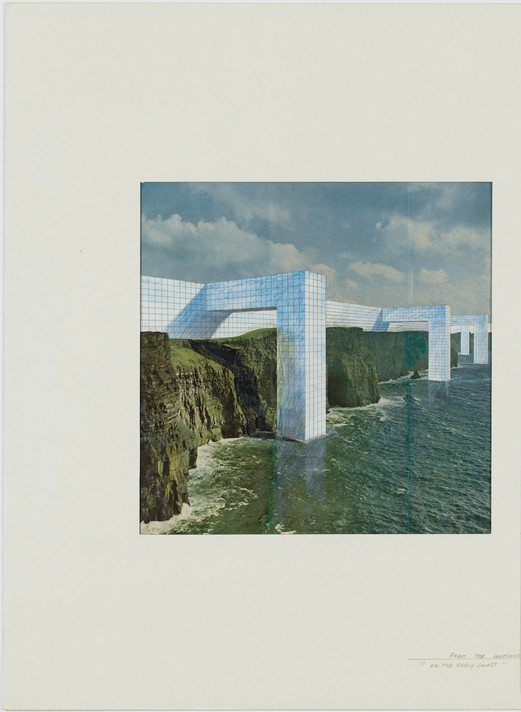 Superstudio, Gian Piero Frassinelli, Alessandro Magris, Roberto Magris, Cristiano Toraldo di Francia, Adolfo Natalini. The Continuous Monument: On the Rocky Coast, project (Perspective). 1969
Books
X-Ray Architecture, by Beatriz Colomina (2019)
Is a building a living body? Was modern architecture intended as a cure for the psychopathologies of the 20th century? In X-Ray Architecture, Beatriz Colomina, who teaches architectural history and theory at Princeton University, explores the intersection of medical discourse, imaging technologies, and modern architecture. A highly illuminating and enjoyable read, the book gives historical depth to our current crisis.
The New York Nobody Knows: Walking 6000 Miles in the City, by William B. Helmreich (2013)
William Helmreich explores all 121,000 blocks in New York City on foot. The author, who taught sociology at the City College of New York, parses his peregrinations with his disciplinary tool book and discusses major issues such as gentrification, immigration, and ethnicity. In a moment where we find ourselves confined to our apartments, Helmreich's ambitious account allows us to roam the streets of the City in our imagination. Helmreich died in March, of the coronavirus.
—Martino Stierli, The Philip Johnson Chief Curator of Architecture and Design
About the House, by W. H. Auden (1965/66)
In the current lockdown I am reminded of how our sense of home is grounded in physical, multi-sensory, and spatial experiences that act as powerful triggers of memory and identity. I have taken pleasure in revisiting this cycle of poems by W. H. Auden to look more closely at some of the domestic objects and spaces we take for granted. Haunted by a sense of his own mortality and Cold War anxiety, and writing as an émigré "transplant from overseas" (having relocated from Britain to the US during World War II), he starts with a prologue on "The Birth of Architecture" and "Thanksgiving for a Habitat." In the poems that follow, he moves from intimate spaces such as the toilet ("Revelation came to / Luther in a privy / [Crosswords have been solved there] / Rodin was no fool / When he cast his Thinker, / Cogitating deeply, / Crouched in the position / Of a man at stool. / All the arts derive from / This ur-act of making"), to rooms that engage more of our social selves, such as the living room ("the catholic area you / [Thou, rather] and I may enter / without knocking, leave without a bow, confronts / each visitor with a style, / a secular faith: he compares its dogmas / with his, and decides whether / he would like to see more of us.")
—Juliet Kinchin, Curator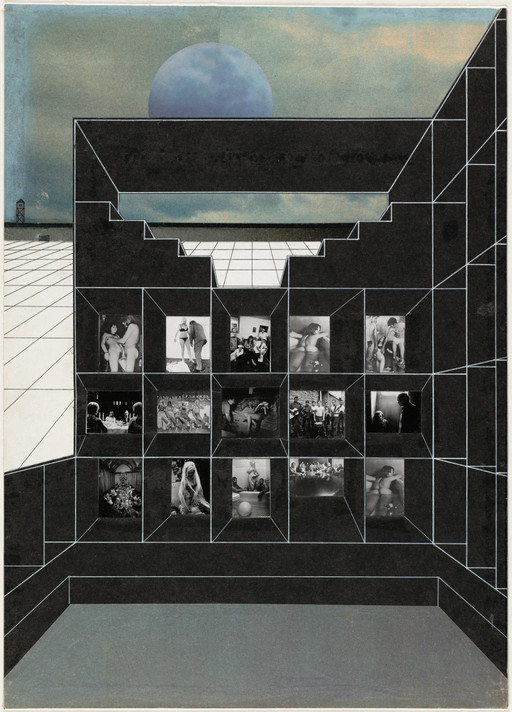 Rem Koolhaas, Elia Zenghelis, Madelon Vriesendorp, Zoe Zenghelis. Exodus, or the Voluntary Prisoners of Architecture: The Baths. 1972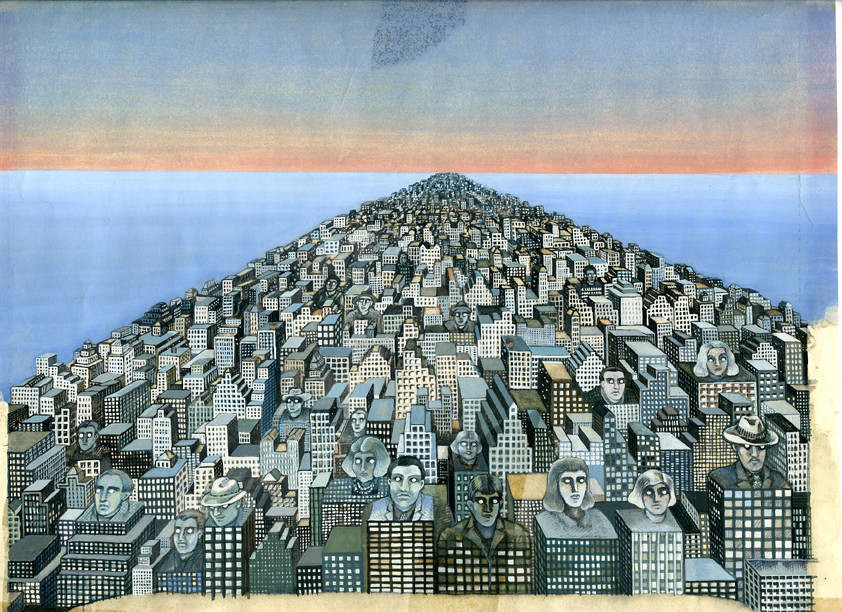 Madelon Vriesendorp. Animation background from Flagrant Délit (In the Act). c. 1979