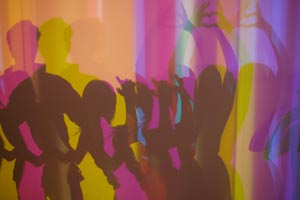 MoMA After School
Whether it's a Friday-night movie or an artist workshop, MoMA's free Teen Programs empower students to create their own connections to modern and contemporary art.
All of MoMA's Teen Programs are free, and there is something for every student. Debate which works of art will be placed in an exhibit in Museum Studies; visit a practicing artistŐs studio, create your own architectural model or experiment with digital video techniques in In the Making; examine a painting under UV light in The Art and Science of Conservation; design Web activities for other teens in our Youth Advisory Council; or simply stop by on a Friday night for a film, art workshop, or gallery talk with other teens at our Free Teen Nights.
For a listing of current and upcoming programs, please visit www.moma.org/learn/programs/teens.

For further information on MoMA Teen Programs, please call (212) 708-9828 or (212) 247-1230 (TTY) or email teenprograms@moma.org.
Pictured above, bottom:
Members of the Youth Advisory Committee look at the dance floor at MoMA Night Out 2007. Photo: Sara Bodinson