Contest Description | Winners | Honorable Mention | Judges | Guidelines & Rules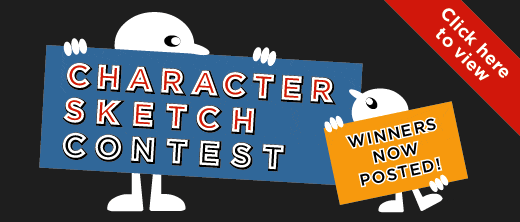 Over the last one hundred years, animators have produced such memorable characters as Mickey Mouse, Betty Boop, Jack Skellington, Wallace and Gromit, Princess Mononoke, and a fish named Nemo. Now it's your turn.
Use a mouse, a pencil, a paintbrush—whatever it takes to create and develop a character of your own invention! Submissions must be accompanied by a descriptive essay or story about your character.
Each qualified winner will receive their choice of either a Mini DV Camcorder (including tripod, case, and accessory kit) or a gift certificate for art supplies in the amount of equal value to the camera.
The Character Sketch Contest is now closed.
The deadline for submissions was June 30, 2006.
Winning entries will be posted in October.
For more information, please review the Contest Guidelines & Rules.


A Look at Some Memorable Characters from the History of Animation
What makes animation special? Why do we have such dear attachments to favorite animated characters? How have certain characters maintained their appeal across generations? Let's take a look at different characters throughout the history of animation and see how the process of bringing them to life has changed over the years.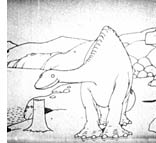 Gertie the Dinosaur
Did you know that the first animated film began as a bet between two newspaper cartoonists? Winsor McCay was inspired to create Gertie the Dinosaur by studying the Apatosaurus at New York City's American Museum of Natural History. He and his assistant drew ten thousand sketches on rice paper, including backgrounds on every page. It premiered in 1914 in Chicago at a dinner party for McCay and his friends—which was the prize for winning the bet!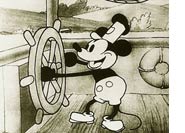 Steamboat Willie
Mickey Mouse has had many transformations since he was conceived by Walt Disney and Ub Iwerks. Disney and Iwerks were a dynamic team: Disney developed story ideas and Iwerks sketched out storyboards and designs, producing about seven hundred drawings a day! Steamboat Willie, Mickey's cartoon debut, was the first film in which picture and sound were synchronized. Musician Wilfred Jackson worked with Disney, who was the voice of Mickey, and synchronized sound to animation with a harmonica and a metronome. The music was recorded after the animation had been filmed to a predetermined tempo. The band played the score while they watched the film, keeping tempo with a visual cue that Iwerks had illustrated on the film frames!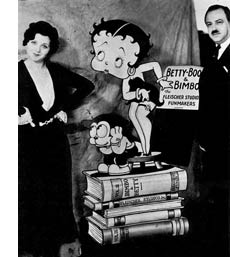 Betty Boop
Betty used to bark! Believe it or not, when Betty Boop was first created in 1930, she was a dog—a French poodle, to be exact. Betty first appeared as the love interest of fellow pooch Bimbo the Dog. In 1932 her creators, two brothers named Dave and Max Fleischer, changed her into the character we're familiar with today. She was based on the singer Helen Kane, and had the esteemed pleasure of introducing viewers to another animated character: Popeye. The handsome couple appeared together, dancing the hula in the Fleischers' 1933 Betty Boop cartoon entitled Popeye the Sailor. Even as animation's best dancer, Betty couldn't be as successful as Steamboat Willie, because the music-picture coordination was not synchronized. Later, she ran into some more trouble with the introduction of censorship. In 1934 the Hays Production Code was approved and Betty's "boop-oop-a-doo" persona was deemed a little too risky. In 1939, the much-altered Betty Boop made her last appearance in the cartoon Yip Yip Yippy.
Bugs Bunny
Chuck Jones was part of an innovative team of animators and directors at Warner Brothers that created Bugs Bunny, Daffy Duck, Elmer Fudd, Porky Pig, and all of their friends. Jones himself created a number of memorable characters, including Wile E. Coyote, Road Runner, Pepé Le Pew, and Marvin the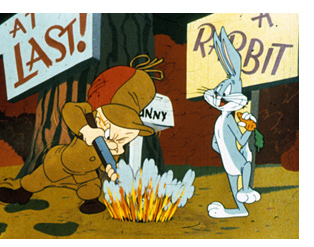 Martian. Jones once revealed in an interview that "as you become acquainted with a character you are creating, you add parts of yourself that are pertinent to that character."
Bugs Bunny emerged during World War II. In fact, Bob Clampett, one of the animators who works on Bugs, stated that Bugs Bunny was "a symbol of America's resistance to Hitler and the fascist powers…" What's Opera, Doc? (1957)—in which Elmer Fudd chases Bugs Bunny to Richard Wagner's operatic scores—is often considered to be Jones's masterpiece. The production of this seven-minute film required significantly more work from Jones and his team of animators than any other of the cartoons his studio was producing at the time.
About developing Coyote and Bugs, Jones said, "The Coyote is limited, as Bugs is limited, by his anatomy. To give the Coyote a look of anticipatory delight, I draw everything up—the eyes are up, the ears are up, and even the nose is up. When he is defeated, on the other hand, everything turns down. You can't do that as dramatically with human beings, although the emotions expressed are fully human."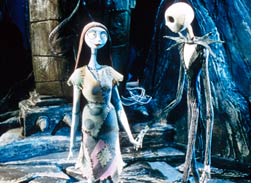 Jack Skellington
Although bony Jack Skellington, star of the first ever full-length stop-motion animated feature, could stand to gain a few pounds, he certainly doesn't need any extra heads. When making The Nightmare Before Christmas, Jack's animators hand-crafted four hundred separate, interchangeable heads for him, each with a different expression. Just what went into making these hundreds of heads? The puppets' skeletons are metal constructions (armatures), which are placed into molds that are then injected with foam latex. They are then sent to the fabrication department to be painted and finished. So not only is stop-motion animation time-consuming, just making the characters and their various body parts is an arduous process. As you can imagine, making The Nightmare Before Christmas took quite a bit of time. Just as in the Wallace and Gromit films, which also use the stop-motion technique, all 227 characters in Nightmare are posed and reposed after each take of the camera, which records the image onto a single frame of film. Even at the height of production, only seventy seconds of finished footage was made in a week!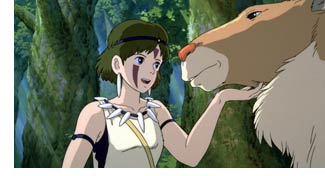 Princess Mononoke
Can you imagine how many drawings are needed to animate the characters in Hayao Miyazaki's movies? Believe it or not, almost all of them are hand drawn. Miyazaki is arguably one of the most masterful animators of our time. Along with traditional drawing, some three-dimensional computer graphics (CG) are used to create models to animate parts or aspects of the characters' bodies. In Princess Mononoke, for example, when monster Tatari-Gami is shot with Ashitaka's arrow, a model of the creature's feelers was made using data from all possible angles and views of the slimy tentacles. CG was used to depict the precise nature of the monster's strained movements. CG is also often used in creating Miyazaki's backgrounds and landscapes, as the movements and textures are less complex.
Creating waving grass may be less involved than making gnashing teeth, but the landscape in Miyazaki's films is by no means less important than the monsters.In fact, the environment plays a key thematic role in almost all of his films. He believes that perfect coexistence between humans and nature is nearly impossible, and he explores this idea while maintaining that "a wonderful meeting or beautiful thing can exist."
"E"
The wide range of early character sketches made for Edna Mode shows the variety of styles and interpretations each artist offers to initial character development. Brad Bird, director of The Incredibles, comments,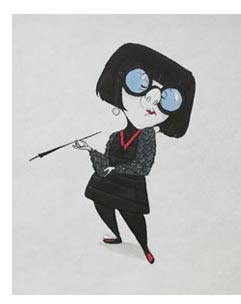 "Many people have mentioned that the character reminds them of Edith Head, that famous Hollywood costume designer. But there were many inspirations."
One source of inspiration was, of course, the storyline that served as a framework for Edna (or "E," for short). Bird presents the animators' dilemma: "We knew that her style had to be somewhat eccentric, and possibly severe. But we ended up making her too dowdy, or too harsh, so that she didn't appear to be somebody who was fun to be around."
Another inspiration was an aspect of his own personality. Bird reveals, "E is a character who has never known a moment of doubt in her whole life. And I have a little bit of that in me at times. And I like it when I have that in me. She is the only one who really unbalances the superheroes." Believe it or not, Bird ended up being the voice of E in the film! The director would often find his imagination drifting into that distinct accent and voice. Bird jokes, "I would say, 'She's someone who would kind of stand like this, don't you know.' And I think that the voice, in a weird way, influenced what they ended up drawing."
Finally, the animators arrived at the short and spunky E we all love: "We went for something that was stylish and very simple. Black always looks good. And it goes great with her hair. So you put that with big, black glasses, and it makes a very striking statement."

Pictured above, from top to bottom:
Princess Mononoke (Mononoke-hime). 1997. Japan. Written and Directed by Hayao Miyazaki. © Miramax Films. Miramax Films/Photofest
Gertie the Dinosaur. 1914. USA. Directed by Winsor McCay. Box Office Attractions Company/Photofest. © Box Office Attractions Company
Steamboat Willie. Walt Disney. 1928. USA. 35mm film, black and white, sound, 8 minutes. Gift of the artist
Mae Questel (voice of Betty Boop) with Max Fleischer. Credit: Photofest
Elmer Fudd, Bugs Bunny. © Warner Bros. Warner Bros./Photofest
The Nightmare Before Christmas. 1993. USA. Directed by Henry Selick. © Touchstone Pictures
Princess Mononoke (Mononoke-hime). 1997. Japan. Written and directed by Hayao Miyazaki. © Miramax Films. Miramax Films/Photofest
Tony Fucile. Edna Mode from The Incredibles. Marker and pencil, 11 x 8 1/2" (27.9 x 21.6 cm). © Disney/Pixar