Front / Recto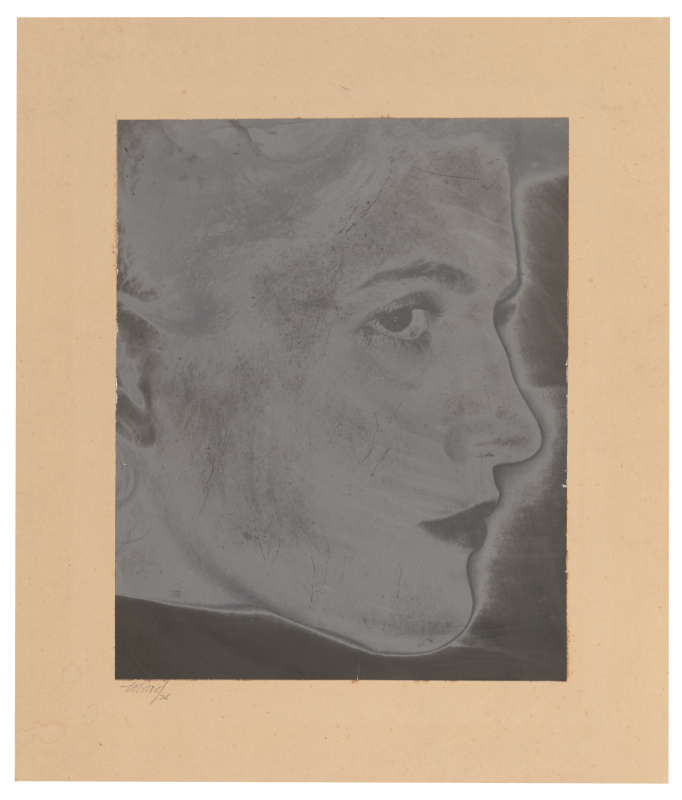 Title

Untitled

Negative Date

1936

Print Date

1936–55

Medium

Gelatin silver print

Dimensions

Image 11 1/2 × 9 1/4" (29.2 × 23.5 cm)Mount 15 3/4 × 13 3/8" (40 × 34 cm)

Place Taken

Paris

Credit Line

Thomas Walther Collection. Gift of Shirley C. Burden, by exchange

MoMA Accession Number

1881.2001

Description

The look and perhaps the sense of this large, exhibition-scale print lies in its unique concoction of darkroom experiments. Maurice Tabard solarized the paper with a flash of intense light before exposing it to the negative; we know this because the print displays no whites or deep blacks, a telltale sign of this highly variable technique of which he was the master. Solarization reverses the tone of forms and delineates the boundaries between forms oddly; this is why the profile looks decisively drawn yet seems to leak beyond its boundary. Tabard's other manipulations appear to have been made by hand but remain otherwise mysterious: it is unclear what created the pits and scratches in the woman's cheek, while the vague swipes of tone that sweep outward from her ear and forehead were probably caused by locally applied developer, dripped and brushed on. The woman in the image is transformed by these applications, some of them partially removed by abrasion, wiping, and retouching, as well as by the print's overall flatness, random grit, and tonal aberrations. A slippery, silvery siren, she becomes a moon woman or perhaps a mermaid, a figment of dreams—just the sort of indeterminate but poetic metamorphosis the Surrealists adored.

Although he started out as a more conventional portrait photographer in the United States, Tabard made his name internationally as a magician of solarization and other darkroom manipulations in Paris, where from 1928 to 1931 he was director of the photography lab at Deberny & Peignot, a company at the forefront of the printing, advertising, and magazine trades. His position there brought him into contact with many of the leading writers and visual artists of the day. His works were highly regarded and often reproduced in Vu, Jazz, Bifur, and other magazines, and his prints were widely exhibited: in Film und Foto in Stuttgart in 1929 and in the years after, as the exhibition toured; in the exhibitions Surrealism and Modern European Photography at the Julien Levy Gallery, New York, in 1932; in Photography, 1839–1937 at The Museum of Modern Art, New York, in 1937; and at the Galerie de la Pléiade, Paris, a side venture of the Gallimard publishing house. In Photo-Illustration magazine Charles Santeuil praised the thirty solarized prints that Tabard showed at the Galerie de la Pléiade in 1936, but he found the name of the technique unfortunate for a style of rendering that is "a true rival to drawing in both contour and shading." [1]

—Lee Ann Daffner, Maria Morris Hambourg

[1] Charles Santeuil, "Exposition Tabard," Photo-Illustration, no. 17 (January 1936): 15.