The Unmaker of Objects:
Edgardo Antonio Vigo's Marginal Media
This exhibition celebrates the mail art, visual poetry, performative works, and publications of the Argentine artist Edgardo Antonio Vigo (1928–1997). From his quiet hometown of La Plata, Vigo developed an extensive network of contacts in the Americas and Europe, making the city a hub of the international mail art movement—a loose network of artists who exchanged ideas, art, and poetry through the postal system. From his defiantly local position, Vigo developed an internationalism tempered by a sharp critique of the foreign policy of the United States, from its role in the Vietnam War to its support of authoritarian Latin American governments.
Interested in mass media and alternative channels of communication, Vigo nevertheless maintained an intimate human touch, producing handmade works that he bluntly called cosas, or "things," to challenge the hierarchies of aesthetic tradition. Consistent with his embrace of mail art, which involves the participation of a recipient, he developed instructions, actions, and visual poems to be carried out or completed by others. He also published magazines and editions that promoted an accessible, democratized art in place of the unique and valuable art object.
Vigo was active during the period when Argentina was ruled by a military junta, which, in 1976, "disappeared" his son Palomo. Vigo and the artist Graciela Gutierréz Marx together adopted the pseudonym G. E. Marx Vigo and campaigned for Palomo's return; they often stamped the envelopes they sent out through the mail art network with the English phrase "Set Free Palomo." Despite government censorship, Vigo's moving letters and graphic works reached artists the world over, testaments to his dedicated ethical commitment.
For more on Vigo see post.at.moma.org and the Centro de Arte Experimental Vigo.
Organized by Zanna Gilbert, C-MAP Mellon Postdoctoral Fellow, and Jennifer Tobias, Reader Services Librarian, MoMA Library.
Thanks to Mariana Marchesi, Silvia Dolinko, Karen Grimson, David Horvitz, and Vanessa Davidson.
---

Vigo's "Things"
Vigo called himself an "unmaker of objects." Instead, he made cosas (Spanish for "things")—works that did not clearly fall within traditional mediums such as painting and sculpture. Vigo's cosas were conceptual in nature and made to be completed by the participant. They ranged from a series of "signalings" of everyday scenes or objects that viewers were invited to regard aesthetically, and actions and poetry "to be created" by the participant. Vigo's notion of "prácticas revulsivas" (revulsive practices) denoted work or actions that attempted to intervene in and heighten the viewer's everyday perception, and indirectly, their political consciousness by engaging them in unfamiliar activities.
Verde Amarillo Rojo. Lo Invita a Ver 'Manojo de Semáforos' (Green yellow red. You are invited to see 'Handful of Traffic Lights') 1968
Vigo's Cosas: Conferencia/Unconferencia (Vigo's things: Lecture/Unlecture) 1968
This "unlecture" has no content other than a kind of manifesto, which states: "Communication should be found NOT in inherited divisive artistic categories but in the RESIDUES of the prejudices they create." Vigo proposed that effective communication would be found in the space between—and not within—the categories of sculpture, painting, prints, and drawing, and thus he focused his efforts on intermedia works.
Esta tarjeta ha sido sumergida en las aguas de 'Puntalara-Beach' en la zona llamada "bocacerrada" el 21 de septiembre/70, de 9 a 10hrs.-conste . . . (This card was submerged in the waters of 'Puntalara Beach,' in the 'bocacerrada' zone, September 21, 1970, 9:00–10:00am) 1970
(In) Acto a Realizar ([Un] Act to be created) 1969 or 1970
"Carry out an hour-long 'massage' of asystematic construction. Creation of asystematic silence."
Actos a Realizar no 0001/69 (Acts to be created) 1969
"The street invites you to your own (un)lecture to be delivered at a designated place, date or time. Instructions: One day decide to approach or move away from a place bearing the invitation and proceed to pronounce, mumble, sing, whistle, shake or wobble your body, etc. Don't give your own lecture. For reasons of solidarity you are asked to attend the (un) lectures of others."
Hazlo (Do it) 1970
Tríptico Remarcado (ley 18.188) (Marked/Remarked triptych, [law 18.188]) 1970

Poemas (in) Sonoros ([Un] sonorous poems) 1969
Obras (in) Completas ([In] Complete works) 1969
"You are receiving these four letterheads of the "(IN)COMPLETE WORKS" respecting the theory of a Participatory art and a translation of some amounts of creation locate these wherever you wish. The above image illustrates an example."

Análisis (in) Poético de 1 m. de Hilo ([Un] poetic analysis of 1 meter of thread) 1970
Ya Votó: 'Poema Demagógico': Urna No. 1 ('Demagogic poem': Urn No.1) 1969
"Assembly of a 'demagogic poem': Maintaining your anonymity, place a phrase, phoneme, symbol or visual sign (etc.) that is indispensable for you in a poem, in the blank space of this paper. Roll it into a tube and put it into the URN No. 1. You will receive a document certifying your vote that you should place on your lapel. Thank you."

Un Paseo a la Plaza Rubén Dario, Señalamiento V (A walk to Rubén Dario Square, Signaling V) 1970
"Instructions: take a piece of chalk, and with it mark a cross or the limit of one or many paving stones, or try a surface you choose yourself. Place yourself inside the demarcated area and turn around 360°(1), record within yourself what you see, draw your conclusions, you have definitively created."

Plebiscito Gratuito (Free vote) 1969
"Ask yourself at this moment A QUESTION. On answering it cross out that which doesn't apply."
Manual e Instrucciones para la Construcción de una 'Obra de Arte' (Occidental y Cristiana) (Manual and instructions for the construction of a "work of art" [Western and Christian]) 1969 or 1970
"Do not fear. The punishment will be for those who block the rampant empire of aesthetic acts."
Cancelled n.d.
"We note a change that has happened in the entire field of art; in the cinema, the theatre and dance, we find there is an organic interrelation of these tendencies. The "happening," "event," "congregation," "show," "environment," "art to be made" are labels that try to define precisely this NATURAL INTEGRATION of … elements inherited from dada magazines, futurists, from the Russian vanguards and from the neo-plasticists (DE STIJL) also contribute to this visual poetry." Edgardo Antonio Vigo, "New Poetic Vanguard in Argentina," 1967
---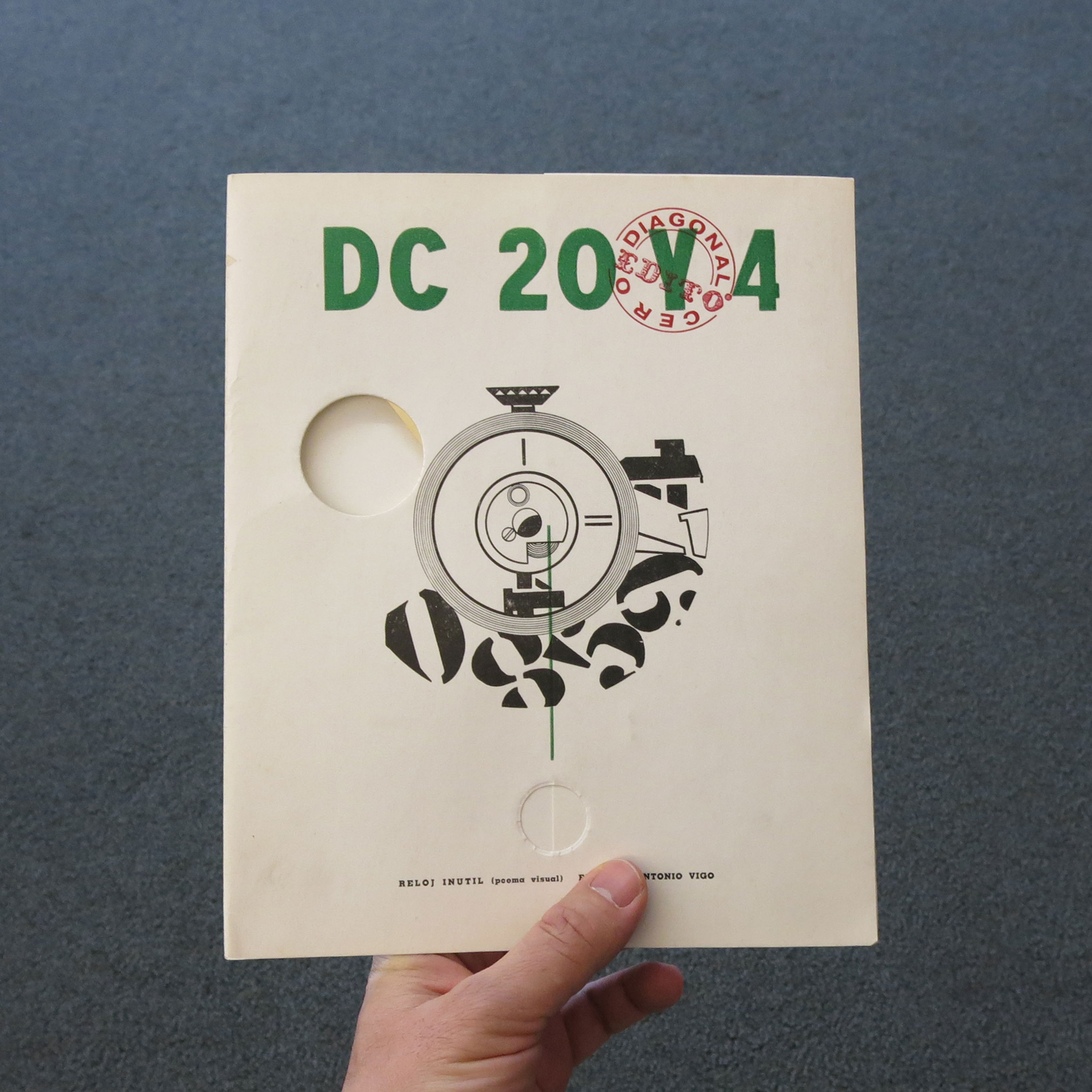 Diagonal Cero Magazine (1962–1969)
Vigo began publishing his magazine Diagonal Cero in 1962. It was named after a street in his hometown of La Plata (known as "the city of diagonals" because of its many diagonally-oriented streets) and the name refers to an imaginary Avenue Zero. With the exception of being unbound, it was initially a fairly conventional magazine designed to circulate new poetry. As time went on, though, Diagonal Cero began to play more and more with what a publication could be, developing a strong editorial and graphical style. Of the run of twenty-eight issues, number 25 is missing because it was "dedicated to nothingness." Emptiness is also addressed in the "Cavity Manifesto" in issue 28, as well as by repeated perforations and holes. In 1969, Vigo ceased publishing the magazine with a characteristic wordplay emblazoned on the inner sleeve: 'No VA MÁS' (All bets ARE OFF), both a statement to indicate the termination of the magazine and a denunciation of political conditions in Argentina.
Diagonal Cero 1, 1962
"We are in the DIAGONAL ZERO, in the center of the issue, observing our observers, attracting and letting ourselves be attracted. We are in the DIAGONAL ZERO, which is not to be central. We are contradictory. Contradiction [is] equivalent to expressive liberty. We are at the DIAGONAL ZERO of the contemporary, we are in an identifiable city and we are at the beginning." Edgardo Antonio Vigo, Diagonal Cero 1, 1962
Diagonal Cero 14, 1965
Diagonal Cero 17, 1966
Edgardo Antonio Vigo. Cavity Manifesto, Diagonal Cero 21, 1967
Diagonal Cero 22, 1967
Works by Carlos Ginzburg, Oración Equivalente (Equivalent phrase); Edgardo Antonio Vigo, Reloj Erótico (Erotic clock); Jorge de Luxán Gutíerrez, Actualidades (Emerging issues), Diagonal Cero 24, 1967
Homenaje a Lucio Fontana (Homage to Lucio Fontana) and Concrete su Poema Visual (Make your visual poem), Diagonal Cero 27, 1968
---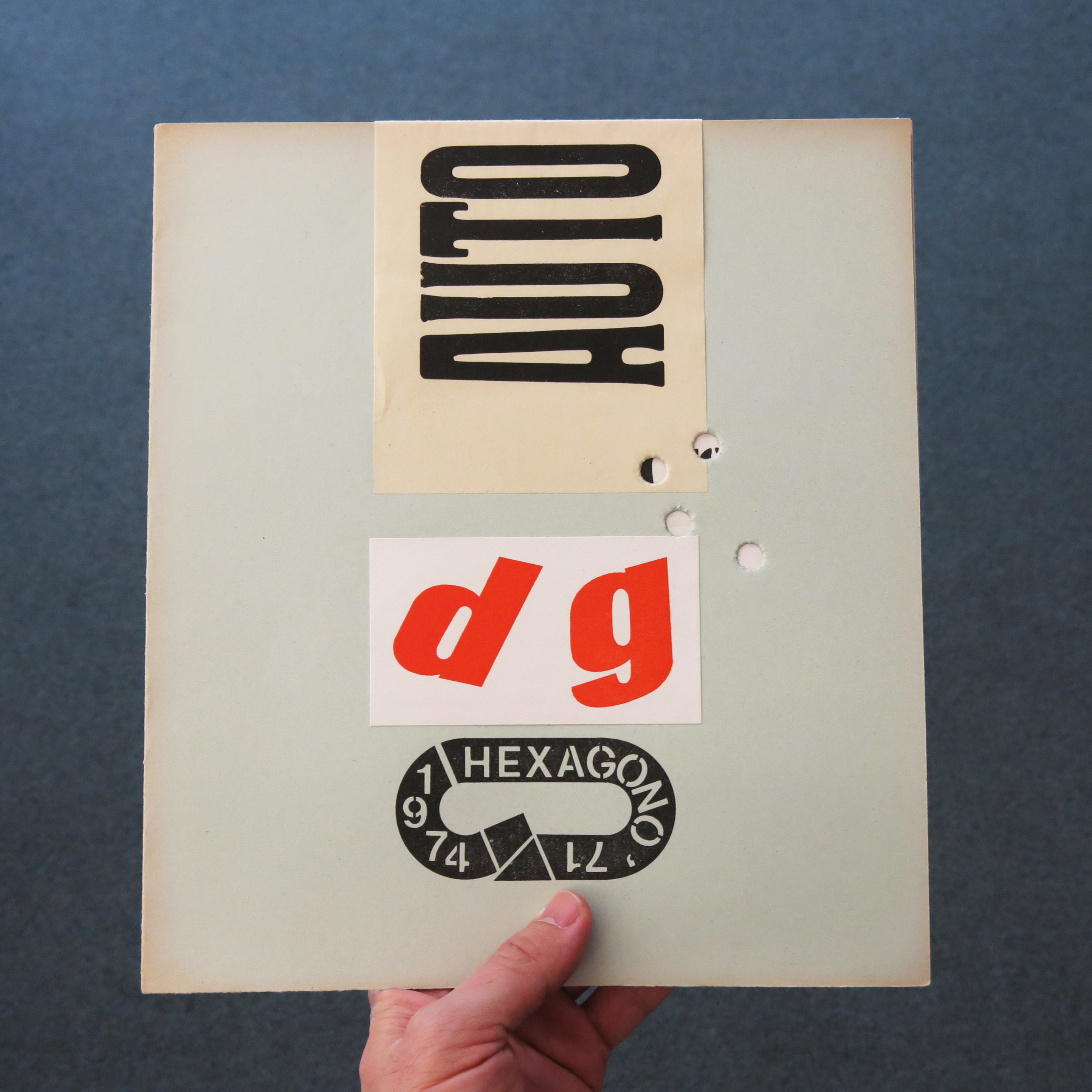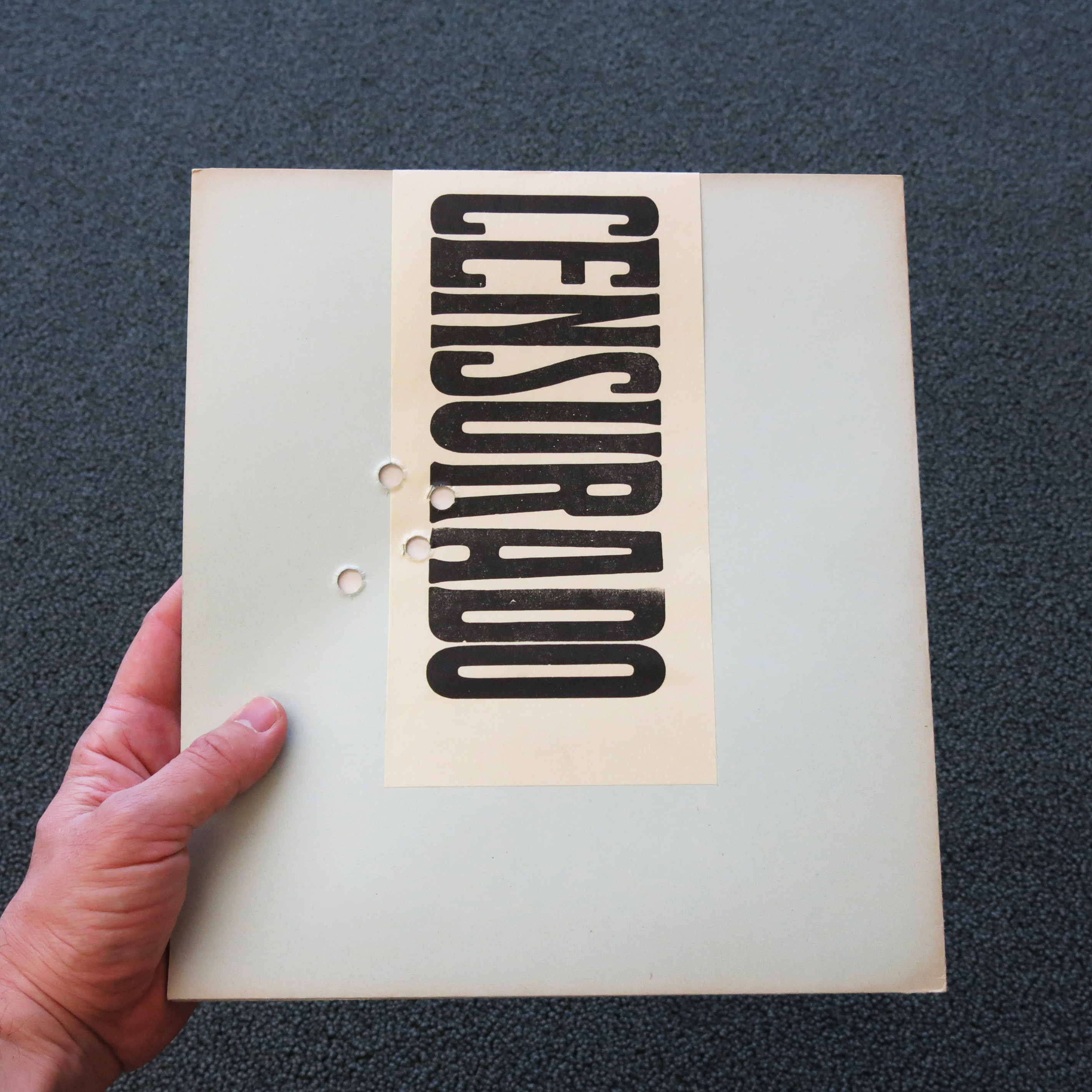 Hexágono '71 Magazine (1971–1975)
Hexágono '71 was distributed as an envelope containing illustrations, visual poems, works "to be created," essays, drawings, stories, telegrams, and calls for works by both international and local authors. Hexágono '71 contained no editorial commentary, page numbers, or editorial credits. Furthermore, the issues were systematized by a lettering system rather than the customary numbers: a, ab*, ac, b*c, b*d, b*e, cd, ce, cf, de, df, dg and e. Vigo referred to himself as the editor in-responsible ("non-responsible editor") of the magazine and said, "There are no fixed collaborators, the issue takesshape as the works come in." The magazine grew more and more international from 1971 to 1975, uniting artists from Argentina, Chile, Uruguay, Brazil, the United States, France, Italy and the UK. Hexágono '71 was inaugurated during the dictatorship of 1966–73. Vigo wished to "share the necessity of breaking the dangerous suffocation that hovers over the universal creative-investigator's free expression."
Señalamiento VII / A de tu Mano (Signaling VII: Of your hand), Hexágono '71 a, 1971
Head of Che, Souvenir de dolor (Head of Che, Souvenir of pain), Hexágono '71 ce, 1973
Souvenir de Viet-Nam (Vietnam Souvenir), Hexágono '71 a, 1971
"Travel. Search for a trench (belonging to either side) gather a life and keep it in the transparent envelope."
Solucione sus Problemas (in) Estéticos (Solve your [un]aesthetic problems), Hexágono '71 ab*, 1971
Soluciones Económicas Oferecidas por el 'Systema' al pueblo (Economic solutions offered to the people by the system), Hexágono '71, 1974
La (in) Comunicación de los Medios de Comunicación Masivos (The [un]communication of the mass media), Hexágono '71 b*e, 1972
Hexágono '71 dg and df, 1974
El Propio Militante (The real militant), Hexágono '71 cf, 1973
Poema Matemático Censurado (Censored mathematical poem), Hexágono '71 ce, 1973
Argentina '71, Hexágono '71 ce, 1973
---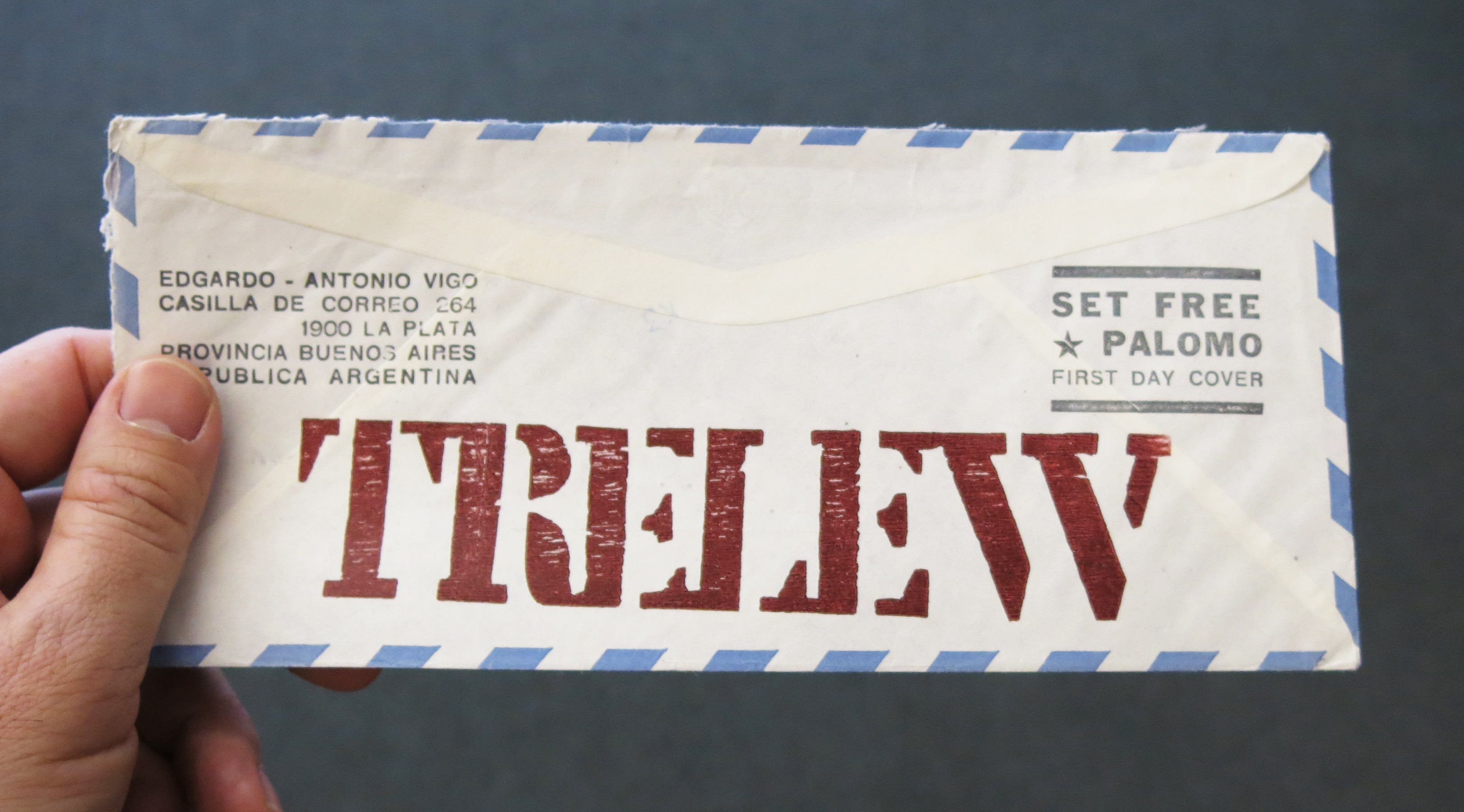 Life Records
"My work (visual poetry, conceptual art, useless objects, hermetic comics) is testimony to my unwavering position of absolute freedom for the artist." Edgardo Antonio Vigo, 1974
La Llave/Abrelatas que Viajó (Junto a 200) (The key / can opener that traveled [with 200 others]) 1971
La Llave/Abrelates que Viajó (Junto a 200) is an investigation into the processes of legitimation of art by institutions. Vigo's keys are readymades that were transported from La Plata to the artistic center of Buenos Aires to be certified as art works at the Di Tella Institute's Center for Visual Arts, a site of artistic experimentation that became well-known internationally. In an ironic twist on the artist's critique of the art system, the legitimizing institution had already been closed down by the military in 1969. The disordered itinerary on view here is typical of Vigo's play with numerical and linguistic systems.
Trelew 1974
"Trelew" refers to the massacre of sixteen political prisoners who were summarily executed by Argentina's military regime after a failed escape attempt in Trelew, Patagonia in 1972. This event was widely decried throughout Argentina and has remained a reference point for many years. The delay between the event and this piece may be a result of the regime's ban on reporting of the incident at the time. Trelew could be openly discussed only with Juan Perón's shortlived return to power in 1973–74.
Second Attempt to Beat His Own Life Record 1983
Vigo suffered from depression, which worsened greatly after his son was disappeared by the Argentine military regime in 1976. His attempts to "beat his own life record" are absurd commentaries on the burden of staying alive as well as conceptual exercises in measurement.
G.E. Marx Vigo, Ambodos (Bothtwo) 1980s
The title of this work is a term invented by Vigo, a contraction of the Spanish words ambos (both) and dos (two). From 1977 until 1983, Vigo collaborated with the artist Graciela Gutiérrez Marx under the pseudonym G. E. Marx Vigo.
Project for the Action: Ephemere Frontier Destroyed by People Marching On 1977
---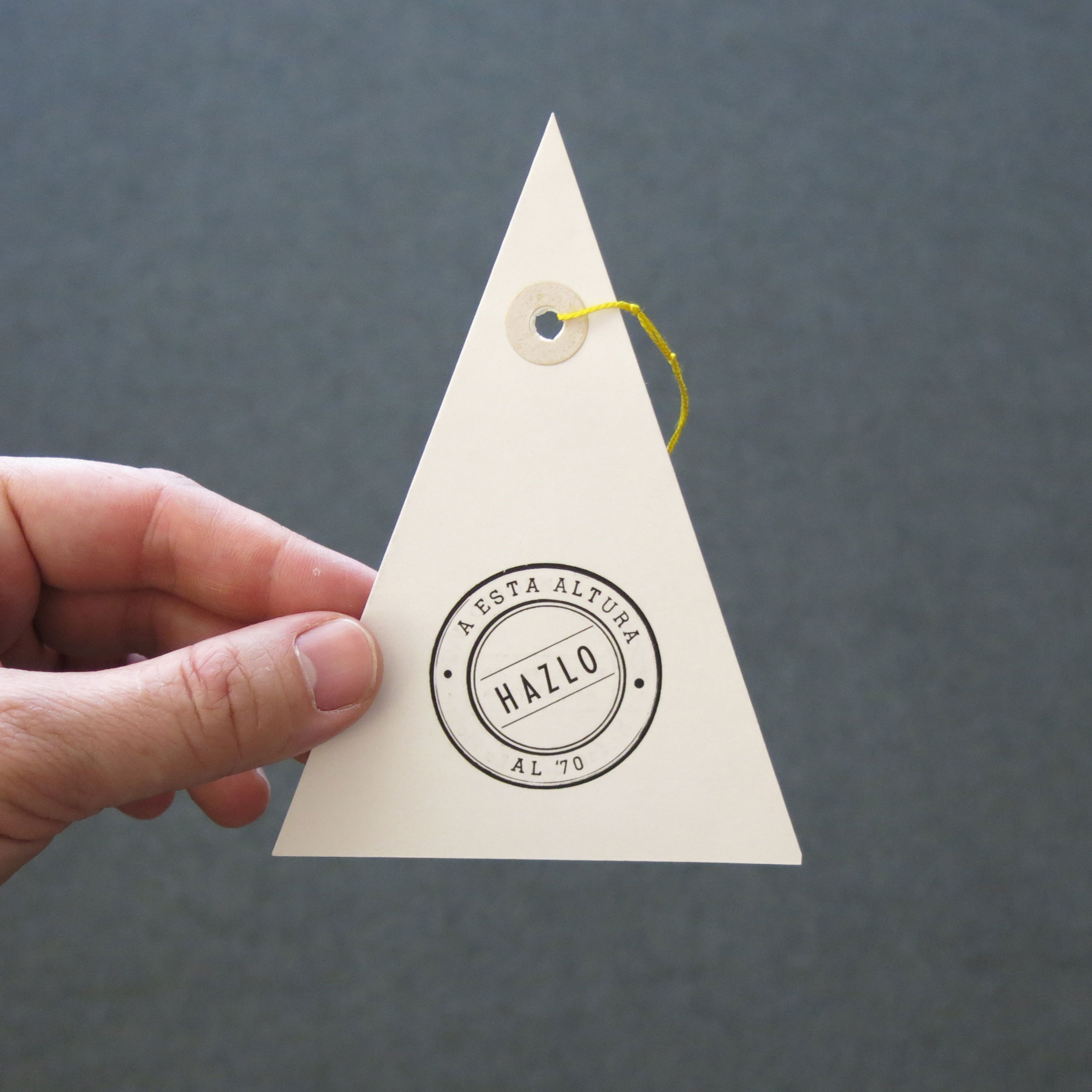 "This should be very clear: flirting with officialdom makes one give up many things, sometimes knowing it and others unconsciously, but these are immense surrenders. Unfortunately, nobody knows if they should seriously commit themselves to consolidate the future like this. Time will tell. This time should come, we should fight to create it; at the margin of dreams ... the day will come, don't doubt it…." Edgardo Antonio Vigo, Letter to Paulo Bruscky, 1977