William Wegman demonstrating Chris Burden's work Spyder Man during Artists Make Toys
Photograph by Allan Tannenbaum
1975 [III.A.2]
Exhibition announcement and photograph of Eleanor Antin: Exhibition and Performance (January 15–31, 1976)
1976 [II.A.64]
Though the Clocktower hosted numerous group shows, from the beginning its programming focused on successive solo exhibitions.
View of the Clocktower exhibition Marjorie Strider: Tower Project (February 26–March 13, 1976)
Photograph by Jonathan Dent
1976 [I.A.50]
The spiral staircase was a central feature of the Clocktower space and a frequent perch for installation photographers, as seen elsewhere in this case.
Interview with Hannah Wilke conducted for Placing the Artist
1977 [III.B.66]
In this interview for an unrealized publication recounting the IAUR's first five years, Wilke discusses her infamous poster for the exhibition Artists Make Toys,also used as the cover of the catalogue—as well as her artwork in the show.

---
The Collectors of the Seventies
In 1975–76, the Clocktower gallery was the site of the ambitious Collectors of the Seventies series of exhibitions, designed to document the enthusiastic patrons of new art. By the end of 1976, the IAUR was withdrawing its involvement in 10 Bleecker Street and it had vacated the Idea Warehouse. The Clocktower continued to house artists' studios and hold major exhibitions into the 2000s, making it the most enduring IAUR space besides P.S. 1.
Draft IAUR announcement for the Collectors of the Seventies exhibition and video series
c. 1975 [IX.A.4]
Along with the five exhibitions in the series, nine documentary videos were produced by 1977, although it's uncertain if they were ever distributed.
Postcard for Collectors of the Seventies, Part III: "A Collection in Progress"—Milton Brutten and Helen Herrick (September 18–October 18, 1975)
1975 [II.A.51]
Recto and verso of postcard for Collectors of the Seventies, Part I: Dorothy and Herbert Vogel (April 19–May 17, 1975)
1975 [II.A.41]
In 1975, the Vogels, an unassuming postal worker and librarian, were already a familiar presence in the New York art community, but the extent of their patronage was only beginning to be known; this exhibition at the Clocktower was the first display of their collection. In the photograph, the Vogels stand next to Sol LeWitt's Wall Drawing (1971).
Catalogue and press photograph for Collectors of the Seventies, Part I: Dorothy and Herbert Vogel (April 19–May 17, 1975)
Photograph by Nathaniel Tileston
1975 [II.A.41]

Interview with Dorothy and Herbert Vogel
c. 1977 [III.B.63]
Compilation of excerpts from the Collectors of the Seventies video series:
Grand Rapids: Public Collections
Video (color, sound), 17:48 min.
1974 [I.B.4]
Stanley Marsh 3
Video (color, sound), 20 min.
1977 [I.B.6]
Virginia Wright
Video (color, sound), 21:15 min.
1977 [I.B.8]
Herb and Dorothy Vogel
Video (color, sound), 20 min.
1977 [I.B.9]
The Collectors of the Seventies series features nine videos produced in conjunction with the five Clocktower exhibitions of 1975–76. The videos were produced for the IAUR by David Ross, Douglas Davis, and Andrew Mann.

---
P.S. 1 and Rooms
The search for art studios and exhibition space that had occupied the IAUR since 1972 concluded with the organization's occupation of P.S. 1. The First Ward School, or Queens Public School No. 1, had ceased being used as a school in 1963 and was slated for sale by the city and possible demolition. Negotiations between the IAUR and the city took more than a year; they were finalized on April 22, 1976, when the IAUR signed a long-term lease for the building. A grant was secured that enabled the extensive cleanup necessary to make the building useable, and IAUR's inaugural exhibition at P.S. 1, Rooms (June 9–26, 1976), opened a mere seven weeks later.

Building evaluation of P.S. 1 by Shael Shapiro
October 3, 1975 [VII.A.3]
Shapiro provides cost estimates for cleanup, roof repair, painting, and other necessities, totaling $133,000.
Exterior view of P.S. 1
Photograph by Jonathan Dent
1976 [VIII.I.8]
Interior view of P.S. 1 prior to cleanup
Photographer unknown
1976 [II.A.83]
Invitation to the P.S. 1 Prom benefit
1976 [II.A.85]
Envelope for ordering tickets to the P.S. 1 Prom benefit
1976 [II.B.3]
Gregory Battcock, "Noblesse Oblige," The Soho Weekly News
June 17, 1976 [II.A.78]
Proceeds from the P.S. 1 Prom, a gala benefit Battcock called "the biggest party of the year," helped offset the cost of keeping the building open. Collectors Herb and Dorothy Vogel were elected king and queen, and music was provided by a high school concert band.
Draft introduction to the Rooms exhibition catalogue by Alanna Heiss
c. 1976 [I.A.48]
Rooms artists and IAUR staff
Photograph by Jonathan Dent
1976 [II.A.85]
Twenty-two of the seventy-eight artists represented in Rooms are absent from this photograph. Alanna Heiss is standing at far left, in sunglasses.
Floor plan of P.S. 1, showing Rooms installation locations
1976 [I.A.48]
Roberta B. Gratz, "The Artful Reincarnation of PS 1, Queens," New York Post
June 11, 1976 [I.A.48]
Letter from former P.S. 1 art teacher Lee Majuri to Joan Davidson, Chairperson of the New York State Council on the Arts, celebrating P.S. 1's new use
June 21, 1976 [VII.D.11]
View of Richard Tuttle's installation Alanna and Her Sister, in Rooms
Photograph by Gianfranco Gorgoni
1976 [II.A.85]
Jennifer Bartlett installing her work Drawing and Painting (1974), for Rooms
Photograph by Jonathan Dent
1976 [III.A.83]

---
Special Projects and Interdisciplinary Program
Once Rooms closed, the question became how to fill the enormous space. The second exhibition at P.S. 1, A Month of Sundays (September 19–October 10, 1976), was merely a coordinated series of open studios by artists renting space in the building. But by 1977, multiple strategies had been plotted that would keep a regular system of shows running in fall, winter, and spring exhibition seasons (through the 1990s, P.S. 1 was closed during the summer). This included the Special Projects program, in which as many as twenty artists were assigned individual rooms at the school each season and given free rein to install their artwork without curatorial interference.
Memo from Linda Blumberg, IAUR Program Director, to Alanna Heiss
November 8, 1976 [VII.A.5]
Blumberg reviews the programming issues facing the IAUR, including unpaid studio rents and absentee tenants.
IAUR programming spreadsheet for the fall 1977 and winter 1978 seasons
1977 [I.A.70]
This sheet illustrates the complexity of keeping the IAUR's spaces constantly filled and shows the assignment of Special Project (S.P.) rooms and large curated group exhibition spaces at P.S. 1, plus the Clocktower gallery in lower Manhattan.
Merle Temkin, Special Project proposal
1978 [I.A.201]
The artist ultimately installed a different piece, The Men's Room, in a bathroom at P.S. 1 as part of the fall 1978 Special Projects program (October 1–November 19, 1978).
Jenny Holzer, Special Project postcard and recommendation letter from Yvonne Rainier
October 10, 1977 [I.A.73]
Postcards were produced for each participant in the Special Projects program. Holzer was part of the winter 1978 program (January 15–February 18, 1978).
Workers installing Tony Rosenthal's 50' x 20' (P.S. 1) in the P.S. 1 auditorium
Photographer unknown
1980 [I.A.488]
Rosenthal participated in the fall 1980 Special Projects program (September 28–November 9, 1980).
In addition to the Special Projects program, a second solution to creating programming for P.S. 1 was the Interdisciplinary program, in which outside curators organized exhibitions focused on a single medium. Recurring programs featured film, architecture, fashion design, video, poetry, photography, and performance. Together with the Special Projects program, the Interdisciplinary program produced tremendous activity at P.S. 1, but the building still had room to spare.
Press release for winter 1979–80 season
1979 [II.A.98]
A typical summary seasonal press release showing the Special Projects and Interdisciplinary programs. The description of the main group exhibition, Image and Object in Contemporary Sculpture, is on a separate sheet.
Dan Graham, performer-in-residence proposal and postcard
c. 1977 [I.A.121]
Graham and other accepted applicants were each allowed several months to develop their works in the provided space before presenting them to an audience.
View of Roger Welch's installation Drive-In, for the winter 1980–81 film program
Photographer unknown
1980 [IX.,G.74]
Installation view and postcard (not shown) of the spring architecture program, Robert Mangurian and Craig Hodgetts: Studio Works (April 27-June 15, 1980)
Photographer unknown
1980 [I.A.463]
Peter Carlsen, "Fashion Under Glass: Clothes' New Role as Museum Pieces," GQ
January 1981 [I.A.476]
Carlsen writes about Hollywood di Russo, curator of the fashion program at P.S. 1.
View of the fashion exhibition Homer Layne's Collection of Charles James Fashions
Photographer unknown
Fall 1981 [I.A.631]

---
The Studio Program and Group Exhibitions
In addition to the Special Projects and Interdisciplinary program, the IAUR also rented studio space to artists at P.S. 1, a process that was formalized in national and international studio programs. The organization also continued to stage large curated group shows at P.S. 1. The building reached maximum capacity with shows such as Sound (September 30–November 18, 1979) and New York/New Wave (February 15–April 5, 1981), each involving 118 artists. In the 1980–81 exhibition year, 401 artists exhibited or performed at P.S. 1 and the Clocktower gallery. This scale of activity has been maintained, year after year, to the present day.
Ledger book of rent payments and form letter for delinquent rent
1976–77 [IV.9]
This ledger book records tenants' payments for the various spaces then held by the IAUR, through summer 1977.
Studio program description
1978 [IV.49]
The national studio program slowly expanded from local applicants to a more rigorous application and selection process for artists from around the country and around the world, for year-long tenancies.
Letter from Martin Puryear to the studio program assistant Jill Kurtzer
April 28, 1977 [IV.7]
The artist was accepted for a studio space through 1978.
Recommendation letter for Kenny Scharf from Keith Haring
April 22, 1981 [IV.276]
As the studio program moved into the 1980s, its membership reflected the changing times; younger East Village artists such as Scharf, Mike Bidlo, and David Wojnarowicz participated in the studio program early in the decade.
View of Jody Pinto's work Underground Chamber (1977) in the exhibition Ground (October 9–November 6, 1977)
Photographer unknown
1977 [II.A.133]
Pinto's work was installed in a basement room that extended beneath the sidewalk, allowing for an alternative entrance.
Installation map of the exhibition Indoor/Outdoor Sculpture Show (April 16–May 21, 1978)
1977 [I.A.183]
On the reverse is a partial letter from artist Alan Scarritt concerning his 1979 solo exhibition at the Clocktower.
Indoor/Outdoor Sculpture Show postcard
1978 [II.A.119]
The exhibitions Ground and Indoor/Outdoor Sculpture Show demonstrated the continuing exploration by artists of the space around P.S. 1, including sidewalks and public spaces away from the building. At that time the courtyard was a parking lot with a chain-link fence, which the city would soon unsuccessfully try to sell, separately from the school building.
Proposal and postcard (depicting some of the exhibition curators) for The Altered Photograph (April 22–June 10, 1979)
1979 [I.A.287]
Ultimately the show featured "twenty-four walls—twenty-four curators" and seventy artists.
View of artwork by Richard Tuck, a Special Project in conjunction with the exhibition Sound
Photographer unknown
1979 [II.A.213]
Planning minutes for Sound
1979 [I.A.298]
The core of Sound was an exhibition organized by the Los Angeles Institute of Contemporary Art, but P.S. 1 vastly expanded the scope and number of participants.
Installation views of the exhibition New York/New Wave
Photographs by Helaine Messer
1981 [III.A.18]
This was Jean-Michel Basquiat's second show, and it helped launch his career.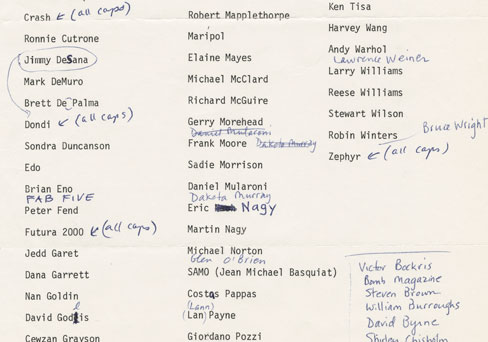 Draft artist list for the exhibition New York/New Wave by curator Diego Cortez
c. 1980 [III.A.15]
Many of these artists—including graffiti artists—were new to the art world.

---
Beyond the First Ten Years
The exhibition New York/New Wave (February 15–April 5, 1981) was notable for its size but also for focusing on the burgeoning artist community of New York's Lower East Side and promoting a new aesthetic that embraced punk rock, graffiti, and other aspects of popular culture. The IAUR's programming mix allowed P.S. 1 to absorb such changes and thrive, even as new political and economic threats arose to challenge the survival of nonprofit art spaces. That decade would also see P.S. 1 develop a significant international reputation as it staged large exhibitions of European and South American artists and Alanna Heiss curated shows at the Venice Biennale and elsewhere abroad.
The 1990s and 2000s brought further change to P.S. 1, including its affiliation with MoMA in 2000, and its enduring success continues to demonstrate the relevance of Heiss's original ideas: that derelict property in the heart of the city could be transformed into significant cultural space; that providing a place for artists to work and exhibit could be the best use for city property; and that placing the artist in such disregarded spaces could produce grand results.
---
Acknowledgements
This exhibition would not have been possible without the help of numerous individuals within The Museum of Modern Art. In the Archives, we would like to thank Michelle Elligott for her crucial support and guidance and Tom Grischkowsky for his significant time and work. Peter Oleksik and Roberto Rivera were instrumental in creating our digital images and videos; Chiara Bernasconi and Sara Dayton in realizing the video screens and web page. Sara Bodinson, Rebecca Roberts, and Julianna Goodman shepherded our texts from inception to their final form; the exhibition benefited from all their work.