Between September 17 and October 15, kids ages 10 to 14 and their parents/caregivers are participating in a MoMA Family Art Workshop connected to Talk to Me. After viewing and discussing objects in the exhibition, the family groups have developed their own communication-related inventions. We have invited them to share their projects here.
Inventors: Liam and Ngozi
Age of inventors: 10 and 10+
Invention: Automatic Pet Food Dispenser for Small Pets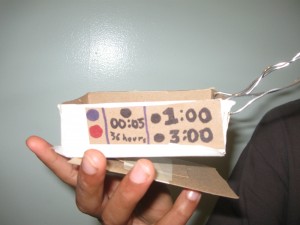 This device is electronically timed to dispense designated amounts of pet food at regular intervals, thus, allowing pet owners the opportunity to go on vacation requiring little or no pet care.
Inventors: Abigail and Mendl
Age of inventors: 12 and10
Invention: Find and Seek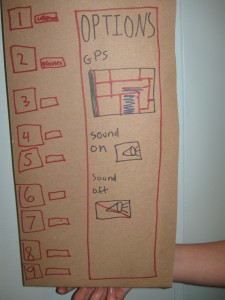 This kit comes with eight tracking devices. Each tracking device sticker can be placed on a very important object (i.e. cell phone, eye glasses, etc.). If one item happens to get lost, simply take the searching device, providedin the kit, and press the find button. The tracing device creates a loud sound so the objects can be found. The searching device also has a GPS if the object is too far to be reached using only sound.
Inventors:  Jordan and Dilynn
Age of inventors: 10 and 10+
Invention: Automatic Hamster Cage Cleaner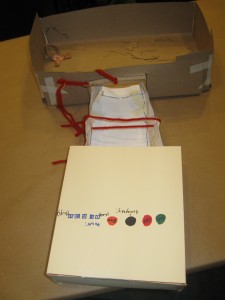 Since hamsters need a clean cage, it is important to be able to clean the cage quickly and safely.  The Automatic Hamster Cage Cleaner has a flap, which secures when not needed for cleaning, and a vacuum that removes dirty bedding from the cage.
Inventors: Gabi and Emilio
Age of inventors: 12 and 12+
Invention: Self-Writing Pen


This pen can write letters and sentences by itself so that your hand will not get tired. It is powered by a microphone and can write in a variety of fonts.
Inventors: Brett and Barbara
Age of inventors: 12 and 12+
Invention: IPAW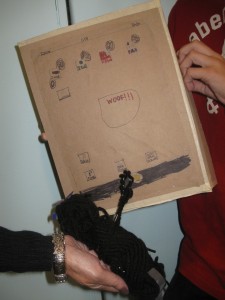 The IPAW allows dogs to tap apps with their paws. Dogs can enjoy entertainment on the device such as dog-related music and movies. It allows them to use a bone finder to help track where they buried their bones, as well as a tracker that helps them locate their owners.
Inventors: Rob, Lynne, Abigail, and Mitchell
Age of inventors: 9 and 9+
Invention: The Howler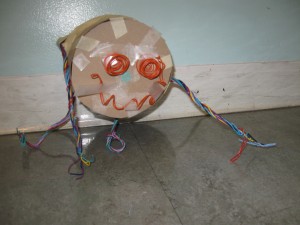 The Howler was developed for the purpose of making house cleaning easier. It can be programmed to remind the owner to clean a room, go to the market, or even to complete a project before its deadline. It can also be programmed to do some of the smaller chores at home like vacuuming and cleaning the dishes.