Between September 17 and October 15, kids ages 10 to 14 and their parents/caregivers are participating in a MoMA Family Art Workshop connected to Talk to Me. After viewing and discussing objects in the exhibition, the family groups have developed their own communication-related inventions. We have invited them to share their projects here.
Inventors: Ava and Morgan O'Mara and Sophia Marino
Age of inventors: 12, 12, and 12 +
Invention: Gusty—The Cool Robot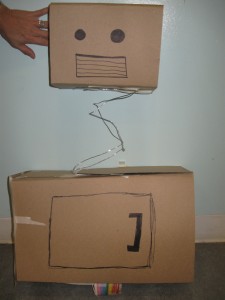 Gusty is a friendly cooling machine that can come to you and provide instant air conditioning wherever you are. Just type a command in your mobile phone and Gusty will make his way to you. His stomach is also a refrigerator filled with cool beverages!
Inventors: Truly, Taly, and Russ Johnson
Age of inventors:  14, 50, and 49
Invention: The Cat Hat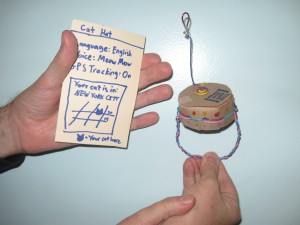 This fashionable hat enables cat thoughts to be translated into human languages. It also interacts with a phone app cat communicator, locator, and tracker to find your cat if it is lost.
Inventors: Melodie, Jan, Xiao
Age of inventors: 12, 12, 39
Invention: Bob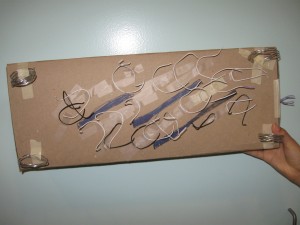 Bob is a vacuum that navigates through the house without human help using infrared sensors that measure the distance from Bob to other objects. It is made of brushed aluminum, and is about as big as a table tray. A touch screen on its surface indicates when it is done cleaning, when the vacuum needs to be emptied, and when the battery charge is low.
Inventors: Max, Maddy and Tom
Age of inventors: 13 and 13+
Invention: The New York "Hands Off" Auto Parkway


This is an automatic "conveyor belt" parkway. You put your car in park, press in your exit code, and the auto parkway will release your car at its exit point.  This design will help prevent accidents, and allow you to read or have a cup of coffee on your leisurely commute to work or other fun destinations.
Inventors: William and Jane Kim
Age of inventors: 11 and 48
Invention: iPad Station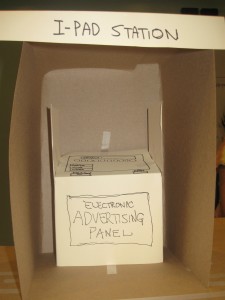 The iPad Station can be placed on street corners. It would serve as a giant iPad allowing users to find locations on maps, look up information, and contact individuals in case of an emergency. This would be ideal for individuals who do not have an iPad, do not want to carry one, or if the battery is low on their own personal device. Also, the owner of the machine can make additional money by placing advertisements on the sides of the booth.